The arrival of peppers into the Mediterranean can be traced all the way back to Christopher Columbus' return from the New World back in 1493. He brought a variety of chile pepper from modern-day Mexico that was cultivated by the Aztecs, and they were considered an easy, cheap alternative to black pepper, and from there, peppers became an integral part of recipes all over the Mediterranean! Whether it's chile peppers in Spain, or pepperoncini in Italy, the many dried varieties in dishes throughout Syria and Turkey, or the bell peppers that appear throughout the region, it's clear that this import has become a staple in the Mediterranean diet. Indeed, it's one of the most important Mediterranean diet ingredients.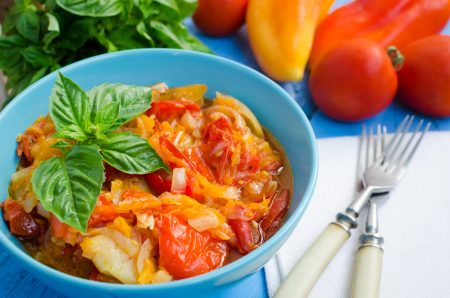 At least one Greek pepper variety, the red, fleshy Florina pepper, the iconic product from the Florina region in northern Greece, came slightly later – it was brought from Brazil in the 17th century, and while locals in areas including Prespes, Veroia, Aridaia, Florina, and Kozani worked to cultivate these seeds, only Florina was able to do so successfully. This pepper has earned Protected Designation of Origin (PDO) status in 1994; today, there are full festivals and celebrations surrounding its cultivation!
Besides lots of great recipes, there are nutritional reasons to add pepper recipes to your summer cooking repertoire! They're filled with vitamins A and C, potassium, fiber, and folic acid, and the spicy varieties have capsaicin, which is proven to boost metabolism.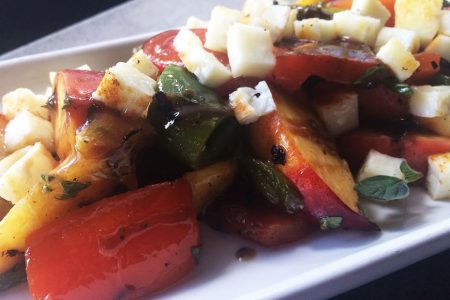 Below, check out a list of ways to enjoy peppers in starters, salads, soups and stews, and main courses!
Starters & Spreads
For me, anything feta is a winner! It's just one reason I love this roasted pepper, mastiha, and feta spread, which covers some of Greece's other super delicious products, mastiha and Florina peppers. Feta is also used in this bruschetta and red pepper recipe from The Ikaria Diet recipe club, a totally simple way to wow a hungry crowd!
My Greek vegan sautéed Anaheim pepper recipe is a fresh and summery way to enjoy summer peppers in a simple meze or side dish. Here, you can use Anaheim peppers, banana peppers or just plain old bell peppers, and the recipe is similar to the Italian piperonata and is adapted from a recipe made throughout Northern Greece, where hot peppers are often preferred over sweet. And speaking of spicy – have you tried my spicy tomato and pepper relish yet? It's an easy one that I love to whip up for scooping up on its own, or enjoy on grilled meats and chicken.
Salads
Did you know that peppers and peaches make the perfect salad combo? I have 2 that I turn to all the time: first, the grilled pepper salad with peaches and seared halloumi cubes; here, the peaches and peppers share a similar smooth, slippery texture but their distinctly different flavors provide a nice contrast. And second, one of my all-time favorites, the grilled shrimp, pepper and peach salad, a Greek recipe that jives with the robust, vibrant flavors of the whole Mediterranean diet!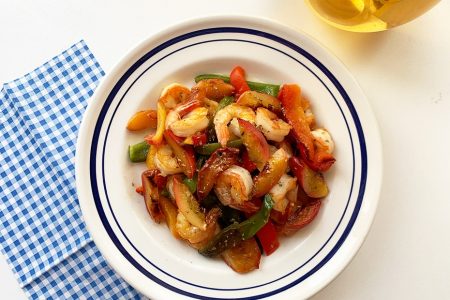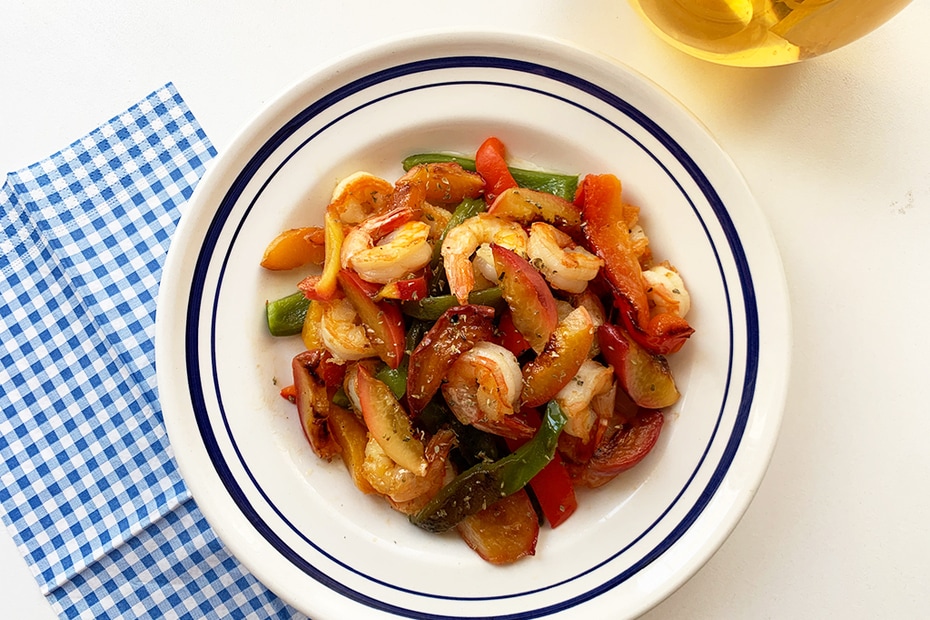 And besides the classic Greek salad, there are other delicious renditions that call for summer peppers! My lentil salad with cucumbers, red peppers, and herbs is a salad that will fill you up while also tasting fresh, summery, and delicious. Lentils are one of the most important longevity foods in the diet of my native island, Blue Zone Ikaria, and they're a great way to create wholesome, nutritious filling Greek and Mediterranean recipes that are packed with vitamins and minerals. And this simple tomato salad with red peppers, garlic, and herbs from The Ikaria Diet Recipe Club promises to be a star on your summer table!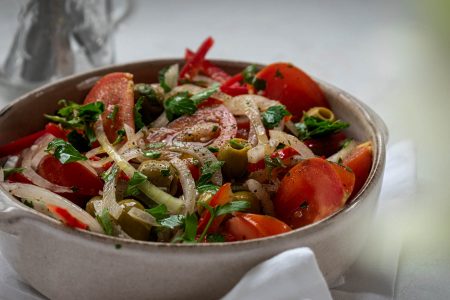 Soups & Stews
Don't think that you should skip out on these summery soups and stews! I love the combo of peppers and other delicious garden vegetables in this Naoussa summer stew with crispy fried cheese. It's a recipe rooted in the traditions of the Vlachs, a once itinerant shepherding tribe who settled in N. Greece and are said to be descendants of Roma soldiers. Then there's soufico, a one-pot vegetable stew that happens to be one of the "national" dishes of Ikaria. It is one of many dishes throughout Greece and throughout the Mediterranean that call for the same medley of summer vegetables. And another Ikarian classic, mageirio, is essentially an all-purpose summer stew, a kind of "throw-everything-in-one-pot," dish that almost every home cook makes at least once a week, making use of everything that grows in her garden.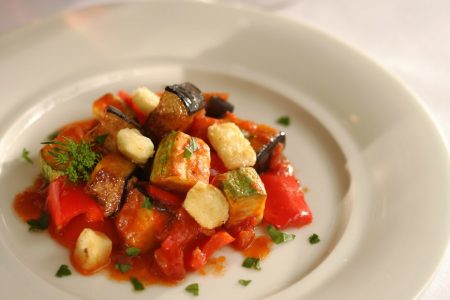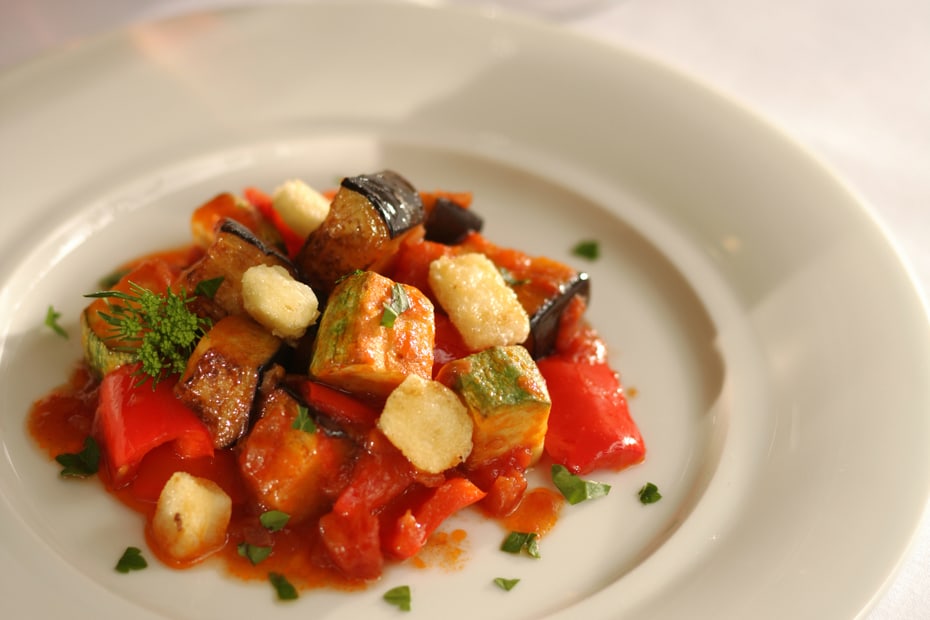 Main Courses
And of course, peppers can be used in so many Greek diet mains, like fresh cod fillets stewed with eggplants, peppers, and wine. This recipe features a combination of fish and vegetables, and it uses economical, seasonal vegetables to an expensive protein to stretch the meal even further. Then, there's the all-time classic spetsofai with sausage and peppers, from the area of Mt. Pelion. It involves 4 different types of pepper – bell, Florina, pepperoncini, and fresh or dried chiles. And I'll round out this list with yet another classic, gemista, or Greek stuffed vegetables – it'll fill your kitchen with the scent of summer!