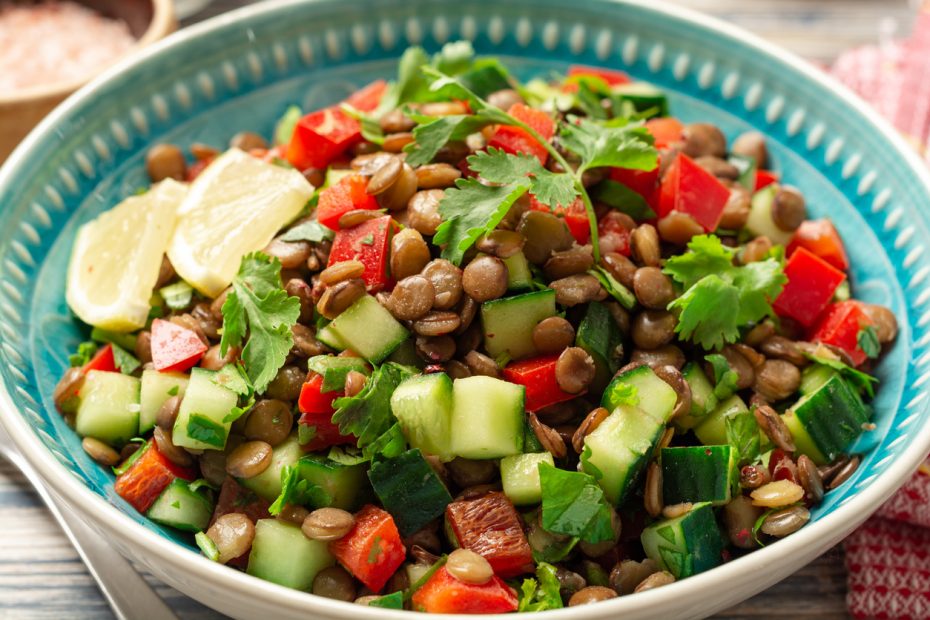 Lentil Salad with Cucumbers, Red Peppers & Herbs
---
A Greek salad can be many things beyond the best-known tomato-cucumber-feta-olive oil medley! We're talking Mediterranean diet here, and one of the most important and best-loved Mediterranean diet ingredients is the humble but mighty lentil. Lentil salads are a great answer to creating wholesome, nutritious filling Greek and Mediterranean recipes that are packed with vitamins and minerals. Add extra virging Greek olive oil to the salad and you've got a sure-fire winner, the stuff of longevity cooking! Indeed, lentils are one of the most important longevity foods in the diet of my native island, Blue Zone Ikaria.
Ingredients
For the Dressing:
Grated zest of 1 lemon

3

tablespoons

fresh

strained lemon juice

Pinch

of cumin powder

2

teaspoons

Dijon mustard

Lemon slices for garnish
Instructions
In a medium pot, bring the lentils and bay leaf to a boil. Season lightly with salt. Reduce heat and simmer for about 20 minutes, or until the lentils are tender but al dente. When the lentils are ready, drain and rinse them in a colander under cold water.

Cut the tops off the peppers and remove the seeds. Cut the peppers into strips and then into a small dice. Cut the cucumber lengthwise into quarters and dice that, too.

Place the cooled, rinsed lentils in a mixing bowl together with the minced garlic, chopped parsley, peppers and cucumbers.

Whisk together the ingredients for the dressing and pour that into the lentil salad, tossing gently. Serve in a salad bowl garnished with lemon slices.
Want to learn more easy, healthy Mediterranean diet recipes? Sign up for my online course "Mastering the Mediterranean!"
Want to learn more easy, healthy Mediterranean diet recipes? Sign up for my online course "Mastering the Mediterranean!"