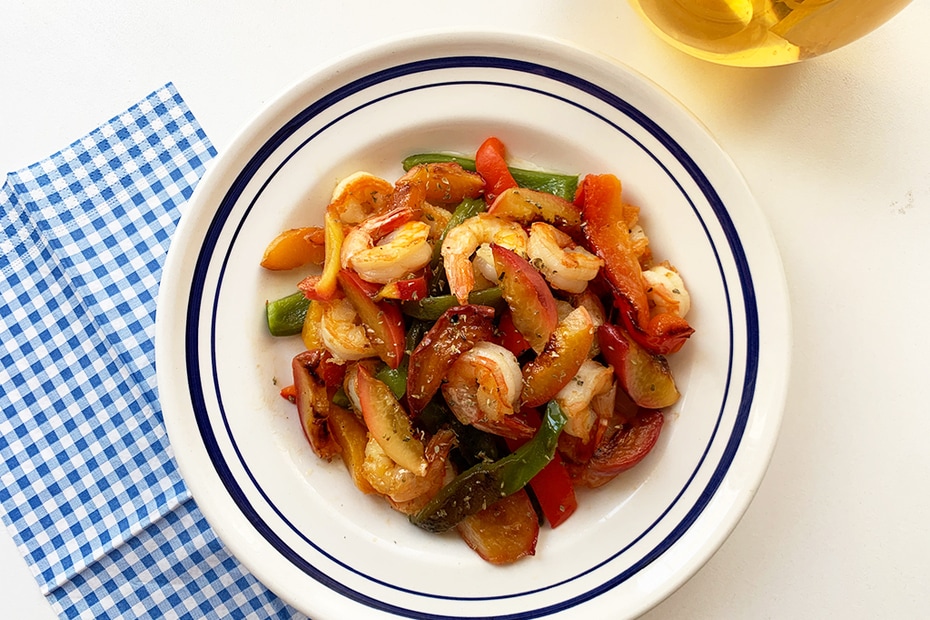 Grilled Shrimp, Pepper and Peach Salad
---
One of my all-time favorite Greek salads is this! The unlikely combination of peppers and peaches, studded with crispy shrimp, makes any summer meal brighter. This is a Greek recipe that jives with the robust, vibrant flavors of the whole Mediterranean diet!
Ingredients
3

firm

fresh ripe peaches, peeled and pitted

2

scant tbsp sugar

1

fresh hot red chili pepper

seeded and cut into very thin slices

2

Tbsp

fresh mint leaves cut into thin ribbons

2-3

Tbsp

fresh

strained lemon juice

1 ½

pounds

large shrimp

shelled, deveined, and heads removed but with tails attached

3

green bell peppers

6

Tbsp

extra-virgin Greek olive oil

2

tsp

ground cumin

Salt

white pepper to taste
Instructions
Light the grill to medium-high and lightly oil the grill rack.

Cut each peach into 8 slices. Place in a medium-sized serving bowl and toss with the sugar, chili pepper, mint, 1 teaspoon cumin and 1 tablespoon of lemon juice. Set aside.

Place the peppers on the grill over direct heat and grill until browned and soft, turning to char lightly on all sides. Remove, cool slightly, peel, and deseed. Cut the peppers lengthwise into 1-inch strips.

While the peppers are grilling, toss the shrimp with two tablespoons of olive oil. Place over on a hot part of the grill and cook, turning once, until they change color and are marked with grill marks on both sides. Remove.

Toss the peppers and shrimp together with the peaches in the serving bowl. Season to taste with salt, pepper, remaining cumin, and olive oil. Add more lemon juice if desired. Serve.
Want to learn more easy, healthy Mediterranean diet recipes? Sign up for my online course "Mastering the Mediterranean!"
Want to learn more easy, healthy Mediterranean diet recipes? Sign up for my online course "Mastering the Mediterranean!"