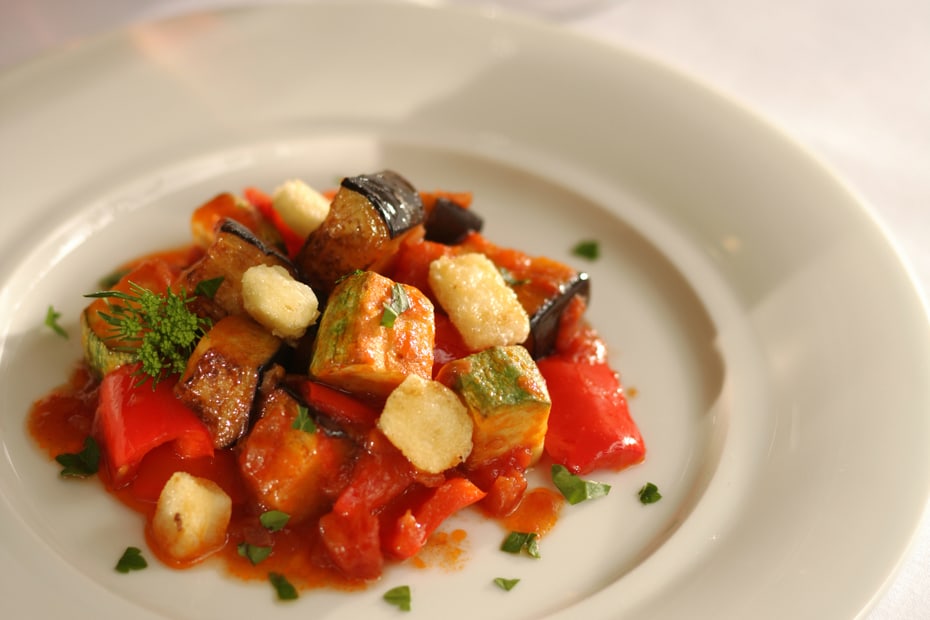 Naoussa Summer Stew with Crispy Fried Cheese / Mantza
---
The Mediterranean Diet stretches from the tables of Crete to the larder of the North, where a cornucopia of peppers and other delicious garden vegetables are combined into this unique dish. Mantza (for "to eat") is a recipe rooted in the traditions of the Vlachs, a once itinerant shepherding tribe who settled in N. Greece and are said to be descendants of Roma soldiers. They speak an ancient Romance language unrelated to Greek.
Ingredients
2

large eggplants

washed, trimmed and cut into 1-inch/2 1/2-cm cubes

2 to 3

medium zucchini

washed, trimmed and cut into 1-inch/2 ½ -cm cubes

1/2

cup

extra virgin Greek olive oil

divided

1

large onion

finely chopped

3

red or green bell peppers

seeded and cut into 1-inch/2.5-cm chunks

2

sweet red long

fleshy pepper, seeded and cut as above

2

large tomatoes

grated, about 1 ½ to 2 cups

½

pound/225 g kefalotyri

or firm feta cheese, cut into 1-inch/2.5-cm cubes

1

teaspoon

sweet paprika

1/4

teaspoon

cayenne pepper

or to taste

3 to 4

tablespoons

finely chopped fresh parsley

for garnish
Instructions
Lightly salt the eggplant and zucchini cubes in a colander and let stand for about a half hour to drain. Do not rinse.

Heat 2 tablespoons of olive oil in a large, deep skillet or wide pot over high heat and sauté the onion and peppers for a few minutes, to soften. Remove with a slotted spoon and set aside on a plate.

Add 3 more tablespoons of olive oil to the skillet and sauté the eggplant and zucchini over high heat until the vegetables are lightly browned and crisp around the edges. Add the onion-pepper mixture back in. Pour in the tomatoes and half a cup water. Cook, half-covered over low heat, until the vegetables are tender and the pan juices thick.

A few minutes before removing the vegetables from the heat, warm a nonstick skillet and add a tablespoon of olive oil, swishing it around to coat the pan. Fry the cheese cubes over high heat for about 1 minute, just for some color. Then, toss the crispy cheese cubes into the pot. Adjust seasoning with salt to taste as well as with paprika and cayenne. Remove from heat and serve on a platter or on individual plates, garnished with a little fresh parsley.