Shrimp is the go-to in summertime across the Mediterranean because shrimp recipes are often light, and they include plenty of other delicious seasonal ingredients and fresh herbs. But if you're looking to pair them with something a bit more hearty, there are lots of options there too, like the classic garidomakaronaki, a classic island pasta dish of shrimp in tomato sauce in tavernas all over Greece. The Greek table is bursting with possibilities when it comes to enjoying shrimp!
And there's not just a breadth of recipes – there are also many different kinds of shrimp Greek waters and in the Mediterranean diet repertoire. Simiako garidaki, or Simi shrimp, is a unique variety of tiny shrimps that flourish around Simi, a tiny island just across from Rhodes. They're gorgeous, with a bright red color, and they're delicate and sweet, packed with flavor. You'll find them in tavernas far and wide across Greece,not just in Simi, and most often they're flash fried and eaten whole, like popcorn! You can apply the method to any miniscule shrimp variety. Just fry them up in olive oil and garlic, and season simply with salt and pepper. Another prized species of Greek shrimp is the one-eyed gambari, an ashy-colored shrimp that comes from the Amvrakiko Bay in Western Greece.
A handful of pink crustaceans can be a welcome summery addition to just about any salad. One of my personal favorite Greek salads that include shrimp is the one in which they are paired with zucchini and a mastiha marinade. And you might be surprised to learn that grilled shrimp makes the perfect filling for an easy, healthy Mediterranean diet-approved sandwich!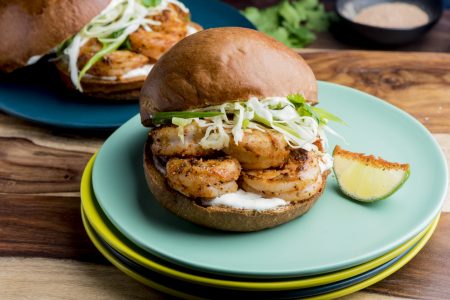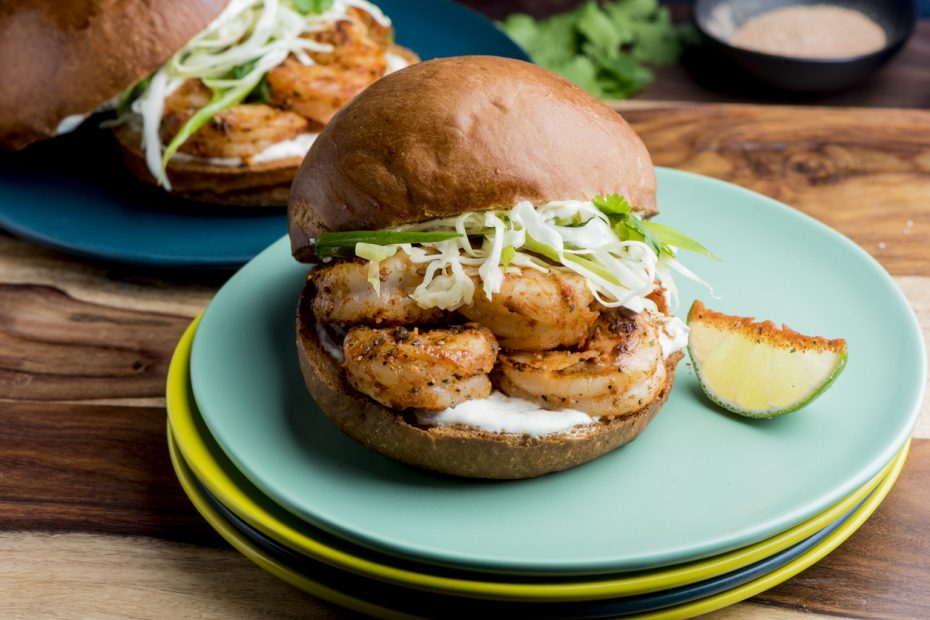 In the Greek diet, there are, of course, some shellfish classics: marinated pan-fried shrimp, fried in their shell in the traditional Greek way, which helps retain their juiciness (this method can even extend to grilling!). Yiouvetsi, the classic Greek pasta dish, is typically made with orzo and lamb, but my take on the classic incorporates Mediterranean diet ingredients such as extra virgin Greek olive oil with shrimp, Greek saffron, and curry.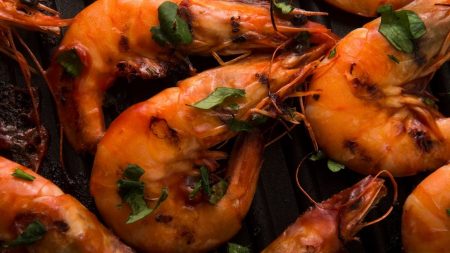 And what would a list of shrimp classics be without saganaki? This taverna classic makes its way into my kitchen pretty often, and I love to serve it as a meze, or as a sauce for pasta or rice. And saganaki has lots of modern twists too! Shrimp saganaki risotto, which is quick and easy and totally Greek; and shrimp saganaki on a stick.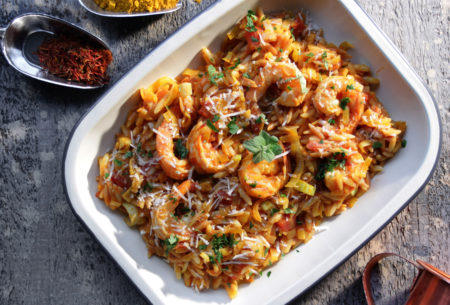 Get Greek summer on your plate with all these delicious Greek shrimp recipes!