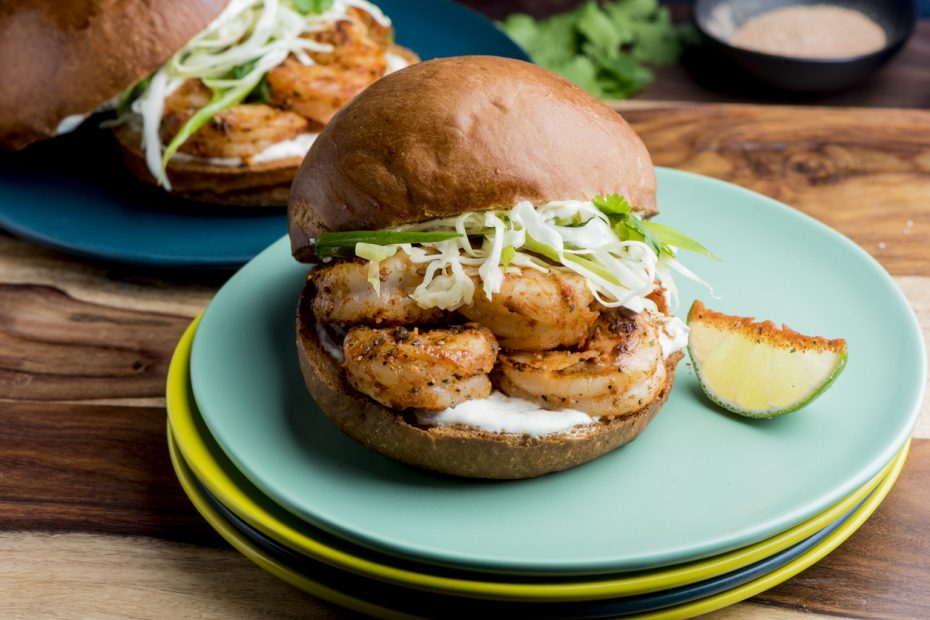 Grilled Shrimp Sandwiches with Greek Yogurt and Arugula-Cabbage Slaw
---
Grilled fish and seafood is a Greek tradition and there are countless Greek recipes for both. This easy grilled shrimp sandwich is a great way to make something that falls under the general Mediterranean diet umbrella when your plans for dinner or the day involve some outdoor grilling. Mediterranean diet ingredients like Greek honey, extra virgin Greek olive oil, Greek yogurt and sea salt are what give this grilled shrimp sandwich its character!
Ingredients
Instructions
Peel and devein the shrimp. Rinse the shrimp in a colander and place it in a mixing bowl.

Whisk together all the ingredients for the marinade and pour that over the shrimp. Marinate the shrimp covered in the fridge for 30 minutes.

In the meantime, whisk together the ingredients for the yogurt spread and make the slaw: Combine the cabbage, arugula and mint in a mixing bowl. Toss with the olive oil, lemon juice and zest, and season to taste with salt and pepper.

Light the grill to medium. Let the shrimp stand at room temperature for 15 minutes. Using tongs, place them on the grill. Brush with some of the marinade. Cook them, turning and brushing once more with the marinade, until the shrimp is firm and changes color, about 3 – 4 minutes in total.

Brush the inside of the buns with a little olive oil and grill each half cut side down until grill marks form. Remove and sprinkle the surface if desired with a little Greek oregano. Spread a heaping tablespoon of the yogurt spread on the bottom half of the bun. Place 4 grilled shrimp on top and then a bit of the slaw. Cover with the top half of the bun and repeat with remaining ingredients. Serve hot!
Want to learn more easy, healthy Mediterranean diet recipes? Sign up for my online course "Mastering the Mediterranean!"
Want to learn more easy, healthy Mediterranean diet recipes? Sign up for my online course "Mastering the Mediterranean!"