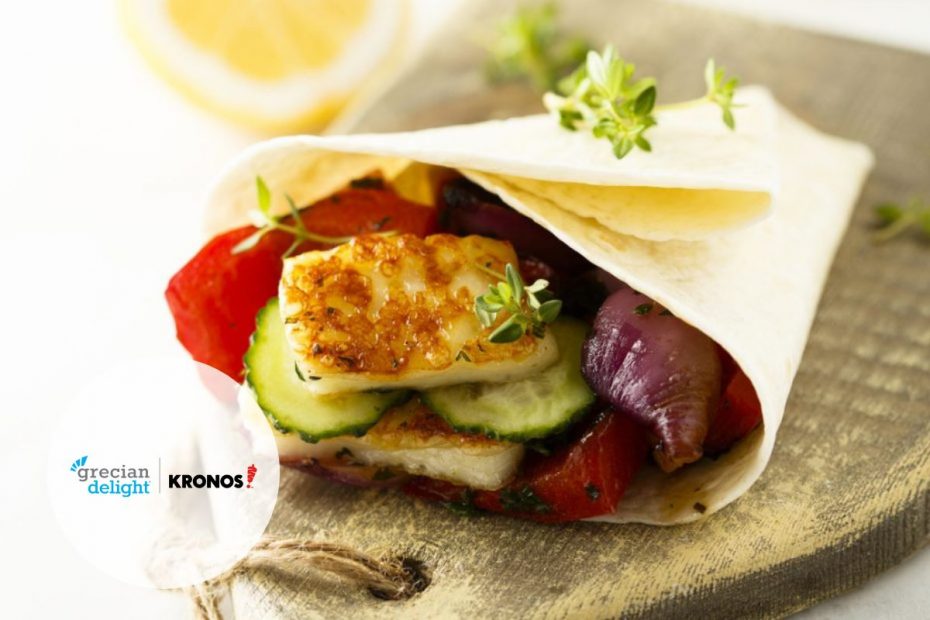 Grilled Vegetable-Halloumi Wrap
---
As far as grilled cheese sandwiches go, the Greek diet is packed with a number of them, and halloumi, a Cypriot cheese, is an excellent choice. It stands up very well to the heat of a grill, without melting into liquid, and provides great, intense, minty flavor and a very satisfying texture. It's a great Mediterranean diet ingredient, but so are vegetables of every ilk, especially the classic trio of tomatoes, zucchini and eggplant. Add Greek extra virgin olive oil, garlic, and dried Greek oregano to the mix and a winner is…wrapped!
Ingredients
1

zucchini

1

Japanese eggplant

1

firm tomato

1

heaping teaspoon Greek garlic paste

2

teaspoons

dried Greek oregano

1

package halloumi cheese

cut into ¼-inch slices

2

– 4 pita or lavash wraps
Instructions
Trim the zucchini and eggplant and cut into ¼-inch rounds or oval slices. Core the tomato and cut into ¼-inch round slices.

Gently toss the zucchini and eggplant in a bowl with half the olive oil, chopped garlic, sea salt and oregano.

Light a grill pan over medium heat and grill the zucchini and eggplant, turning once, until soft and cooked through, with grill marks on both sides.

Grill the tomato slices the same way.

Wipe the grill pan clean and grill the halloumi slices, turning once, until golden on both sides.

Brush the bread on one side with remaining olive oil and lightly grill, just to warm through. Place the vegetables on the oiled side of the wrap. Distribute the halloumi slices. Wrap to secure close and serve.
Want to learn more easy, healthy Mediterranean diet recipes? Sign up for my online course "Mastering the Mediterranean!"
Want to learn more easy, healthy Mediterranean diet recipes? Sign up for my online course "Mastering the Mediterranean!"