Mediterranean Diet: 5 Essential Greek Soups
The Mediterranean diet is renowned for its variety and healthy choices, not least of which is the array of delicious, easy soups that found all over the region and are based on a long list of Mediterranean ingredients you can find almost anywhere.
Where do Greece and Greek cooking come in when it comes to Mediterranean diet soups? Well, with its temperate climate and mild winters, you might not think of Greece as a place where people need to warm up with a hot bowl of soup. But, in fact, soup is a crucial part of the Greek-Mediterranean diet! On my island of Ikaria, especially in winter, when rain can go on for months, with thick fog and gusty winds, hot soup is a particularly welcome meal. On Ikaria, a Blue Zone, renowned for the longevity of its inhabitants, bean soups top the list of bone-warming, wintry dishes, with vegetable soups and some protein-based soups (goat!) mixed with healthy grains like bulgur, next in line. Ikaria is really a paradigm for the way soup is viewed and savored all over Greece.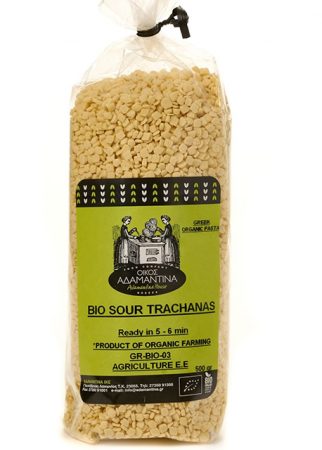 Some of the basic Mediterranean foods that find their way into Greek soups include: beans; all manner of seasonal vegetables, both in chunks and pureed; grains like rice, bulgur, tiny pasta such as orzo, and an ancient wheat product called trahana; fish and seafood, of course, given Greece's long coastline and maritime traditions; and, of course, some protein here and there. Goat, beef, and chicken all find their way into hearty soups, in which grains, vegetables and ever-present extra virgin olive oil also play a role. As far as protein, indeed, one of the most interesting chapters in the Mediterranean soup kitchen, as it relates to Greek cooking, is the whole gamut of fish soups found throughout the Aegean. Some are bound and thickened with avgolemono, an egg-lemon liaison (you probably know it from the classic Greek chicken soup ubiquitous on restaurant menus). Others are a medley of different fish and seasonal vegetables.
Getting back to my island, Ikaria, Greek soups – many of which are also popular in the Ikarian kitchen – are often plant-based: lentils, beans, and plenty of vegetables. Then, in go all the classic Greek herbs, like wild sage, oregano, and maybe even a little chile pepper. If you look outside of vegetables, you'll also find classics like bulgur-tomato soup, or Ikaria's specialty, goat meat soup, which can be boiled in cauldrons for a crowd at one of the island's panygyria (feasts), or made at home.
Below, I've broken down the 5 most common (and my own personal favorite) Greek soup recipes, from avgolemono to fakés and more! They're key to the Mediterranean diet, so make them an easy, delicious part of your Greek recipe repertoire today.
There may not be a more popular Greek soup than fasolada, a national classic that has so many regional variations.
For instance, western Crete features a version that gains a little brightness from a few strips of orange zest; in the north of Greece, fasolada is often seasoned with boukovo (hot pepper flakes), or a couple of hot chile peppers. This region also often adds mint to their fasolada!
Another option, one that I love, is to puree the soup with an immersion blender just a bit to give it a creamy, dense texture. This soup needs a healthy drizzle of Greek extra virgin olive oil, and I love to enjoy it with a side of salty Greek feta or salted sardines.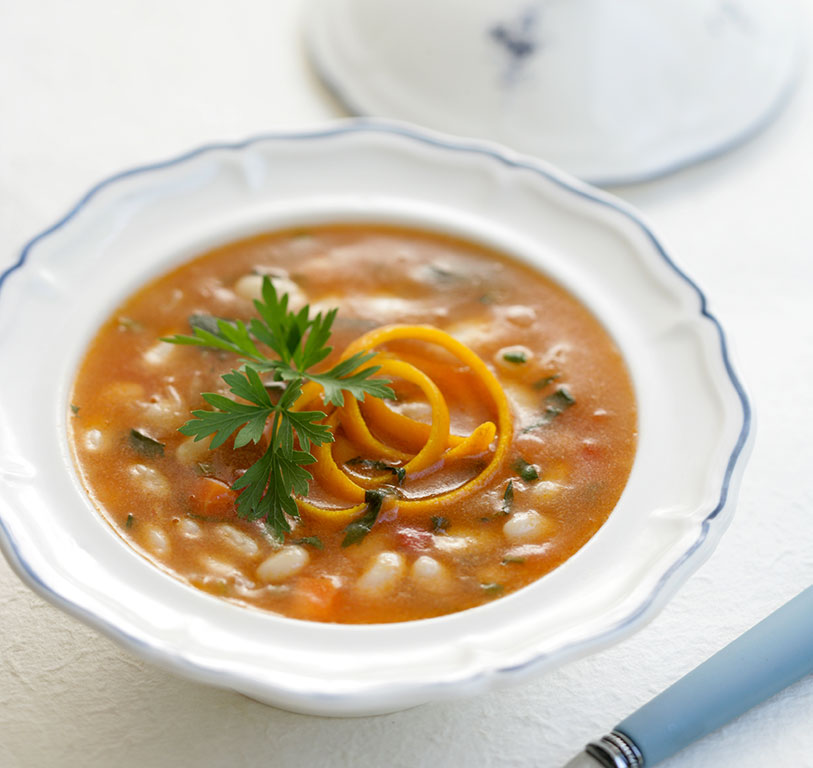 Fakés – or lentils – is yet another famous and popular soup all over Greece.
Even in the warmer months, it's a staple of the Greek diet, and for good reason: it's the ultimate comfort food. And you'll find some special lentils in Greece that make the soup particularly good.
Those from Englouvi in Lefkada create a creamy, porridge-like lentil soup – and with the help of a good pour of extra virgin Greek olive oil, you can get that creamy texture at home too.
And in Ikaria, we add chile peppers for a little kick and sage for its anti-inflammatory properties. You'll also find a simple version of this classic soup that utilizes green olive paste!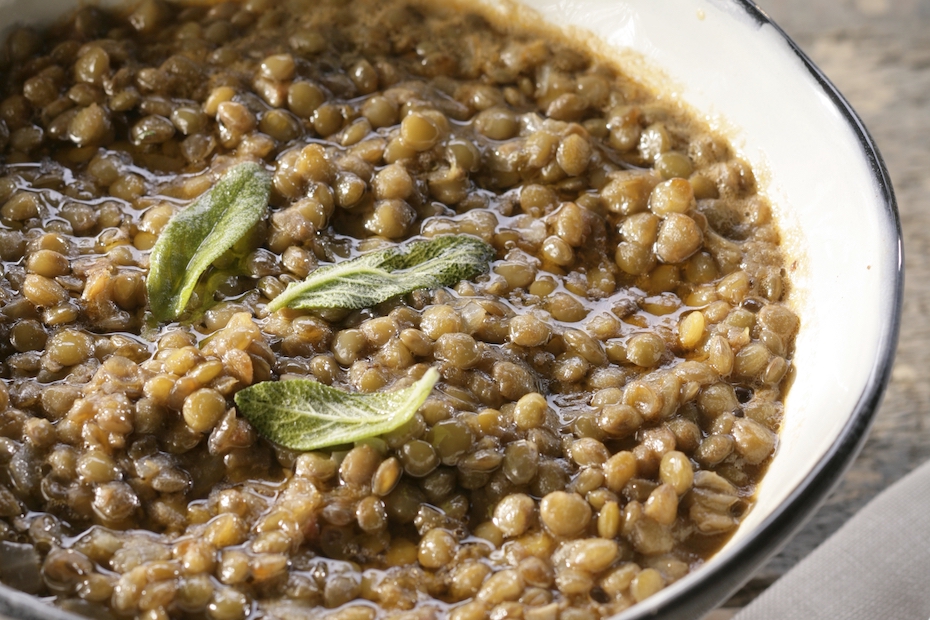 Avgolemono is one of Greece's most famous soups, made up of egg, lots of lemon, and chicken – it's a great source of protein and carbohydrates, and it's the perfect hearty meal when you're looking for a comforting meal!
It also stars Greek brown rice or orzo – my favorite semi-pasta, semi-rice grain! The addition of rice, orzo, or even pasta is crucial – the starch will stabilize the emulsion process, so your avgolemono absorbs nicely into the rest of the soup.
You might also love this fish version of the classic: Psarosoupa – Fish Soup with Avgolemono.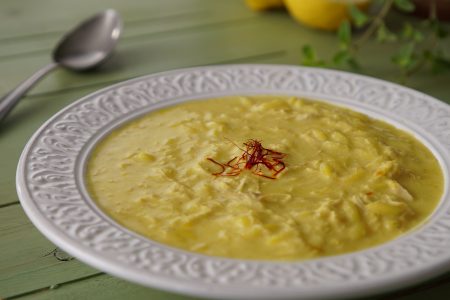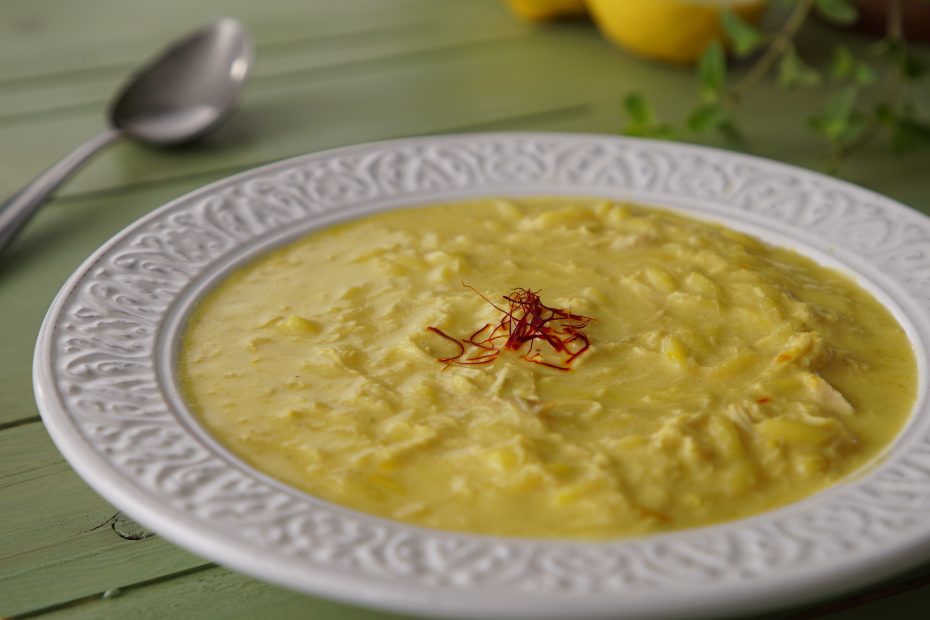 The use of trahana, an ancient granular fermented grain product (and one you can find in my shop!), is typical around Greece.
This product predates rice, and helps to make the soup particularly hearty and filling!
If you're looking for more trahana options, check out my Pumpkin-Carrot Soup with Trahana and Graviera and Soup with Trahana / Trahanosoupa recipes.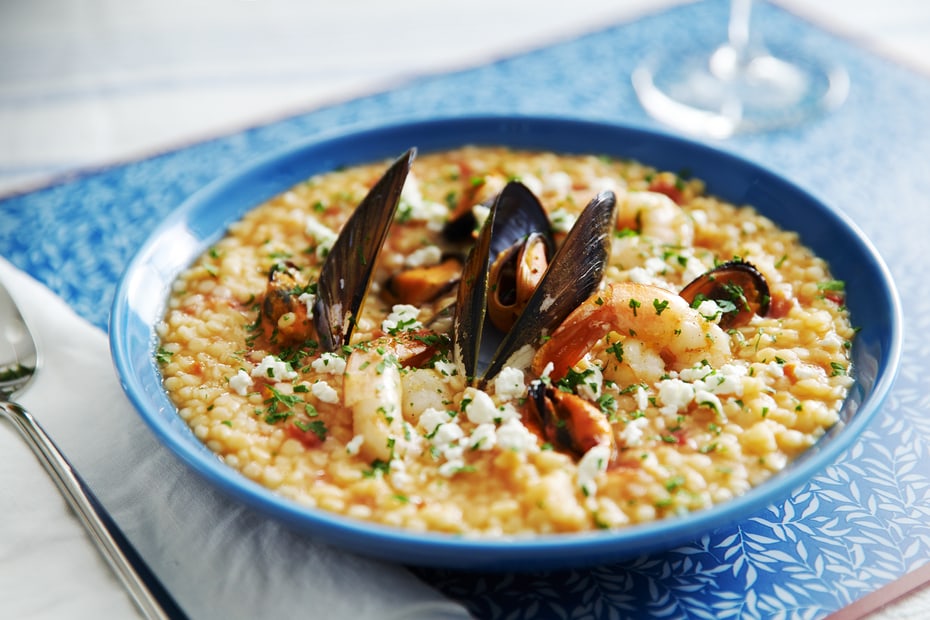 When the seas and weather calm down, fish soups probably top the list of favorite Ikarian dishes, and together with the poached fish themselves and boiled vegetables from the pot, can easily make a main course for lunch or dinner.
Back in the day, when beaches and waters were impeccably clean year-round, Ikarians would even flavor their soups with a little seawater!
My Greek Mom's Main-Course Fish Soup is a simple, no-fuss option, but this Ikarian Fisherman's Soup with Trahana is also a tasty, hearty option!