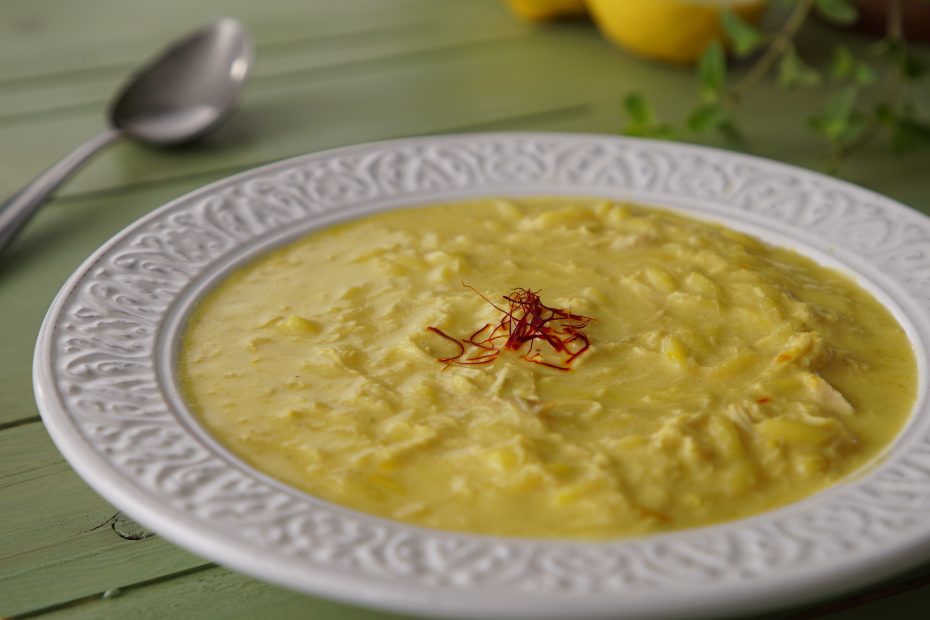 Classic Avgolemono Chicken Soup
---
Avgolemono is one of the best-known Greek soups. Here's a twist on the classic, with a touch of Greek saffron, called Krokos Kozani. To find some of the artisinal Greek products you'll need to make this, visit my online shop
here
, where you'll discover a host of lovingly curated Greek ingredients.
Ingredients
3

quarts

chicken stock

preferably homemade

3

cups

cooked chicken

1/2

teaspoon

saffron threads

Salt and white pepper

2/3

cup

Greek brown rice

white medium grain rice or orzo

1

cup/240 ml Greek white or sparkling wine

Fresh

strained juice of 1 1/2 lemons

5

eggs

separated
Instructions
Bring broth to a boil and add the rice or orzo and saffron threads. Simmer for about 15 minutes, or until the rice or orzo is tender.

Break up the chicken and shred the meat. Add to the soup. Add the sparkling or white wine and continue cooking another 6 to 7 minutes. Add half the lemon juice to the soup and stir.

Make the creamy avgolemono: Place the egg whites in a metal bowl if using a hand-held whisk or in the bowl of a stand mixer outfitted with a whisk attachment. Whip at medium speed and then at a slightly higher speed, until a stiff meringue forms. In a separate, metal bowl, with a clean whisk, whisk the yolks until creamy and while whisking add the remaining lemon juice in a slow, steady stream until thick and creamy. Fold the meringue into the yolks thoroughly. Take a ladleful of the soup broth, careful not to catch any rice, and add it to the egg-lemon mixture in a very slow but steady stream, whisking vigorously all the while. Repeat with a second ladleful. Continue adding hot broth to the egg-lemon mixture until about half the pot juices are worked into the egg-lemon mixture, tempering it. Quickly pour this mixture into the pot, tilt so that it is evenly distributed, taste for salt and pepper or additional lemon juice, and serve.
Love chicken? Check out my online class "Wing It! – Great Mediterranean Chicken!"
Love soup? Check out my online class "Comfort in a Soup Bowl!"