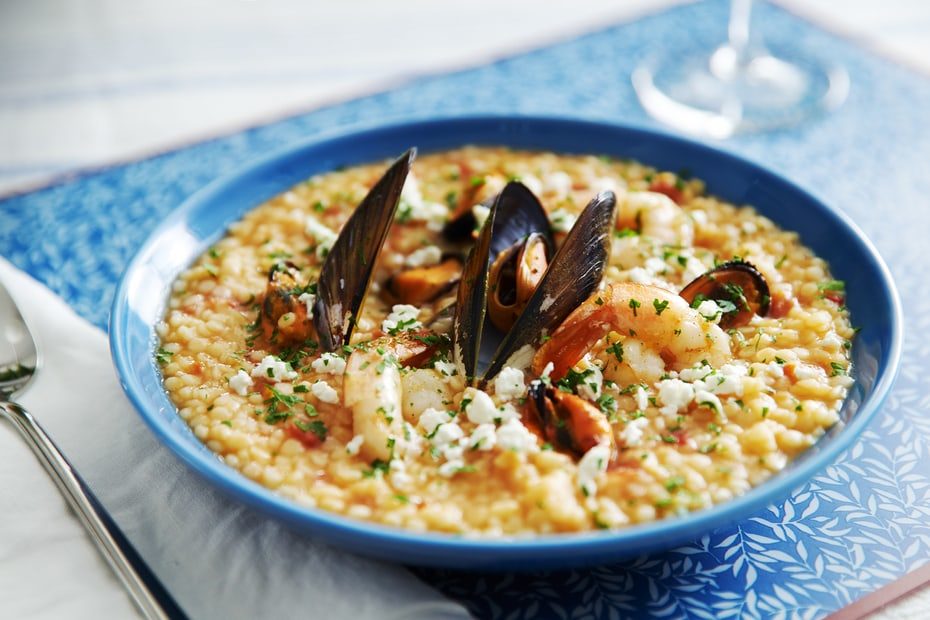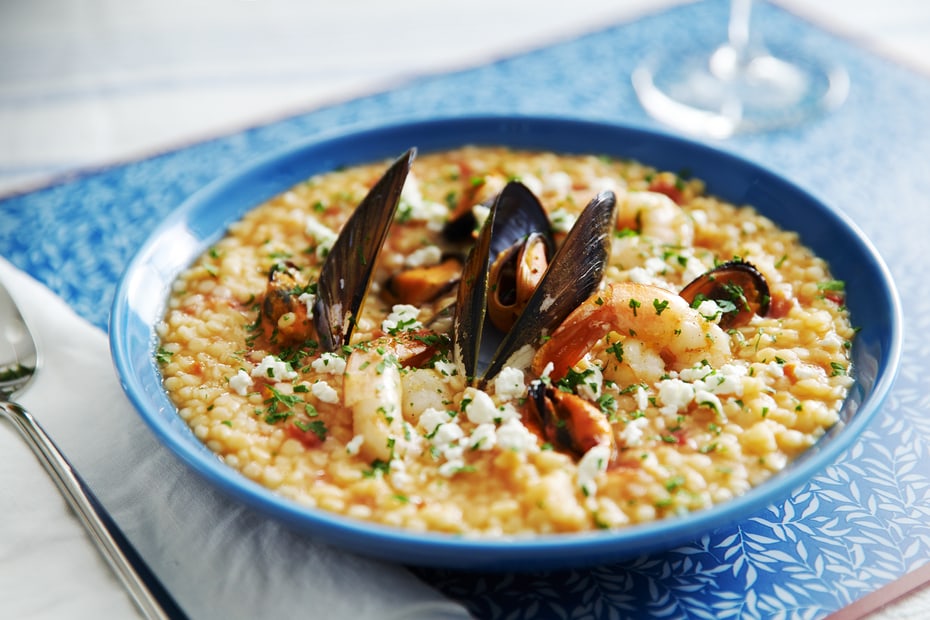 Spicy Trahana Soup with Fresh Seafood
---
Trahana is a tangy, sun-dried milk- or yogurt-infused grain product that is one the oldest foods in the Eastern Mediterranean. It was a way to preserve fresh milk before the advent of refrigeration and dates back thousands of years. It is found in various forms and shapes all over Greece, and especially in rural communities where shepherding is still a living tradition. This Greek recipe for trahana soup is from Evia, just an hour or so from Athens. I've married the traditions of land and sea in this delicious, thick and creamy soup.


Ingredients
4

pounds

(1.8 kg) fresh mussels, scrubbed and beards removed, or 6 cups cleaned thawed frozen mussels

1

cup

(240 ml) dry white wine, plus more for steaming mussels

½

cup

(120 ml) extra-virgin Greek olive oil

1

pound

(450 g) medium shrimp, peeled and deveined

½

cup

(120 ml) sour trahana

3

garlic cloves

minced

1/4

teaspoon

red pepper flakes or boukovo

Greek red pepper flakes

2

cups

(480 ml) pureed fresh or finely chopped good-quality canned tomatoes

Salt and freshly ground white pepper

3

tablespoons

strained fresh lemon juice

5

ounces

(140 g) Greek feta, crumbled

1

tablespoon

chopped fresh parsley
Instructions
Fill a large wide pot with wine to a depth of l inch (2.5 cm). Place the mussels in a steamer basket and place the basket in the pot. Cover, bring the wine to a simmer over medium-high heat, and steam until the mussels have opened, about 5 minutes. Discard any that haven't opened. Strain the cooking liquid through a fine-mesh sieve or coffee filter and set aside. Remove the mussels from their shells, keeping a few in the shell as a garnish.

In a large skillet, heat 2 tablespoons of the olive oil over high heat. Add the shrimp and mussels, and sear until the shrimp turn bright pink. Remove from the heat and set aside.

In a soup pot, heat the remaining 6 tablespoons (90 ml) olive oil over medium heat. Add the
trahana, and stir to coat with the oil. Cook for 2 minutes. Stir in the garlic and red pepper flakes.

Add 1 cup of wine and 1 cup of mussel steaming liquid or clam juice. As soon as it starts to evaporate, add 6 cups (1.4 L) water and the tomatoes and cook over medium heat until the soup starts to thicken and the trahana softens. Season to taste with salt and white pepper. Add the mussels, shrimp, and any juices that have collected in the bowl or skillet to the pot. Mix gently. Stir in the lemon juice, feta, and parsley, if using. Remove from the heat.

Garnish the soup with steamed mussels in their shells and parsley and serve.
Love soup? Check out my online class "Comfort in a Soup Bowl!"