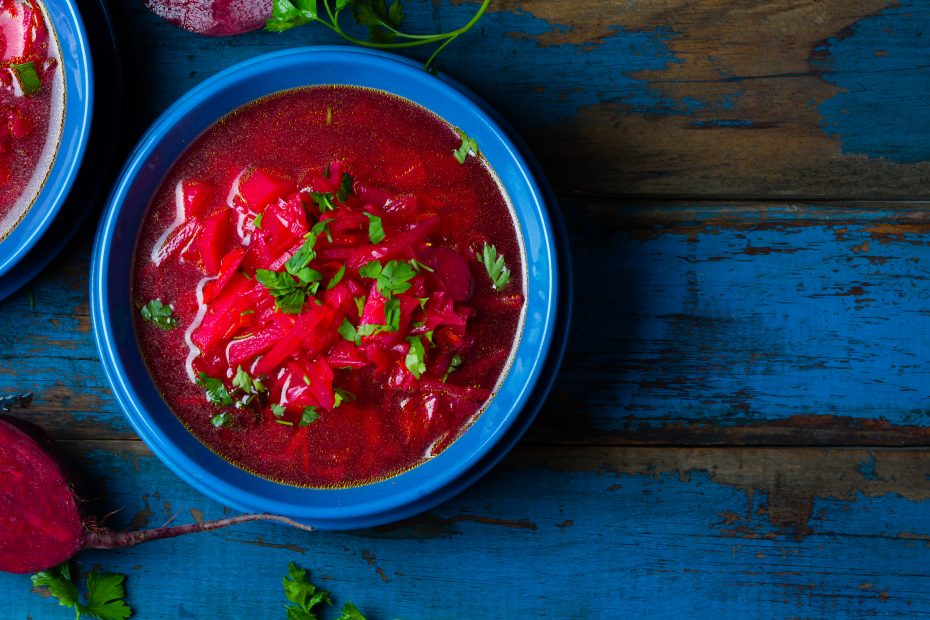 Portsi
---
I don't think I can say this enough: The Greek-Mediterranean diet is packed with excellent, hearty, main course vegetable fare prepared in every way, shape and form. Soup, of course, is one way we eat vegetables, and in winter that's often part of a weekly Mediterranean meal plan! It's also a great way to prepare and enjoy a wide range of plant-based Mediterranean ingredients. This rendition of borscht, called portsi in Greek, is a transliteration of the authentic name. It's a specialty of the Greeks of Pontos, or Caucasus. While the vast majority of borscht recipes calls for beef and/or beef bones, I have made this one vegan, approximating the flavor of meat with some smoked sea salt and paprika and pureeing a small portion of the soup with olive oil in order to give it the thickish, filling texture acquired when all the gelatin is released from long-simmering bones.
Ingredients
2/3

cup

extra virgin Greek olive oil

2

large red or white onions

chopped

4

cups

coarsely shredded white cabbage

1

cup

coarsely shredded red cabbage

2

celery stalks with leaves

chopped

4

large carrots

peeled and diced

4

large beets

peeled and diced or shredded

3

Yukon Gold potatoes

peeled and diced

Pinch

or more of smoked sea salt

to taste

1

large pinch

or more, to taste, of smoked sweet paprika

1

garlic clove

chopped

4

allspice berries

wrapped in a small piece of cheesecloth

1 ½

cups

chopped canned tomatoes

Freshly ground black pepper

8

cups

water or vegetable stock

1

small bunch of parsley

stems trimmed and leaves chopped

½

cup

snipped dill

1

tablespoon

or more

to taste, of balsamic vinegar
Instructions
Heat half the olive oil in a large soup pot over medium heat and add the chopped onions, cabbages, celery, carrots, beets, and potatoes. Season lightly with a little smoked sea salt and smoked paprika. Cover and reduce heat to low and let all the vegetables sweat in the olive oil for about 10 minutes, stirring occasionally.

Stir in the garlic. Add the allspice berries and stir. Add the tomatoes and black pepper and cover the lid for five minutes, so that everything melds together.

Pour in 8 cups of water or vegetable stock, or a combination of both. Bring to a boil over high heat, reduce to low, and simmer the soup with the lid ajar for about an hour or a bit longer, or until all the vegetables are very soft. Fish out and discard the allspice berries.

Take two cups of the soup and puree in a food processor with the remaining olive oil until smooth and creamy. Pour back into the soup. Add the snipped dill and parsley. Adjust seasoning with additional salt and pepper and drizzle in some balsamic vinegar to balance the acidity and counter the earthiness of the vegetables. Serve as is, or, if desired, with a dollop or side of Greek yogurt.
Love soup? Check out my online class "Comfort in a Soup Bowl!"