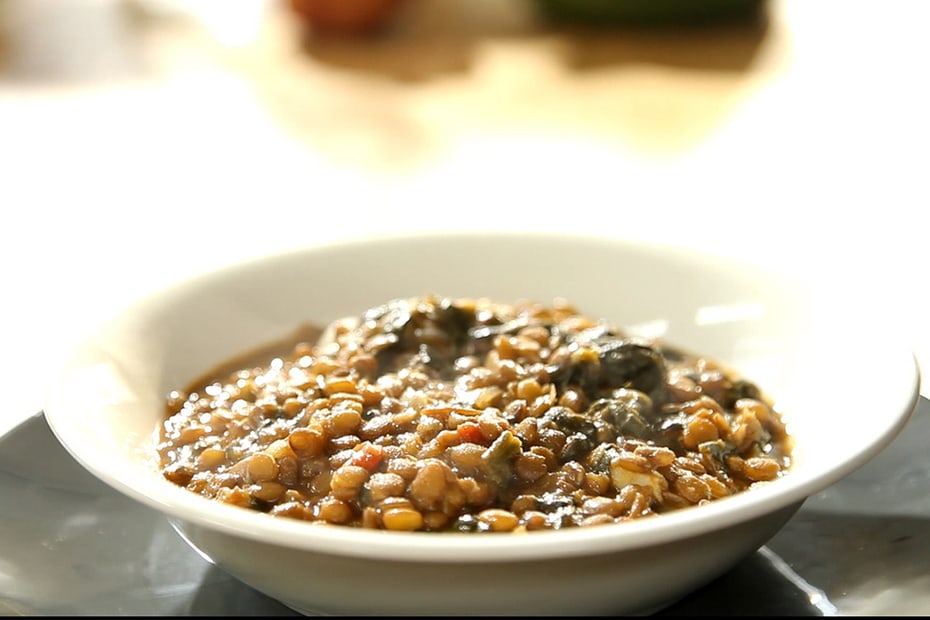 Lentil Soup with Green Olive Paste
---
This Greek recipe for lentil soup is an all-weather classic, very nutritious, a paradigm of the Mediterranean Diet, and tasty to boot!
Instructions
Heat a half cup of the olive oil in a large, wide pot and sauté the onions and garlic with a pinch of sea salt until they begin to color. Add the lentils and toss to coat in the oil. Pour in enough water to cover the lentils by 2 inches (5 cm) and add the bay leaves.

Bring the lentil soup to a boil over medium heat, reduce to a simmer and cook until tender, about 45 minutes to one hour. Add more water as needed to achieve a thick but liquid consistency. Season the soup with salt and vinegar about 10 minutes before removing from heat. Just before serving, swirl in the green olive paste. Serve the soup hot, adding the remaining extra virgin olive oil and additional salt or vinegar to taste.
Love soup? Check out my online class "Comfort in a Soup Bowl!"