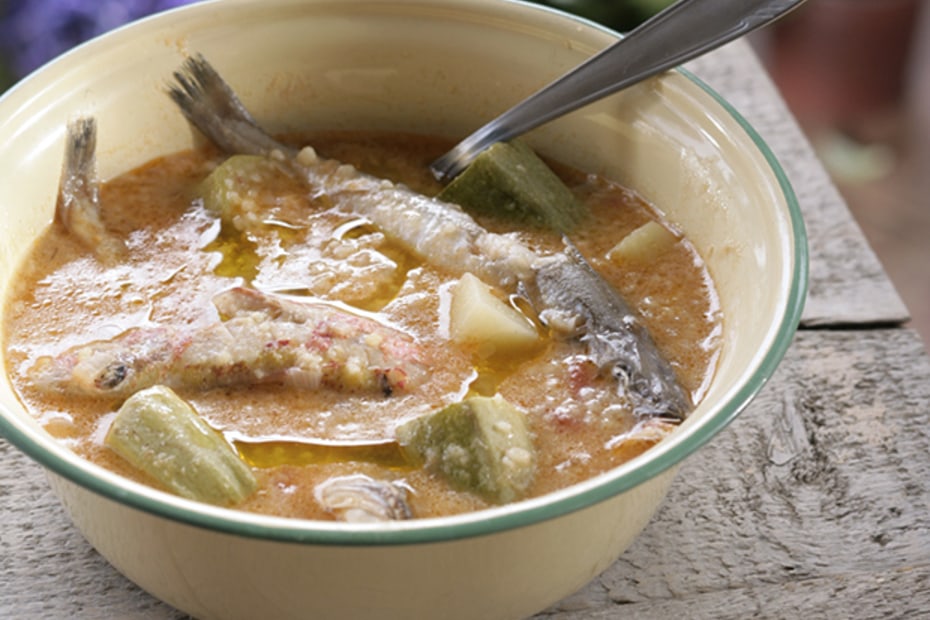 Ikarian Fisherman's Soup with Trahana
---
Before rice became a common grain in Greece, wheat and all its manifestations, in the form of bulgur, trahana, the local pasta, matsi, and more were the staples by default. Today all over Greece, Greek recipes for fish soup almost universally call for rice. This old Ikarian recipe, from my Ikaria book, however, calls for a handful of trahana. It's delicious! For 6-8 servings
Ingredients
1 1/2

cups

extra-virgin Greek olive oil

or more, as desired

4

large red onions

finely chopped

2

small zucchini

trimmed and cut into 2-inch/5-cm rounds

2

large waxy potatoes

peeled and cut into ½-inch cubes

1

large

firm, ripe tomato, peeled, seeded and chopped

Fresh strained juice of 2 large lemons

3

pounds

fresh

whole fish suitable for soups (sea bass, red snapper, scorpion fish, rockfish, grouper, bream and/or red mullet) cleaned and gutted

Salt and freshly ground black pepper

to taste

2/3

cup sweet or sour

trahana

Additional lemons

optional
Instructions
Heat ½ cup olive oil in a large heavy pot over medium heat. Add the onions, cover and reduce heat to very low. Steam the onions in the oil until wilted and soft, about 15 minutes. Add the potatoes, zucchini, and tomatoes. Season with salt. Add the lemon juice and one cup of water. Cover, bring to a boil, reduce heat to low and continue cooking for about 10 minutes.

Place the fish in the pot in order of size, with the larger ones on the bottom and building upwards so that the mullets or any other small fish are on top. Season each layer with salt and pepper as you go. Add enough water to the pot to cover the fish by about one inch. Cover the pot and cook the soup for about 20-25 minutes, until the fish is fork tender and the potatoes done. Remove the fish and vegetables from the pot with a slotted spoon and place on a serving platter.

Bring the broth back to a boil, replenishing with additional water if necessary. Add the trahana and simmer until tender, about 12 minutes. Season the soup with half a cup of raw olive oil and half the lemon juice.

Whisk the remaining ½ cup olive oil together with the fresh strained juice of 2 lemons until the mixture emulsifies. Serve this as a sauce for the fish.

Serve the soup and fish separately.
Love soup? Check out my online class "Comfort in a Soup Bowl!"