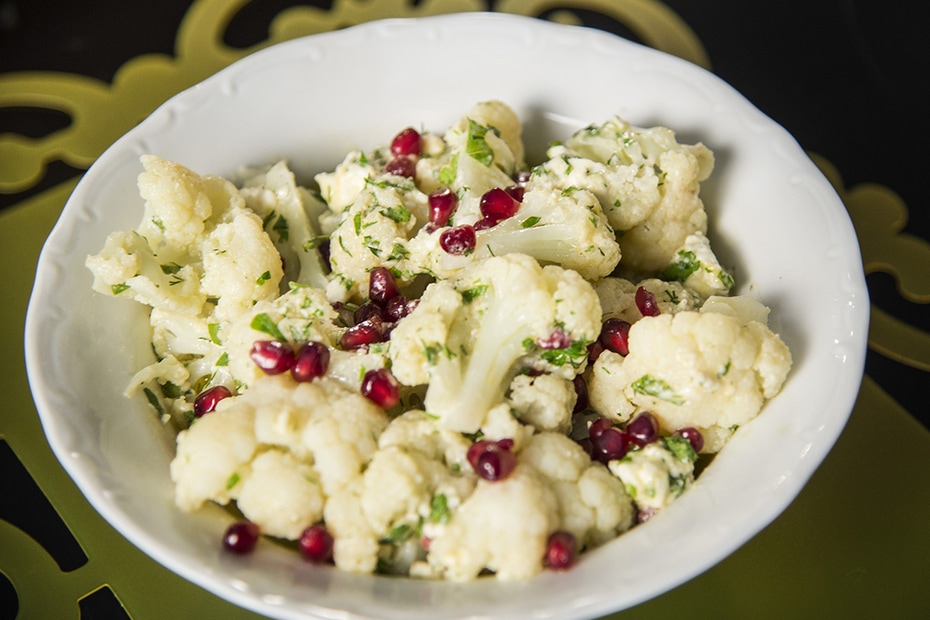 Steamed Cauliflower with Honey-Feta Dressing
---
This plant-based Greek recipe for warm cauliflower, one of the healthiest and most versatile of the cruciferous vegetables, may be served warm or as a Greek salad during colder months. It's the perfect example of easy, delicious Mediterranean diet recipes! Make sure to use real extra virgin Greek olive oil and real Greek feta for the best results!
Ingredients
For the dressing:
1/4

cup

fresh strained orange juice

1

teaspoon

Dijon mustard

1

– 2 teaspoons Greek honey

Pinch

of Greek sea salt

Grated zest of 1 lemon

3/4

cup

extra virgin Greek olive oil

¾

cup

crumbled Greek feta

2

tablespoons

chopped fresh dill

1/3

cup

chopped fresh parsley

2/3

cup

pomegranate seeds

Freshly ground black pepper to taste
and
1

medium head of cauliflower

cut into florets and steamed (about 6 – 8 cups)
Instructions
Have the cauliflower cut into florets and steamed to al dente.

In a medium bowl, whisk together the orange juice and mustard. Whisk in the honey. Add the olive oil and a pinch of salt, and whisk all together until creamy. Mix in the feta and herbs. Mix in the pomegranate seeds. Season to taste. Pour the dressing over the warm cauliflower, toss gently and serve.