Eggplants, an integral part of the Greek diet, when fresh out of the garden, can be the perfect blank canvas for all sorts of Mediterranean diet ingredients like onion, garlic, tomato, zucchini, and peppers.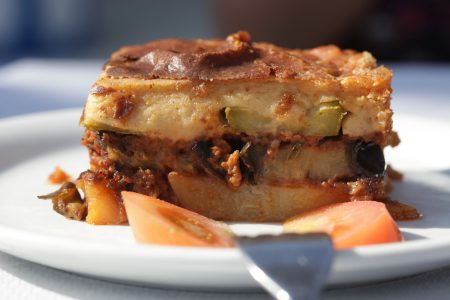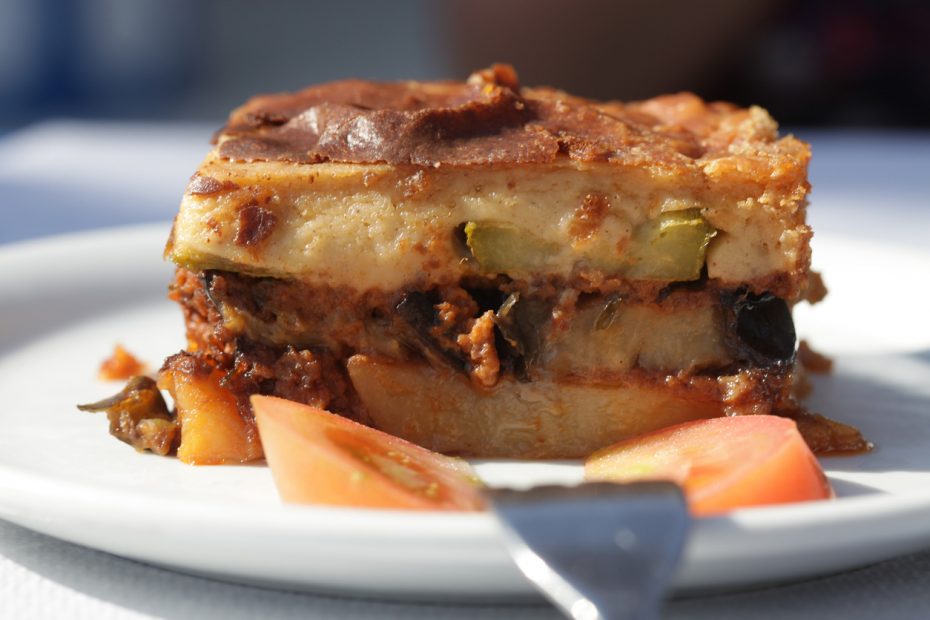 The eggplant is one of the most loved vegetables in Greek cuisine, and eggplant Greek recipes for eggplant feature prominently at the Greek table. There are many varieties in Greece, from the light purple, long Tsakonitiki in the Peloponnese, to flask-shaped eggplants, to the prized white ones from Santorini.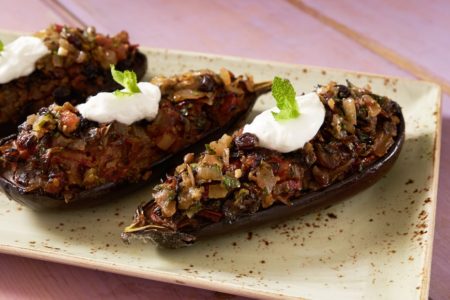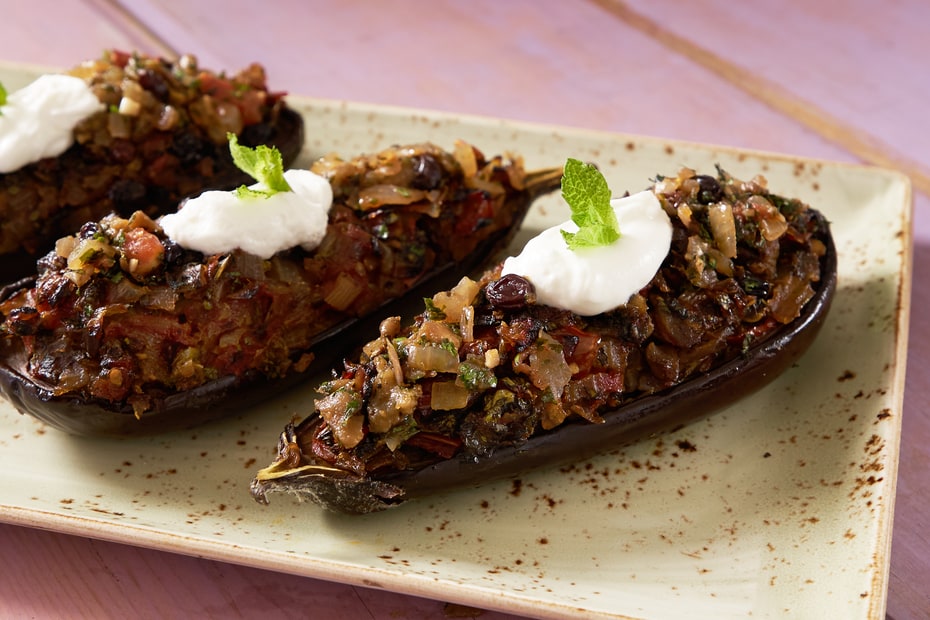 This vegetable has a mild flavor, and a very unique, almost meaty, texture. No wonder it plays a starring role in so many Greek recipes! It's also spectacularly healthy. It's dense in nutrients like vitamins, minerals and fiber, and it's high in antioxidants. Besides this, eggplants reduce the risk of heart disease, help with blood sugar regulation, and could even promote weight loss.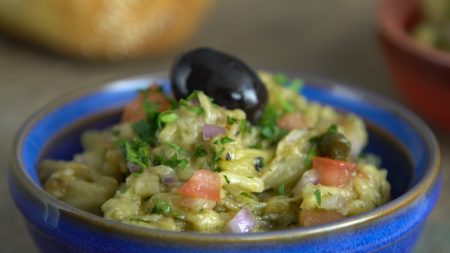 One of the most famous – and indulgent – eggplant recipes in Greek cooking is moussaka, which is probably the Greek national dish to many foreigners, although its origins are thought to be Asian. This Greek classic might actually be related or descended from the Asian maghuna, a "layered dish of mutton, onions and aubergine." But moussaka isn't limited to eggplants: it can refer to any layered vegetable dish baked with ground meat and topped with bechamél.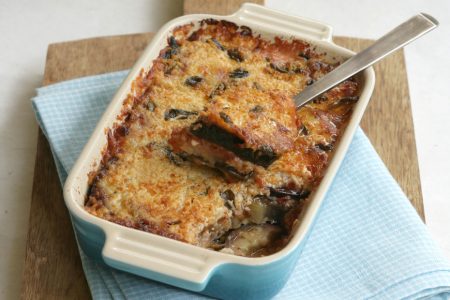 Greek recipes for stuffed eggplant abound. One, imam bayldi, is packed with onions. My riff on this classic dish, Imam Bayldi, is deliciously sweet and totally vegan, stuffed with onions, raisins, and grape molasses. It's one of the great ladera (olive-oil-based) dishes of Greece, as well as one of my favorite Greek recipes for stuffed vegetables.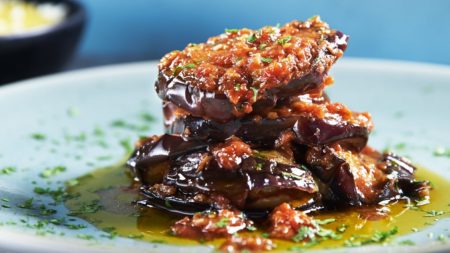 Eggplant is also the protagonist in countless Greek dips, a part of the meze tradition in G reek cooking. For the dips, they can roasted or grilled and married with all sorts of things, from nuts to herbs to tomatoes, peppers and cheeses. Here is one of many recipes for Melitzanosalata, as these dips are called, so that you can get going on your own meze table! t's smokey but light, full of fresh flavors. Then, there's my Greek take on eggplant parmesan, a Greek recipe for baked eggplant dish with Greek cheeses that will have you coming back for seconds very fast!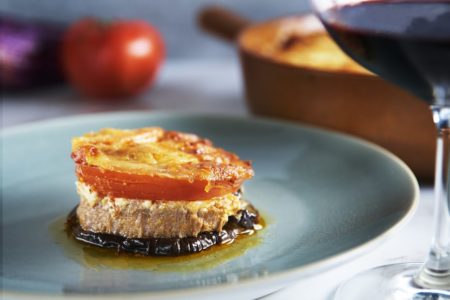 There are also the many, many amazing eggplant recipes you can find throughout the Greek islands. One of my most popular is skordostoumbi, or Zakynthos garlicky eggplant, which is a traditional dish of the Ionian islands and a perfect example of great Mediterranean Diet vegetable cookery. The vinegar in the sauce makes it a little sweet and a little sour, and it uses, I kid you not, 8 to 10 garlic cloves. It's going to be a flavor-fest! And, from Naxos, there's kalogeros, beef baked with eggplants and cheese. It's a rich combination of eggplants, beef and cheese, the latter both specialties on Naxos!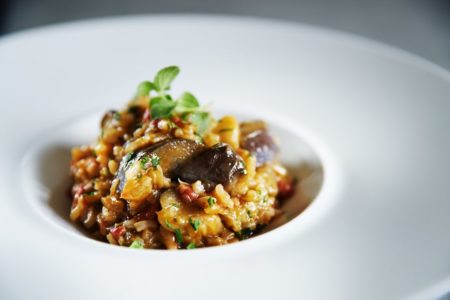 Need some extra eggplant inspiration? Melitzanopilafo, or eggplant pilaf, is a simple Greek recipe made with eggplant and seasoned with fresh herbs. It forms a delicious vegetarian main course, but it can also easily be served as a Greek meze or a side dish to simple grilled or pan-seared meat or fish. You can even turn this versatile veggie into a hearty filling for the most classic of Greek street foods: souvlaki! This version is made all the more luscious by spreading a silky Greek yogurt – zucchini dip.