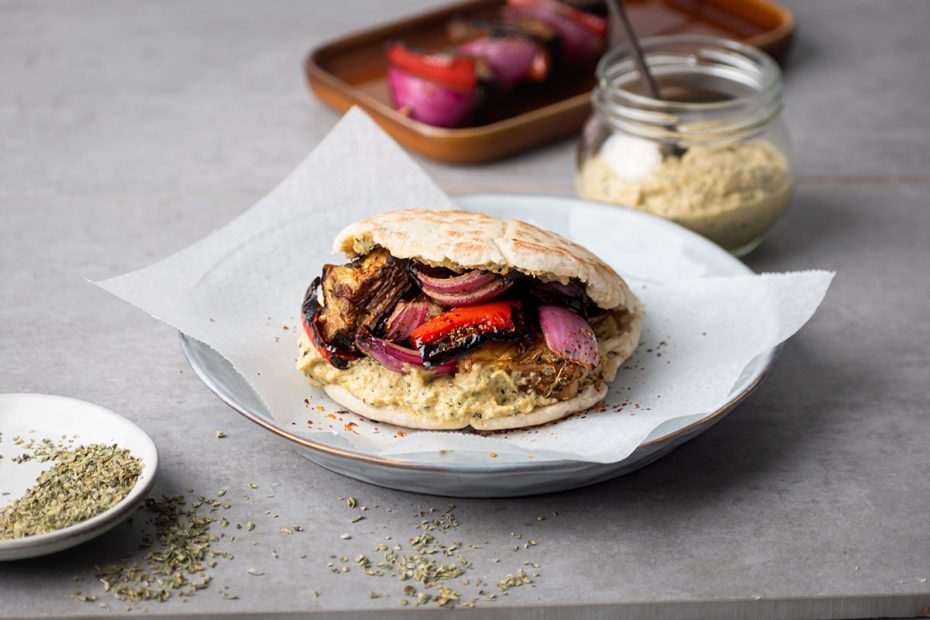 Grilled Eggplant Souvlaki Wrap with Zucchini-Greek Yogurt Spread
---
This delicious Greek recipe for eggplant skewers in a wrap, made all the more luscious by spreading a silky Greek yogurt – zucchini dip, the perfect replacement for mayo, is what the Mediterranean diet is all about! Simple, robust flavors and great, healthy ingredients mark the best of the food traditions all over the Mediterranean.
Ingredients
1

large eggplant,

trimmed and cut into cubes

2

red bell peppers,

trimmed and cut into 1 ½-inch squares or strips

2

large red onions,

peeled and cut 6 or 8 wedges

½

cup

extra virgin Greek olive oil,

or more as needed

2

tablespoons balsamic vinegar

1

scant tablespoon dried Greek mint or oregano

Greek honey for drizzling

Hot pepper flakes, if desired

8

small wooden or metal skewers

4 - 8

pita rounds for wraps
Instructions
Place the wooden skewers, if using, in a shallow basin with a little water and let them soak for a half hour.

Place all the cut vegetables into a mixing bowl. In a separate bowl, whisk together the olive oil, balsamic, salt, pepper and herbs. Pour over the vegetables and toss well to coat. Let stand at room temperature for a half hour, or refrigerate, covered, for up to 3 hours and bring down to room temperature before cooking.

Heat the broiler or grill to medium.

Thread the skewers with alternating chunks of eggplant, onion and red bell peppers. Brush with additional olive oil and broil or grill until the vegetables are done (al dente but cooked through), about 12  - 15 minutes.

Warm the pita bread lightly if desired.

Spread a little of the zucchini on the warm or room temperature pita rounds and add one or two of the eggplant-veggie skewers to each round, depending on how full you like them.

Drizzle with a very thin thread of Greek honey and sprinkle with a pinch of red pepper flakes, if desired. Wrap and serve.
Want to learn more easy, healthy Mediterranean diet recipes? Sign up for my online course "Mastering the Mediterranean!"
Love vegetables? Want to learn more great plant-based Mediterranean dishes? Enroll in my online  class "Baked Vegetable Classics!"