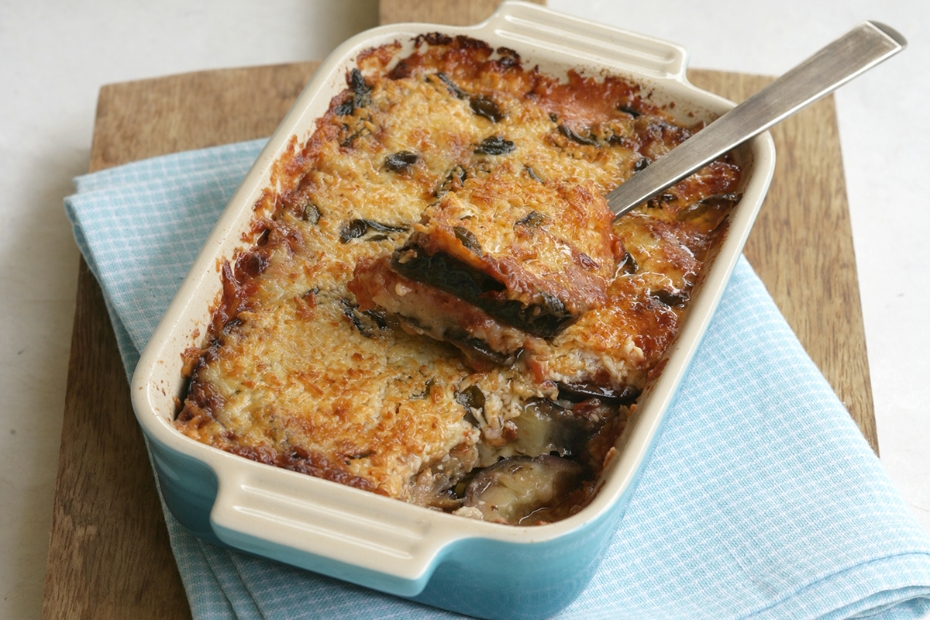 Eggplant Baked with Cheese
---
Everyone loves eggplant parmesan! Here's a baked eggplant dish with Greek cheeses that will have you coming back for seconds very fast! Opt for intensely flavored Greek dried herbs and olive oil, which you can find at my online store
here
.
Ingredients
3

cups

pomodori or canned tomatoes

chopped

2

tablespoons

extra virgin Greek olive oil

3

eggplants

about 1 pound/500 gr. each, cut into rounds (1-inch/2,5 cm thick)

Olive oil for frying and brushing

Flour for dredging

Bread crumbs for the bottom of the pan

½

cup

finely chopped fresh oregano

1

pound/500 gr. Kaseri cheese

cut into thin slices or grated

½

cup

grated Kefalograviera cheese
Instructions
In a medium pot boil the tomatoes, salt, pepper, and the 2 tablespoons olive oil for 40 minutes. Pass the sauce through a fine-mesh sieve to get a smooth texture. Place back into the pot and cook for 20 more minutes.

Sprinkle the eggplant slices with salt and let drain in a sieve for 45 minutes. Don't rinse. Pat dry with kitchen paper, pressing slightly to absorb the salt.

Heat olive oil in a deep skillet, dredge the eggplant slices in flour and fry until brown on both sides, for about 7 to 8 minutes in total. Drain on kitchen paper.

Preheat the oven to 400˚F/ 200˚C. Brush a pan with olive oil and sprinkle bread crumbs on the bottom.

Spread one layer of eggplant slices on the bottom, cover with some sauce, and sprinkle with oregano, kaseri, and kefalograviera. Repeat the layers until you use all the ingredients. Finish with a layer of sauce and cheeses.

Bake for 20 minutes, slightly covering the pan with aluminum foil. Serve hot or cold.
Love vegetables? Want to learn more great plant-based Mediterranean dishes? Enroll in my online  class "Baked Vegetable Classics!"