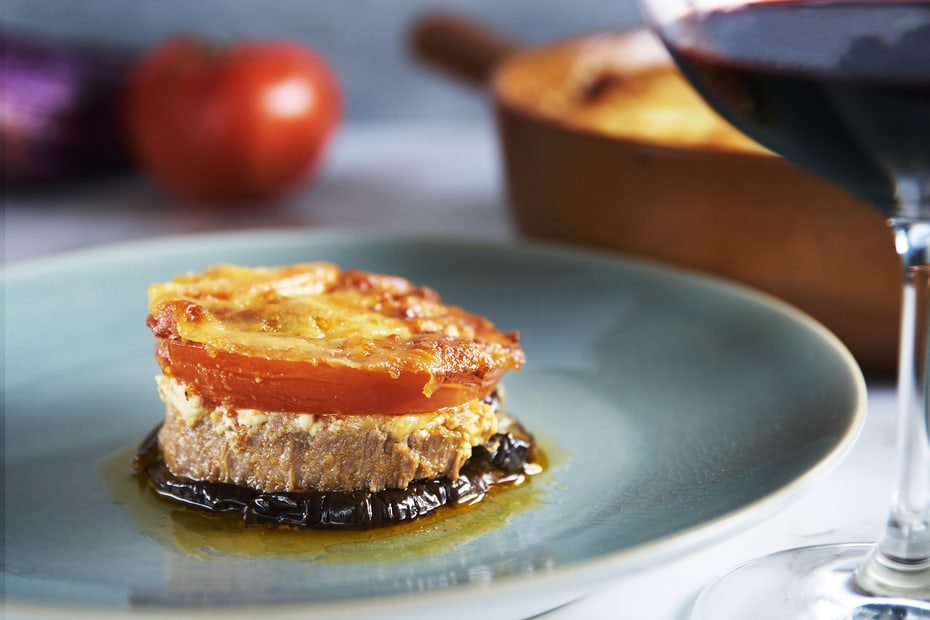 Kalogeros - Beef Baked with Eggplants & Cheese
---
A wonderful Greek recipe from the Aegean island of Naxos, Kalogeros, named for a mountain on the island, is a rich combination of eggplants, beef and cheese, the latter both specialties on the island. Naxos is famed for its unique breed of cows and its wonderful cow's milk cheeses, such as graviera You can substitute any Greek graviera, compté or gruyere.
Ingredients
2

pounds

(900 g) boneless beef rump, chuck or shoulder,

cut into ½ inch

(1.5 cm) thick slices

All-purpose flour

for dredging

3/4

cup

(180 ml) extra-virgin Greek olive oil, plus more as needed

2

large onions

finely chopped

1

cup

(240 ml) canned crushed tomatoes

1

cup

(240 ml) dry white wine

2

bay leaves

1/2

teaspoon

ground cinnamon

freshly ground black pepper

2

large eggplants

peeled and cut into ¼ inch (6 mm) rounds

6

ounces

(170 g) Greek feta or local

soft sour myzithra cheese

crumbled

2

ripe but firm large tomatoes

cut into very thin rounds

4

ounces

(115 g) Graviera Naxos or Gruyre cheese
Instructions
Dredge the meat in the flour. In a large skillet, heat 1/2 cup (120 ml) of the olive oil over medium heat and add the meat and cook, turning, until browned on both sides. Remove with a slotted spoon and set aside.

Add the onions, reduce the heat to low, and cook, stirring, until the onions soften, about 8 minutes. Place the meat over the onions. Add the crushed tomatoes and bring to a boil. Add the wine. As soon as it steams up, add the bay leaves and cinnamon. Season with salt and pepper. Cover, bring to a boil, and reduce the heat to low. Simmer for 1 1/2 hours, until the meat is very tender.

While the meat cooks, preheat the broiler with a rack positioned 8 inches (20 c) from the heat. Brush the eggplants with olive oil, sprinkle with a little salt, and place in an oiled baking pan. Broil, turning once, until soft, about 8 - 10 minutes. Remove and drain on paper towels.

Preheat the oven to 375 F (190 °C). Lightly oil an ovenproof glass or clay baking dish large enough to hold the eggplant and meat slices. Place the eggplant pieces in one layer on the bottom of the prepared baking dish. Place the meat in one layer over the eggplant and sprinkle with the feta. Spread a layer of tomato rounds over the feta. Pour over the skillet juices and sauce, then top with the Graviera. Bake for about 15 to 20 minutes, until the cheeses melt. Remove from the oven and serve.