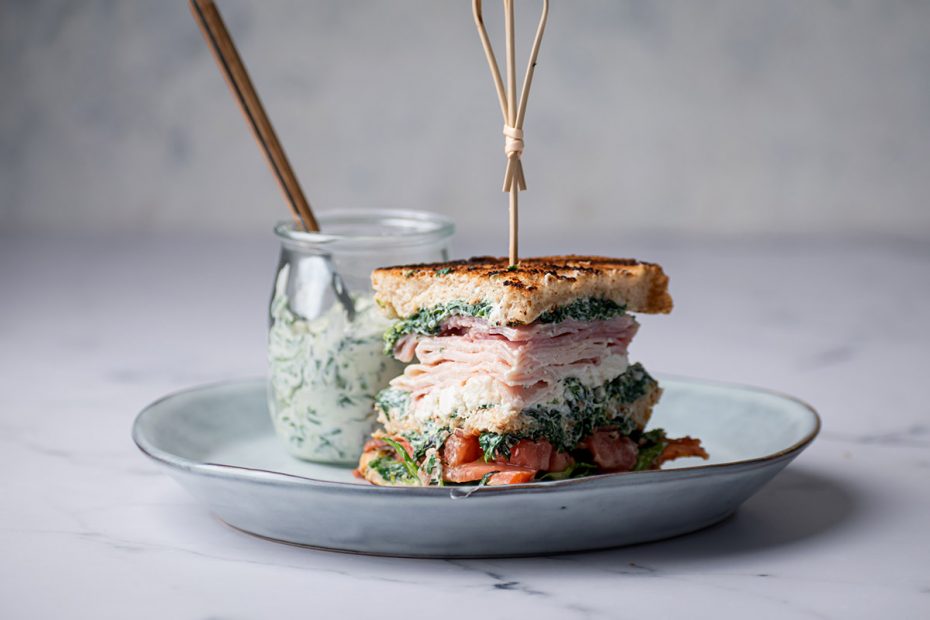 Turkey Club with Feta & Spinach-Yogurt Spread
---
I love a great club sandwich. The original classic club sandwich was created at the Union Club in New York City at the end of the 19th century. While it's remained a classic ever since, it's also gone through countless tweaks and transformations, with every chef adding his or her own twist. Mine is a Greek recipe for a club sandwich. You wouldn't have expected anything less, right? Instead of mayo, spread a little of the spinach-tzatziki on the bread. I think you'll be pleasantly surprised at this Mediterranean diet-inspired recreation of an all-American classic!
Ingredients
12

pieces

sliced whole - or multi-grain bread

2

tbsp

extra virgin Greek olive oil

12

tbsp

Spinach-Yogurt spread

1

head Romaine or large head of Bibb lettuce

12

firm, ripe tomato slices

Freshly ground black pepper

8

pieces

bacon, cooked

cooked

4

slices or wedges

Greek feta

8

slices

turkey

8

slices

ham
Instructions
Toast bread until golden, then brush a little olive oil on both sides of every slice

Spread a little spinach-yogurt mixture on one side of one slice of bread. Top with a quarter of the lettuce and 3 tomato slices, then season lightly with salt and pepper. Place 2 bacon slices on top.

Spread more spinach-yogurt on both sides of a second piece of bread and place on top of bacon. Top with 1 piece of feta, 2 slices each of turkey and ham. Spread the spinach-yogurt mixture on one side of the last piece of bread and place on top of sandwich, spinach-yogurt side down.

Secure with toothpicks and cut into 4 triangles.

Repeat with remaining bread and ingredients to create 3 more sandwiches.
Want to learn more easy, healthy Mediterranean diet recipes? Sign up for my online course "Mastering the Mediterranean!"
Want to learn more easy, healthy Mediterranean diet recipes? Sign up for my online course "Mastering the Mediterranean!"