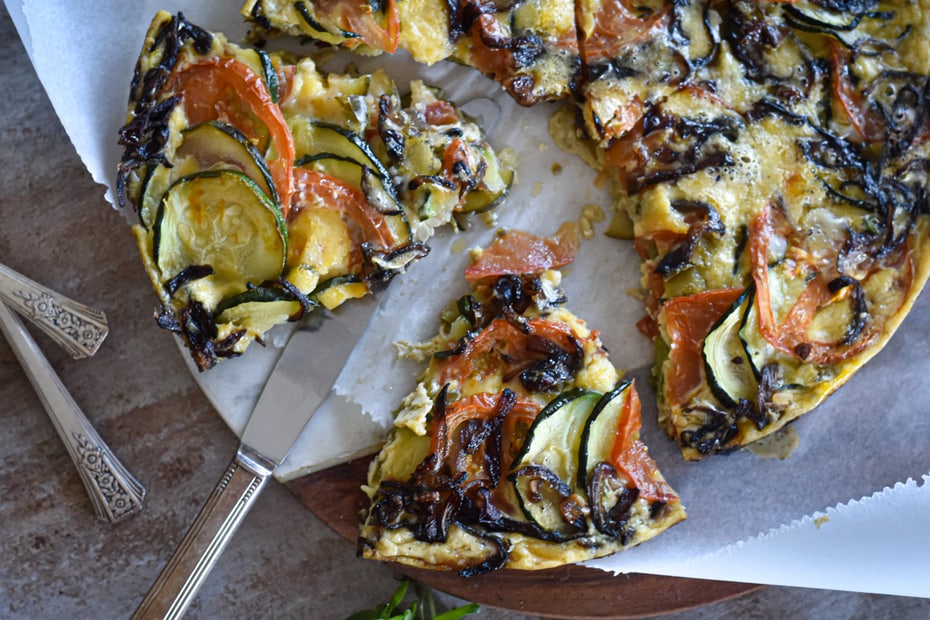 Greek Briam Baked with Eggs
---
The Greek recipe called Briam is one of the classics of the Greek vegetarian table, a wonderful dish made with thinly sliced zucchini, tomatoes, potatoes and peppers. I have omitted the potatoes in this recipe and have given a new look to the dish. When all the vegetables are baked, crisp and golden I pour eggs over them then, once set, flip the pan so that the dish looks like a vegetable tart tatin. You will need an ovenproof skillet, preferably enamelware or cast iron.
Ingredients
2

medium zucchini

sliced into 1/8-inch rounds

1

tablespoon

extra-virgin Greek olive oil

1

large red onion

halved and sliced thin

3

garlic cloves

peeled and minced

2

large green bell peppers

seeded and cut into thin rings

3

large firm ripe tomatoes

1

scant teaspoon

dried Greek oregano

Freshly ground black pepper

5

large eggs

3

tablespoons

water

4

tablespoons

grated Greek kefalotyri or Parmesan
Instructions
Preheat the oven to 400F.

Salt the zucchini slices in layers in a colander and leave to drain for one hour. You can expedite this by placing a weight over the zucchini. Rinse under cold water and blot dry very well with paper towels.

Heat the olive oil over medium heat in a large, heavy, nonstick, ovenproof skillet and sauté the onion for 6-7 minutes, until soft and lightly golden. Add the garlic and stir for a minute or so. Remove the onions and garlic and set aside for a few minutes.

Wipe the pan clean and brush lightly with olive oil. Starting from the center of the pan and fanning your way outward to the periphery of the pan, place the vegetable slices in overlapping rings, alternating between each slice, so that you have a tight, overlapping spiral of sliced zucchini, sliced tomato, and pepper rings. Season lightly with salt and pepper. Toss the onions and garlic over them and sprinkle with the oregano. Bake uncovered for about 50 minutes to one hour, or until the vegetables begin to wrinkle and brown lightly, especially the zucchini.

Beat the eggs with the water and cheese. Season lightly with salt and pepper and pour it into the hot skillet, over the vegetables. Use a good oven mitt to do this. Tilt the pan so that the eggs cover the entire surface evenly. Slide back into the oven and bake for another 10-12 minutes, or until the eggs are firm and golden. Remove. Let cool slightly.

Using a mitt, place a large dish under the skillet and flip it so that the egg is on the bottom, like a crust, and the overlapping vegetables on top, almost like the filling for an open-faced tart. Serve, sliced into wedges.
Love vegetables? Want to learn more great plant-based Mediterranean dishes? Enroll in my online  class "Baked Vegetable Classics!"