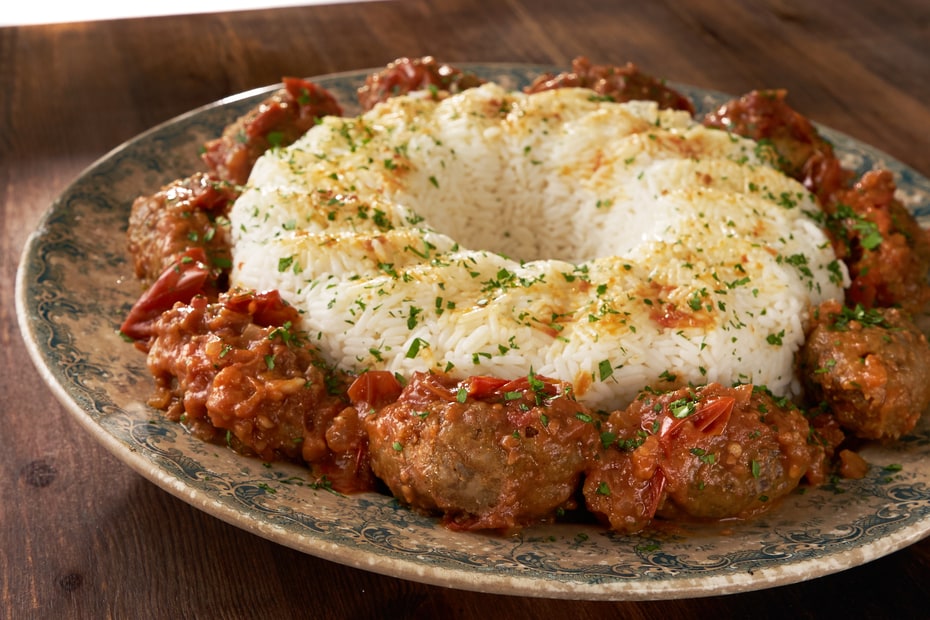 Soutzoukakia Smyrneika
---
Soutzoukakia (pl.) are a dish that came to Greek via the Greek refugees from Asia Minor in 1922. These delectable ground meat little cylinders are always flavored with cumin and cooked din a rich, thick tomato sauce. Rice and bulgur make great side dishes with soutzoukakia. In northern Greece, soutzoukakia sometimes refer to a cylindrical ground meat recipe that's grilled, not cooked in sauce.
Ingredients
Sauce
2

tablespoons

extra-virgin Greek olive oil

1/2

small red onion

finely chopped

1

garlic clove

minced

1/4

cup

dry red wine

3

cups

canned plum tomatoes

1

teaspoon

sugar

1/2

teaspoon

red chili pepper flakes

1

teaspoon

butter
Soutzoukakia
1 1/2

pounds/675 g ground beef

1/3

cup

coarsely chopped white onion

1

large garlic clove

minced

1/4

teaspoon

ground allspice

1/4

teaspoon

nutmeg

1/2

tablespoon

paprika

Pinch

of cinnamon

2 1/2

teaspoons

ground cumin

1

small egg

2

tablespoon

white wine

¼ to 1/2

cup

breadcrumbs

2

tablespoons

extra-virgin Greek olive oil
Instructions
Flour for dredging

Olive or other oil for browning

Prepare the sauce: Heat the olive oil in a medium saucepan and sauté the onion over medium heat until soft. Add the garlic and stir. Add the wine. Squeeze the tomatoes by hand into the pot and pour in their juice. Bring to a boil over medium heat. Season with salt and pepper, add sugar, reduce heat to low, and simmer until slightly thickened, about 10 minutes. Stir in the pepper flakes and butter. Set the sauce aside until ready to use. It may be prepared a day ahead of time.

Make the soutzoukakia: In a large mixing bowl, combine the ground beef, onion, garlic, spices, salt, and pepper. Mix. Add the egg and wine and knead well to combine. Add breadcrumbs judiciously, just enough to give body to the mixture so that the soutzoukakia hold their shape when formed but not too thick so as to be stodgy. Mix in the olive oil. Cover and refrigerate the mixture for 30 to 60 minutes to firm up.

Take a golf ball size of dough and shape in the palms of your hand into an elongated sausage about 2 1/2 inches/6 cm long and 1 inch or so/3 cm thick.

Flour the soutzoukakia and heat about 1/2 inch/1 cm of olive oil in a heavy skillet. Brown the soutzoukakia: As soon as they are browned on one side, shake the pan back and forth over the heat so that the soutzoukakia roll back and forth a little to brown on all sides. Remove from heat.

Place side by side in one layer in a wide pot and pour in the sauce. Cover and simmer until the soutzoukakia are soft and moist, about 30 minutes.
Notes
Variation: Alternatively, place the soutzoukakia in a lightly oiled baking pan in one layer and pour in the sauce. Bake at 350˚F/180˚C, covered, for about 40 minutes. Serve hot. Soutzoukakia go perfectly with mashed potatoes.