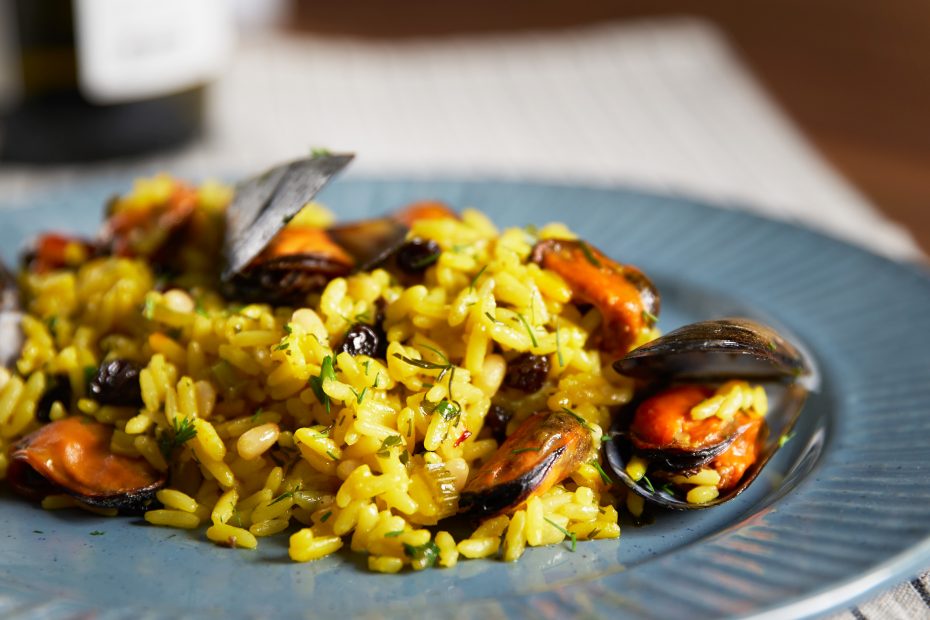 Mussel Pilaf
---
After visiting a mussel farmer off the coast of Thessaloniki, I fully understood the deliciousness of this otherwise common mollusk. Mussels are amazing! It's no wonder this classic Northern Greek recipe for mussel pilaf is such an icon of Thessaloniki's rich food history. And that history, in turn, is the very reason why Greece's second largest city is its de facto food capital and part of the UNESCO network of creative food cities. Take a look at the notes below to see what Greek wine pairs well with this dish!
Ingredients
3

lbs.

fresh

uncooked mussels in shells, scrubbed and rinsed

½

cup

dry white wine

¼

cup

pine nuts

1

red onion

¼

cup

finely chopped scallions

⅓

cup

finely chopped celery

1 ½

cup

white long-grain rice

2

garlic cloves

finely chopped

1/4

tsp.

Greek saffron

krokos Kozanis

Sea salt and freshly ground pepper

to taste

Juice from 1/2 a lemon

1/2

cup

chopped fresh dill

1/3

cup

chopped

fresh parsley

⅓

cup

Greek raisins
Instructions
Place the mussels and wine in a saucepan. Cover and cook over high heat until the mussels open, a few minutes. Discard any mussels that haven't opened.

Meanwhile, toast the pine nuts on medium heat and grate the onion with a hand grater.

Remove the mussels from the saucepan, with a slotted spoon and place them in a big bowl. Place a colander lined with cheesecloth over a large bowl and pour the cooked mussel juice in to remove any grit. Reserve this cooking liquid.

Rinse out the saucepan and add the olive oil. Sauté the onions, scallions, and celery, until they start to soften, about 7 to 8 minutes, over high heat. Add the rice, stir well and sauté for 2-3 minutes until the rice becomes translucent. Add the garlic and sauté another minute or two, until fragrant but not browned.

On a separate bowl, measure out two cups of the reserved cooking juice and add in the saffron and let it bloom. Add 1 cup of hot water to equal 3 cups, stir to combine, and add to the rice mixture.

Season with salt and pepper, and add the lemon juice. Lower the heat and simmer, covered, for about 10 minutes until the rice has absorbed nearly all the liquid.

Remove most mussels from their shells and set aside the mussel meat. Discard the shells. Leave about 5-6 with their shells on for serving.

Finely chop dill and parsley.

Add the raisins and the toasted pine nuts and stir in the cleaned mussels. Stir in the dill, and parsley, stir well and add the whole mussels in their shells, as well. Do not add much salt, as the mussel liquid will be salty. Stir everything around, so the rice mixes right into the mussel shells, and cook for another 2-3 minutes. Serve.
Notes
NOTE: The mussel pilaf pairs beautifully with an Assyrtico from Gymno village, Nemea, in the Peloponnese. It is characterized by crystal clear color with green highlights. The nose is generous with aromas of citrus, apples, mineral and saline notes. This wine has excellent structure, crisp acidity, salinity and minerality and a long and complex finish.