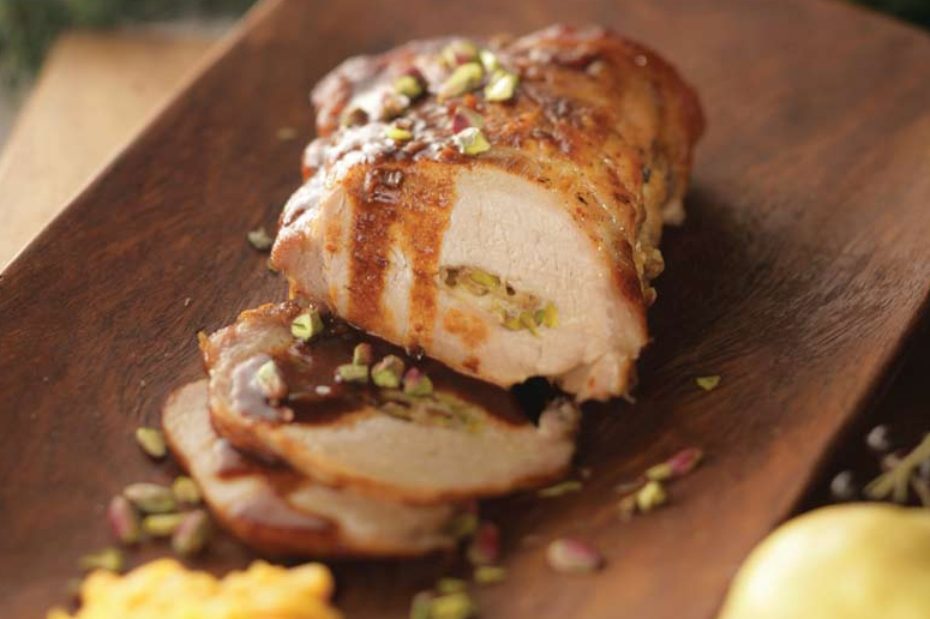 Pork Roulade with Naxos Graviera and Nuts
---
Adapted from my book, The Country Cooking of Greece (Chronicle, 2012). This is a really special recipe, so elegant but also easy to prepare. If you can't find authentic Naxos graviera, you can use a good pecorino.
Ingredients
1

kilo

2lbs leg of pork, trimmed and butterflied

8

garlic cloves

minced

300

g

11oz Naxos graviera cheese, diced

½

cup

pistachios

coarsely chopped

Grated zest and juice of 1 lemon

½

cup

extra virgin olive oil

2

cups

dry white wine

½

cup

lightly toasted pine nuts

coarsely chopped
Instructions
1. Preheat the oven to 375˚F/190˚C.

2. Wash and pat the meat dry. Place on a large cutting board and pound the meat slightly with a meat mallet. Season the exposed side lightly with salt and pepper. Sprinkle with garlic, cheese, pistachios, pepper and lemon zest. Roll up into a tight cylinder and secure closed with string. Season the roulade generously with salt and freshly ground black pepper.

3. Place a flameproof baking pan large enough to hold the pork roulade on the stove top over medium-high heat. Add olive oil and when hot sear the meat in the pan, turning, until browned on all sides. Pour in the wine and as soon as it steams up, remove the pan from the flame. Cover the pan and transfer to the oven. Roast, covered, for about 2 hours, or until the pork is tender and thoroughly cooked. Check the meat during roasting and add water as needed to keep it moist. About 15 minutes before removing from heat, add lemon juice. A few minutes before removing from oven, add the chopped pine nuts and walnuts. Remove, cool slightly, and serve.