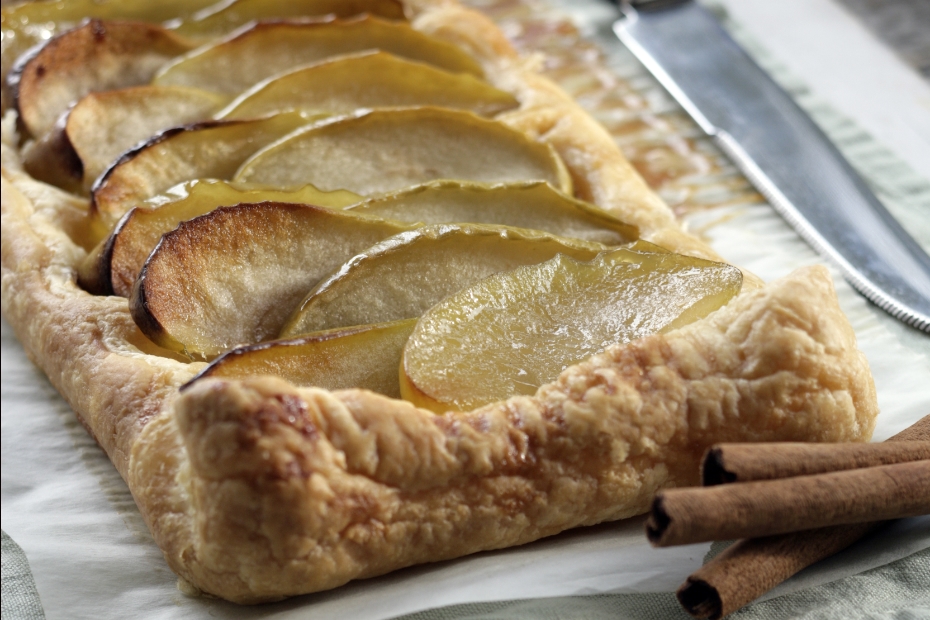 Easy as Pie Apple Tart
---
Take the fear out of apple pie with this super easy, Greek-inspired recipe.
Ingredients
1

sheet puff pastry ready

refrigerator, cut in half lengthwise

4

large green apples

with peel

2

tbsp.

butter

¾

cup.

sugar

2

tbsp

cognac

1

cinnamon stick

2

rose geranium leaves

optional

¾

cup.

sugar

2

tbsp

orange liqueur

2 to 3

tablespoons

sugar for sprinkling
Instructions
Preheat oven to 375°F / 180°C.

Cut the puff pastry in half lengthwise and place the two rectangular pieces in a nonstick pan. Turn in the edges to make a decorative rim. Place the pan in the refrigerator until you are ready to bake the pies.

Quarter the apples lengthwise and remove seeds. Cut each quarter into thin slices.

Heat butter in a nonstick skillet and sauté the apples with the sugar.

Once the sugar has melted, add the brandy, rose geranium and cinnamon stick. Cook the apples on medium-high heat for about 5-6 minutes, until they begin to brown slightly.

Remove the apples with a slotted spoon and cool.

Next, place them in neat rows inside the chilled puff pastry rectangles.

Bake the tarts in preheated oven for approximately 18 to 22 minutes until they brown nicely and the apples are set. Remove, cool, and serve.
Love savory pies and phyllo specialties? Sign up for my online class "Fearless Phyllo – Homemade!" to learn the secrets of making great, easy pies at home!