Ouzo is a distillation. Most people think it's a grape distillate, but that's not exactly true. By law, ouzo must be distilled from a minimum of 30% grape residuals. The roots of ouzo are a little murky, with possibilities deriving from Greece (ózó, meaning smell), Turkey (ūzūm, meaning grape), or Italy (as part of the phrase uso Massalia, translated to "for use in Marseille" and referring to the stamp once seen on high-quality bottles), but ouzo officially arrived in Greece in 1856, when Nikolaos Katsaros opened the distillery at Tyrnavos. You can still find this ouzo, Tyrnavou, today! And in 2006, the product was awarded the Protected Designation of Origin label, meaning that the only real ouzo comes from Greece.
This drink is made everywhere in Greece, but if you head to Mytilini, on the island of Lesvos, you'll find that this drink is truly everywhere. Some of the best brands come from here: Ouzo Barbagiannis, Ouzo Giannatsi, and, perhaps the most famous, Ouzo Plomari.
Anise is the de rigueur flavoring agent and the spice that gives ouzo its characteristic taste and aroma as well its tendency to go milky white when you add ice or water to it. Star anise, coriander, cloves, cinnamon, and mastiha are some of the other spices that are used to give ouzo its flavor. Each producer has his secret recipe, which is one of the things that distinguishes one ouzo from another.
Ready to buy your own bottle? Check the label to see if it is marked as ouzo, ouzo style, or ouzo-like. Remember, only Greek ouzo is real ouzo! You can also start looking into the types of ouzo. There's combined, which means that the ingredients are bottled together without any brewing, refining, or added heat. Cooked and combined means that the ingredients are cooked together before bottling, leading to a much smoother taste. Distilled is more common with bigger producers, and cooked and distilled leads to the most refined taste.
You don't simply drink ouzo. There is a process! To start, you have to add water, which will make it turn milky white. This is known as louching, and it happens with many anise-flavored spirits. You can pour it on ice, but you shouldn't freeze the bottle. Then, enjoy it all afternoon long alongside all your favorite fresh seafood dishes and meze plates.
But of course, you can do much more with ouzo if you like the flavor. In the kitchen, I have learned to use ouzo at the beginning of the cooking process, so that the sharpness of its alcohol has time to burn off, leaving behind only the friendly, subtle hints of its vibrant flavor. In sauces, I add ouzo at the point where my vegetables — usually onions, but sometimes any combination of onions, leeks, scallions, carrots, or celery, depending on the dish — have wilted and before I pour any other liquid into the pot. I have learned the lessons inherent in drinking ouzo as an aperitif, namely that it goes best with seafood, but I have found a variety of uses for it in the kitchen. Read on for some of my favorite ouzo recipes!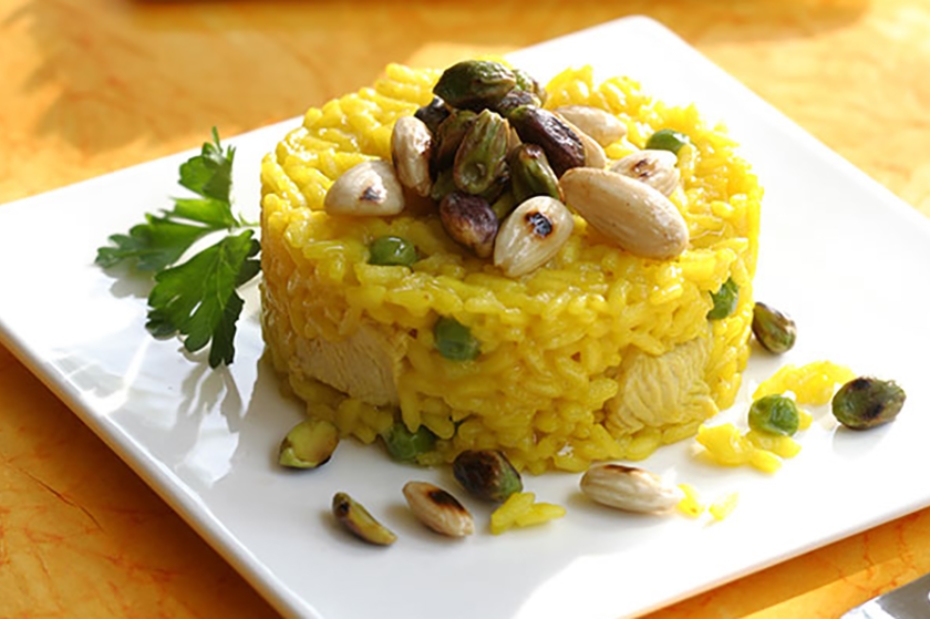 There's nothing that spiffs up a hum-drum rice pilaf like ouzo. You simply pour in the ouzo and steam off the alcohol, and you're left with a flavor that is a perfect pair with Greek saffron (AKA Krokos Kozanis).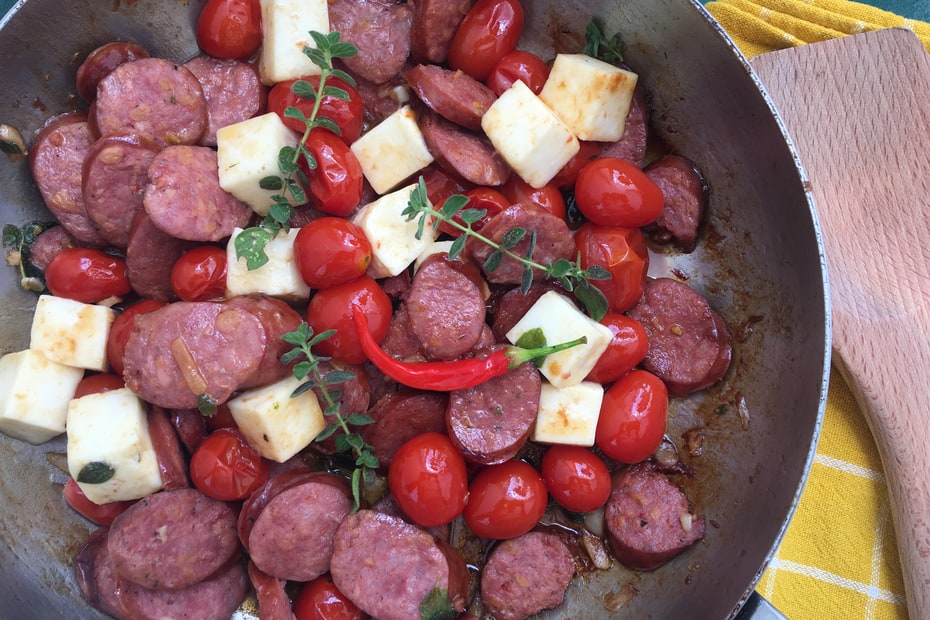 This quick, easy Greek recipe for seared sausages calls for ouzo to give the final dish a lovely, refreshing flavor. The chile pepper, tomatoes and fresh Greek oregano bring it all together, but the final touch, of course, are the cubes of halloumi cheese, which barely start to melt just as the dish is ready to be served.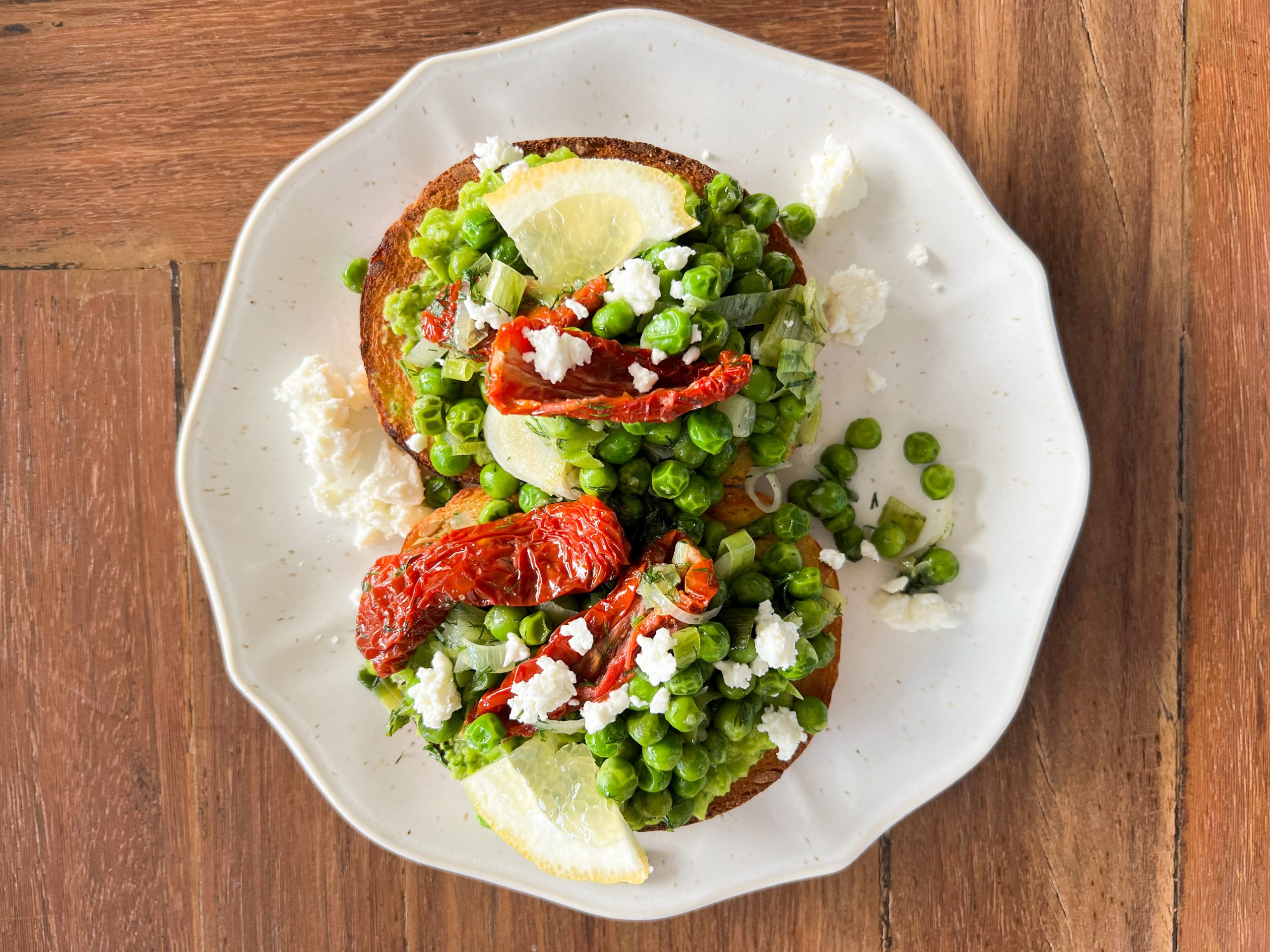 This Greek recipe for fresh pea fava with ouzo and feta on toast is fun and nutritious, and it takes its inspiration from classic Greek fava, the yellow split pea puree that's a favorite Greek meze. Mashed fresh peas taste so grassy and lively and their green color, enhanced with health-giving Greek extra virgin olive oil, sun-dried tomatoes, fresh dill and Greek feta, makes this a most beautiful Mediterranean diet recipe that can be savored as a snack or light lunch.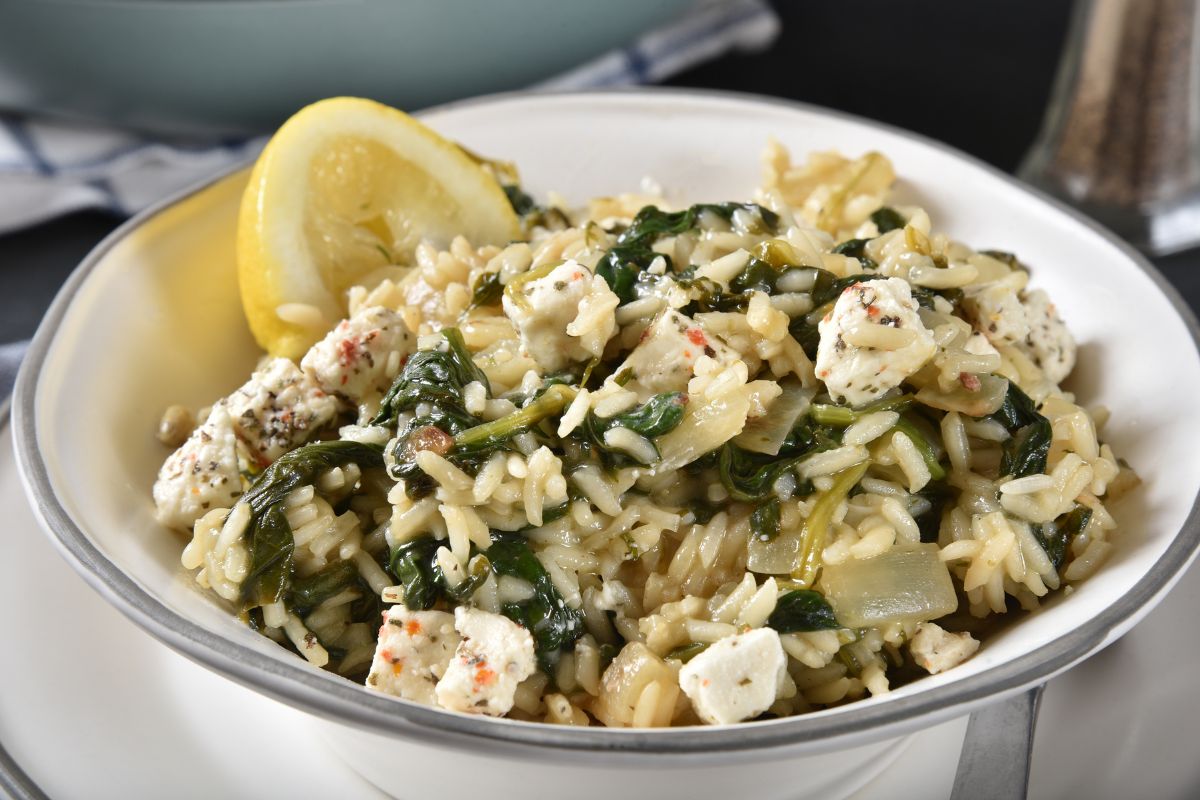 The classic spanakorizo speaks the language of a perfect Mediterranean diet recipe because it has all the right components: extra virgin Greek olive oil, greens, in this case spinach, a grain (rice), and a vibrant, fresh flavor profile thanks to the addition of ouzo, which I like to use as much as a seasoning as I do an aperitif (!), Greek feta, and a touch of balsamic vinegar to add a subtle acidic punch.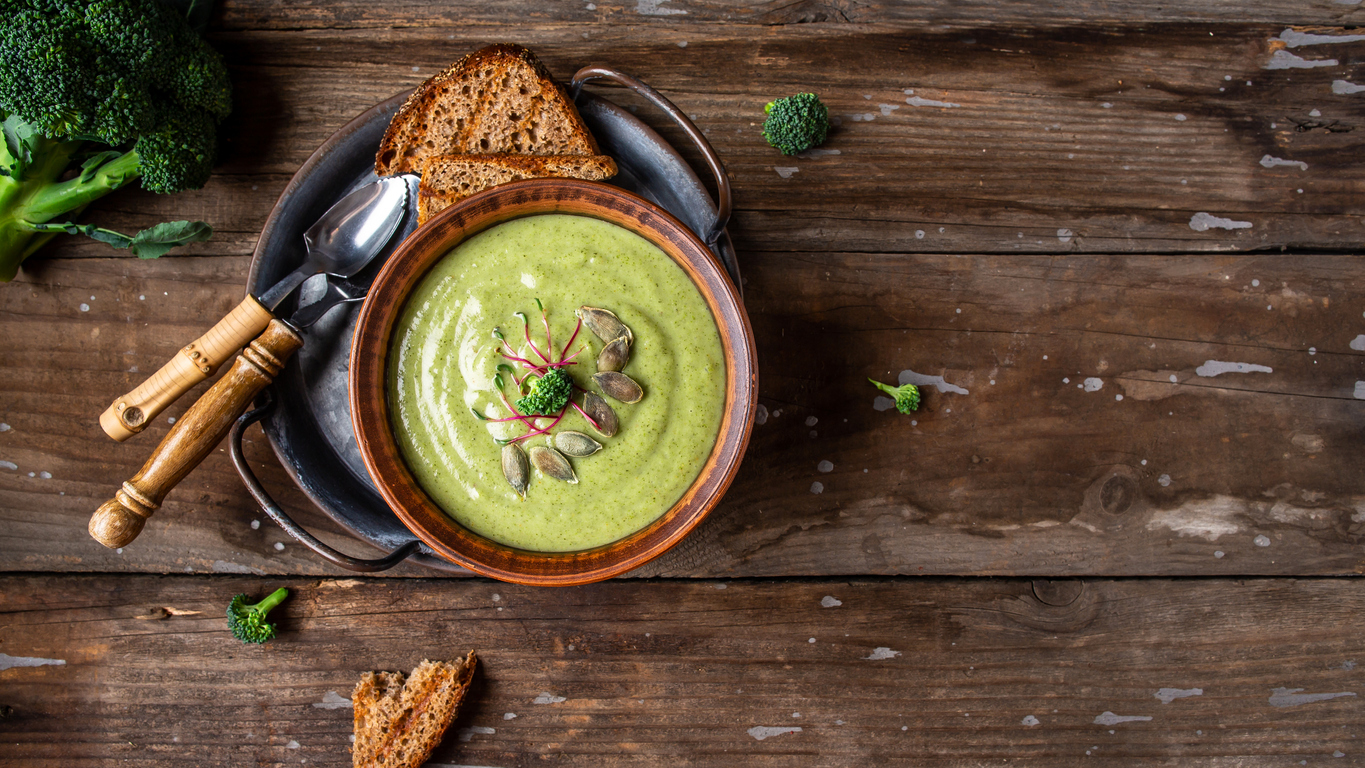 When it's soup season, I often turn to the cruciferous vegetables and this creamy broccoli soup with Greek yogurt, ouzo, ginger, and pumpkin seeds is easy, delicious and dazzling. Broccoli is one of the healthiest vegetables we can eat and it pairs beautifully with the tanginess and creaminess of Greek yogurt. It also goes really well with the sweet refreshing flavor of anise, both in the ouzo and in the piece of star anise that flavors this soup.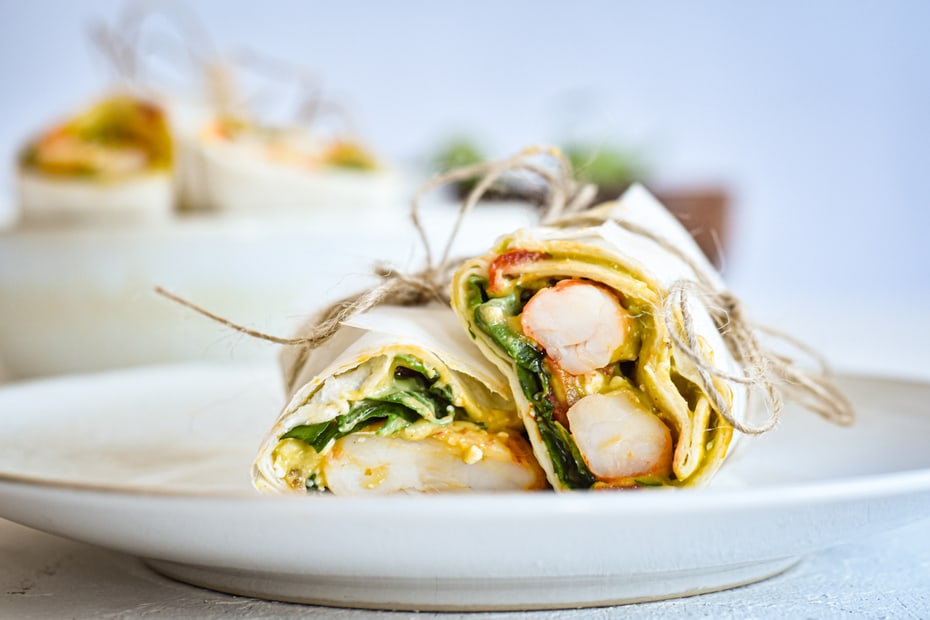 Avocados have one over Greek cooking and become a part of the Mediterranean Diet. This Greek recipe is definitely a hybrid, one inspired by all the wonderful Mexican cooks I have worked with in kitchens all over the U.S. I like to call this one small paean to "Grecque-Mex" cuisine, and it features a wonderful extra ingredient (yes, ouzo!).