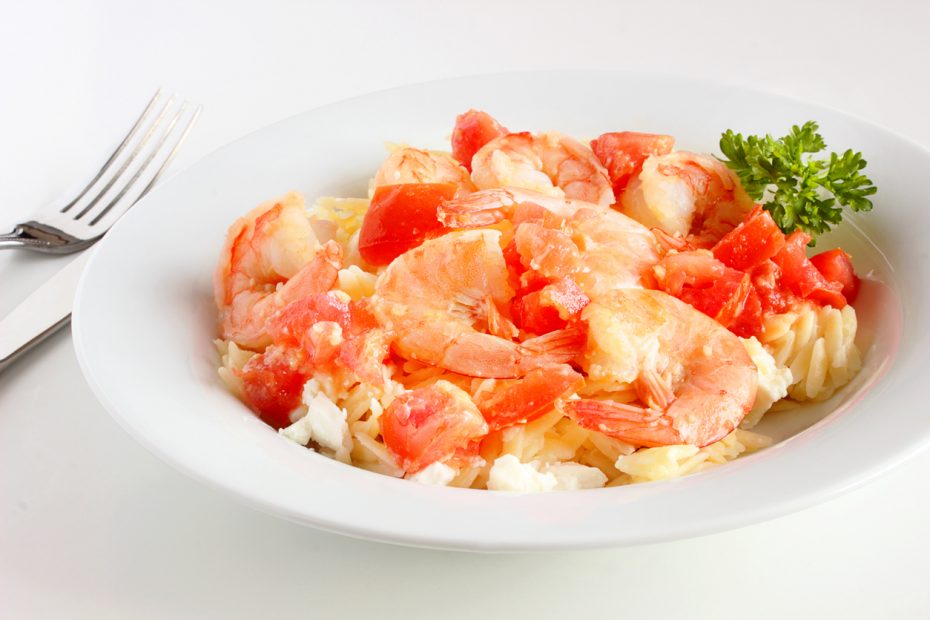 GRILLED SHRIMP WITH ORZO, FETA, AND SMOKED TOMATOES
---
WHAT TO KNOW ABOUT FETA Feta is a traditional Greek brine cheese always made with either sheep's milk or sheep and goat's milk. It is also a PDP cheese, which stands for Protected Designation of Origin, meaning that real feta can only be made in specific places within Greece. These places are recognized for their long-standing traditions, climatic conditions and other factors relating to the quality production of cheese in the traditional way. No other country in the EU is permitted by law to produce feta under the name feta. They must call it something else, typically white brine cheese. Unfortunately, that law does not extend to the United States, so we have "feta" produced in various parts of the US, mostly with cow's milk, and its flavor, texture and overall profile have little to do with the real Greek cheese. Authentic Greek feta is NEVER produced from cow's milk!
Ingredients
2

pounds

plum tomatoes

1/2

cup

extra virgin olive oil

1

– 2 tsp sugar

¼

cup

balsamic vinegar

1/3

cup

wrinkled black olives

½

cup

julienne fresh basil or 1/3 cup fresh oregano

leaves only, chopped

1

small head of garlic

Fresh

strained juice of 1 lemon

¼

pound

Greek feta

cut into ¼ - inch cubes

2

pounds

medium shrimp

peeled, deveined, tails removed

1

pound

orzo
Instructions
Light the grill according to individual unit directions. Bring a large pot of lightly salted water to a boil.

Cut the tomatoes in half lengthwise, remove the stem ends and gently squeeze out the seeds. Lightly oil a shallow heavy metal baking pan, large enough to hold the tomato halves in one layer. Oil the pan lightly. Toss the tomatoes with 3 tablespoons olive oil, salt, pepper and sugar and place cut side up in the pan. Sprinkle with balsamic vinegar. Cover the pan with aluminum foil and place on the grill, over indirect heat. Wrap the garlic head with double strength aluminum foil and place on the grill rack, over indirect heat, too. Close the lid on the grill (make sure the vents are open) and smoke the tomatoes and garlic for about 20 - 25 minutes, until the tomatoes are soft and charred. Remove the tomatoes and set aside, covered to keep warm.

Boil the orzo to al dente. Remove, drain, and toss with 3-4 tablespoons of olive oil.

While the orzo is boiling, toss the shrimp with salt and pepper and grill, over the hottest part of the grill, for about 3-4 minutes per side. Remove. Remove garlic from grill, separate the cloves and squeeze out the pulp into the orzo.

Toss the orzo with the tomatoes, shrimp, olives, feta, remaining olive oil, lemon juice, and herbs. Adjust seasoning with additional salt and pepper. Garnish with fresh lemon wedges and fresh basil or oregano. Serve warm.