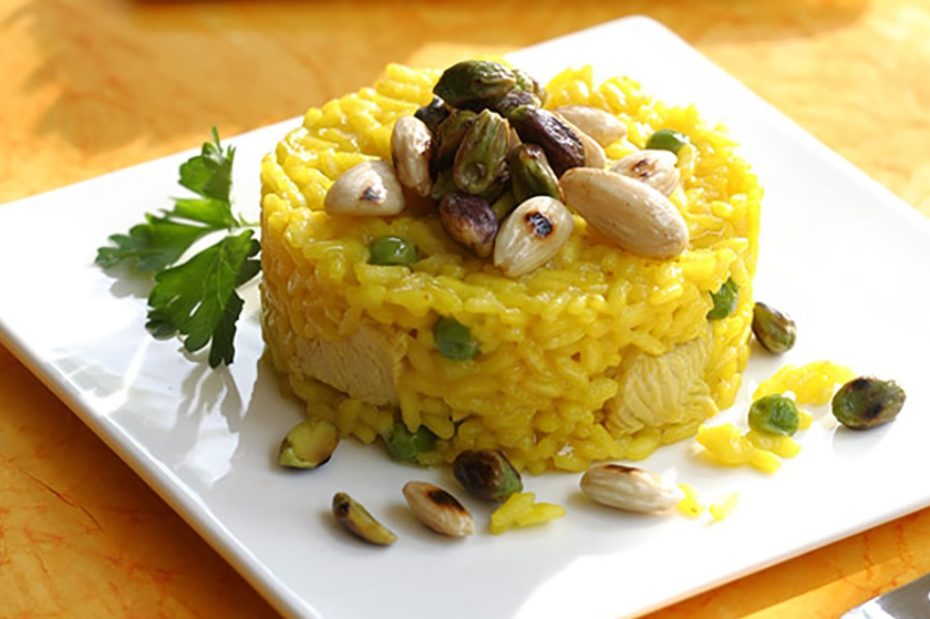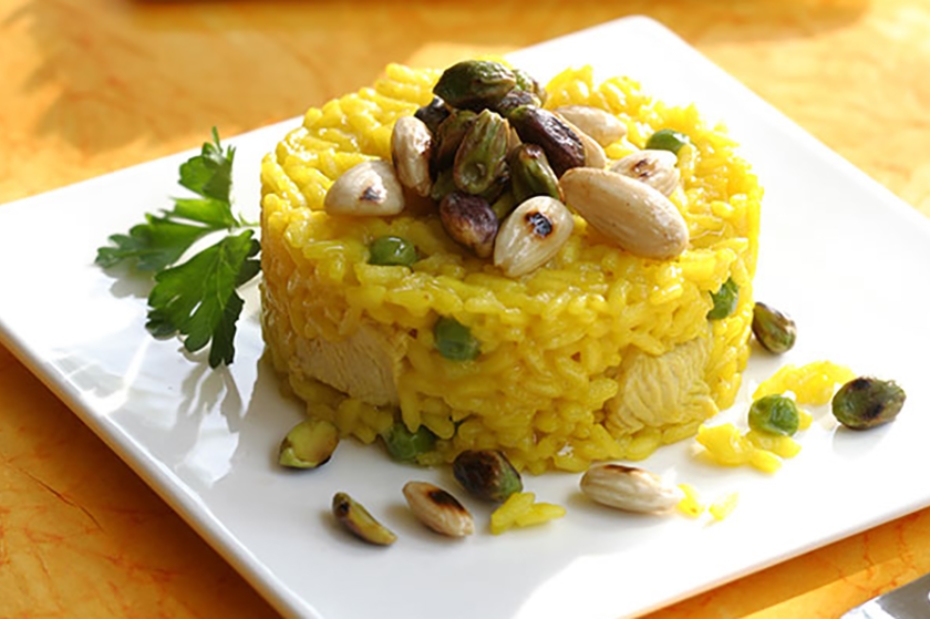 Ouzo Saffron Rice Pilaf with Peas, Pistachios & Almonds
---
My favorite rice is, of course, Greek! It's more flavorful than other rices from around the world because it grows near the river deltas in N. Greece, seasoned by the salty spray of the sea nearby. We cook rice for dinner in Greece, as a main course, not only as a side dish. This recipe calls for Greek saffron and olive oil, too. To find some of the artisinal Greek products you'll need to make this, visit my online shop
here
, where you'll discover a host of lovingly curated Greek ingredients.
Ingredients
6

tablespoons

extra virgin Greek olive oil

2

shallots

finely chopped

1

red onion

finely chopped

2

garlic cloves

finely chopped

1

star anise

2

cups

Greek Carolina or Greek long grain rice

1

cup

fresh or frozen and defrosted shelled peas

1/2

cup

ouzo

3 1/2

cups

vegetable stock or water

or a combination of both

1/2

teaspoon

Greek saffron

Krokos Kozanis

Salt

pepper to taste

1/2

cup

unsalted pistachios

1/2

cup

blanched whole almonds

1

tablespoon

Greek honey
Instructions
Heat 4 tablespoons olive oil in a large, heavy, deep skillet over medium heat and cook the shallots, onion and garlic until wilted and lightly browned, about 10 – 12 minutes. About five minutes into cooking the above, add the star anise.

Add the rice and stir to coat in the olive oil. Pour in the ouzo and steam off the alcohol. Add the stock or water and reduce heat to low. Season with salt and pepper. Dilute the saffron in 2 tablespoons hot water and stir into the rice. Cover and simmer the rice for about 12 – 15 minutes, or until tender. Halfway through cooking the rice, gently stir in the peas.

While the rice is cooking, heat the remaining olive oil and lightly brown the nuts. Stir in the honey and a pinch of salt. Cook until the honey starts to thicken. Remove and set aside.

Serve the pilaf hot or warm in individual cups or mounds with the nuts on top.