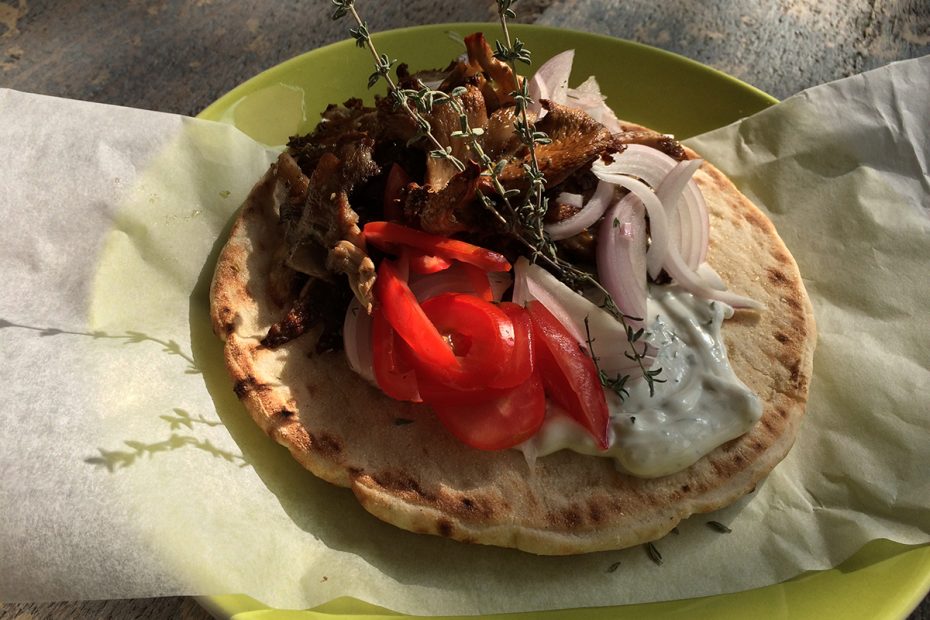 Mushroom Gyro Pita Wrap Sandwich
---
Everyone loves a down'n'dirty gyro, the thin slices of pork or chicken (not lamb as many people believe) shaved off a layered stack that grills slowly on an upright rotisserie. It's classic Greek street food. But most of us feel a little guilty when indulging in it because in most cases the meat is processed and unhealthy, Mushrooms save the day! They contain many of the same nutritional qualities as meat with none of meat's fat or cholesterol. Here's a healthy gyro that doesn't skimp on the indulgence scale but is full of healthy Greek spirit! To find some of the artisinal Greek products you'll need to make this, visit my online shop
here
, where you'll discover a host of lovingly curated Greek ingredients.
Ingredients
Grilled Mushroom "Gyro"

2

garlic cloves

finely chopped

1

cup

Greek yogurt

2

tablespoons

finely chopped dill or parsley

1

lb.

/ 500 g Portobello or pleurotus mushrooms

3

tbsp.

Greek extra virgin olive oil

2

garlic cloves

sliced thin

1

scant teaspoon dried oregano

2

firm

ripe tomatoes, cored, halved and sliced

1

red onion

halved and thinly sliced

Cayenne or paprika

to taste

4

– 6 pita rounds
Instructions
Combine the finely chopped garlic, salt, dill, yogurt and 1 tablespoon of olive oil and set aside, covered and refrigerated.

Trim and slice the mushrooms.

Heat 1 tablespoon of olive oil in a large nonstick or cast iron frying pan over medium heat and add the mushrooms. Stir-fry until wilted but al dente. Add the sliced garlic, salt, pepper and oregano and stir around for a minute or so.

Remove the mushrooms from the frying pan and keep covered and warm.

Wipe the frying pan clean and reheat on low. Warm the pita bread rounds one or two at a time, brushing each with a little of the remaining olive oil.

To assemble the mushroom gyros, add equal quantities of mushrooms, tomatoes, red onions, and the yogurt mixture to the surface of each pita. Season to taste with additional salt, pepper, cayenne or paprika, and roll up like a wrap. Enjoy!
Love vegetables? Want to learn more great plant-based Mediterranean dishes? Enroll in my online  class "Baked Vegetable Classics!"