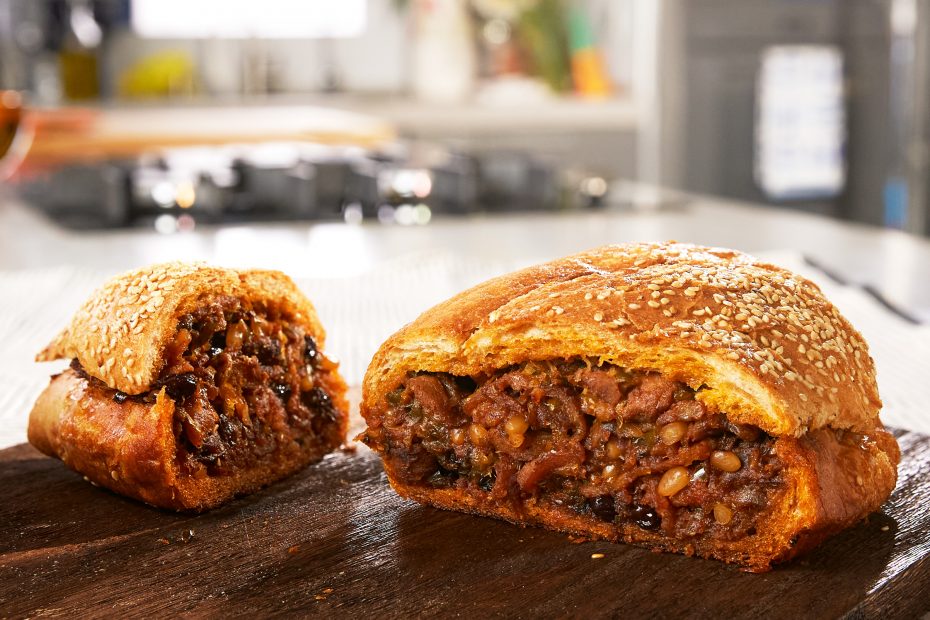 Spicy Gyro Baked In Bread
---
So many of us associate Greek recipes with its most famous street food, gyro, the yummy medley of meat carved off an upright rotisserie and packed into a delicious pita wrap, usually with tomatoes, onions, and either Greek yogurt or tzatziki. In this recipe from season 4 of My Greek Table, I call for a ready-carve gyro that you can find at your supermarket. I take poetic license with this Greek recipe for a street food classic, by making a delicious meat sauce and filling a hollowed out loaf of bread with it before baking! Your gyro game just got a boost.
Ingredients
2

leeks or large white onions

peeled and thinly sliced

2

large green bell peppers

finely chopped

2 to 3

garlic cloves

minced

2

tsp

cinnamon powder

1

tsp

cumin

1

tsp

smoked paprika

1-2

Tbsp

tomato paste

1 ½

pounds

ready-carve gyro meat

diced

½

cup

dry white wine

½

cup

Greek currants

½

cup

pine nuts

toasted

½

cup

fresh parsley

2

tsp

dried oregano

1

loaf

2 pounds white or whole wheat French or Italian bread, unsliced

¼

cup

grated kefalotyri or Parmesan cheese
Instructions
Preheat the oven to 350 F/ 170 C.

Heat two tablespoons of olive oil and sauté the leeks (or onion) and bell peppers until soft. Add the garlic, cinnamon, cumin, and smoked paprika. Stir all together for a couple of minutes.

Add the tomato paste, the diced, ready-carve meat, and the white wine. Let the wine cook off and season with salt and pepper. Simmer for a few minutes to thicken the mixture.

While the mix is simmering, finely chop the parsley.

Add the currants, the toasted pine nuts, parsley, and oregano to the meat mixture. Toss thoroughly. Cool slightly and add the coarsely grated cheese and 2 tablespoons of olive oil.

Cut bread in half lengthwise and scoop out a cavity in both halves, being careful not to rip the bread or leave too thin a crust. It should be ½ to ¾ inch thick.

Brush the inside of the bread with the remaining 4 tablespoons of olive oil. Fill the bottom half of the bread cavity with the meat and carefully place the top half over it, securing tightly. Wrap with aluminum foil and bake for 1 hour.

Slice crosswise and serve warm.