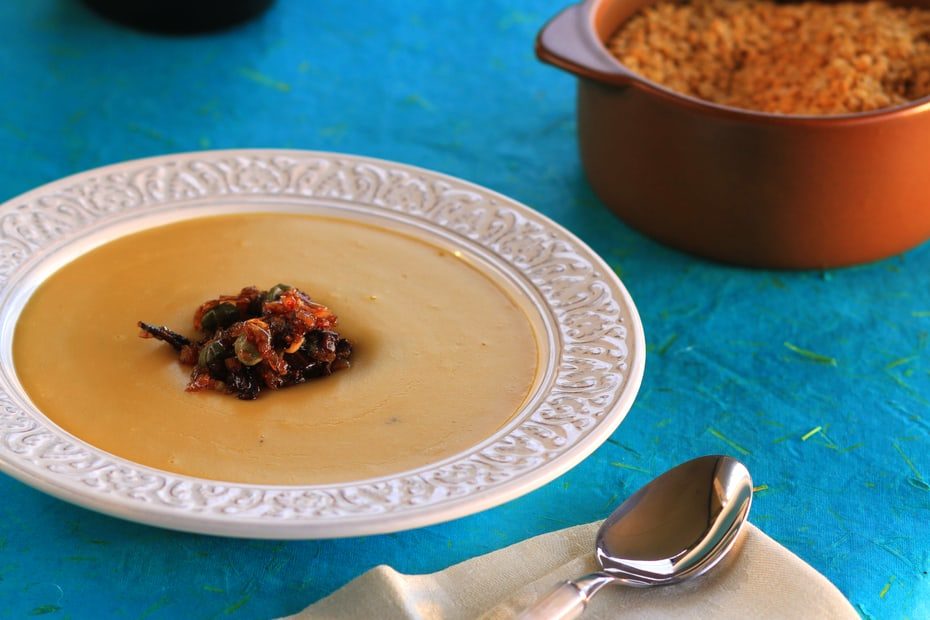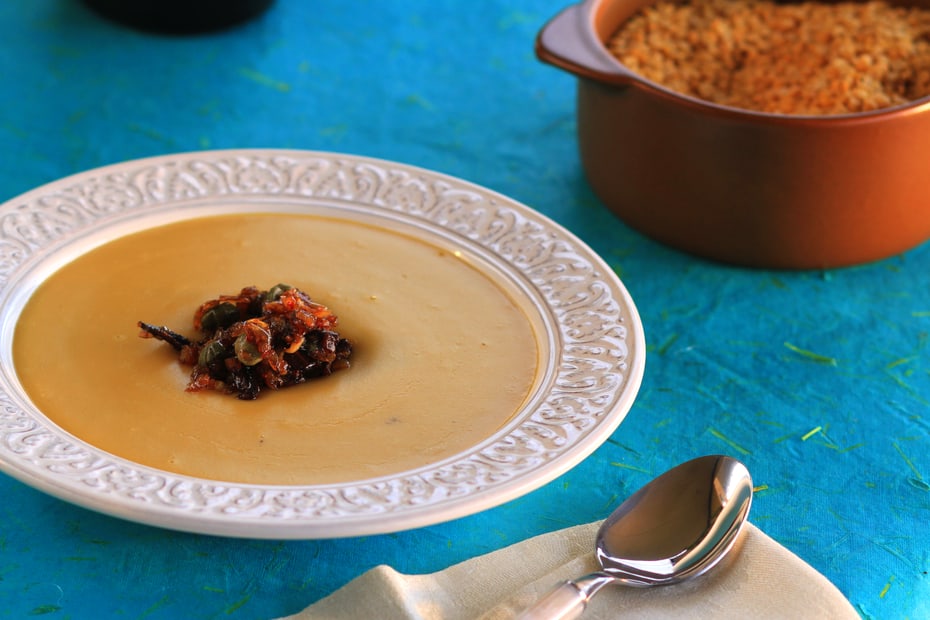 Santorini Fava Soup Garnished with Mushrooms & Capers
---
Fava, Santornini's famed yellow split peas grown on the island's volcanic soil, is most typically made into a creamy olive-oil infused puree, one of the most popular Greek recipes. Here, I've turned this into s luscious, easy but delicious soup topped with wild mushrooms and the island's renowned tiny capers.
Recipe developed for campaign "Santorini Volcanic Terroir" www.santorinivolcanicterroir.eu 
Ingredients
For Soup
3

tablespoons

extra virgin Greek olive oil

1

red onion

chopped

1

leek

trimmed and chopped

2

garlic cloves

chopped

2

cups

Santorini fava

2

teaspoons

porcini mushroom powder

1 ½

liters/quarts vegetable stock

2

bay leaves

1

small bunch thyme

tied

Additional olive oil or truffle oil for garnish
Instructions
For Soup
Heat olive oil in a large wide pot and cook onion and leek until soft and lightly browned, about 12 minutes. Stir in the fava and toss to coat in the oil. Stir in the mushroom powder.

Pour in the vegetable stock and add the bay leaves and thyme. Bring to a simmer and cook for about 1 hour, or until the fava has completely disintegrated, replenishing the liquid with water, as needed to keep the soup consistency velvety.

While the soup is simmering, prepare the topping: Heat the olive oil in a large, wide frying pan and cook the shallots until golden. Stir in the garlic. Add the rehydrated porcini and strain their liquid into the soup as it simmers. Add the capers, thyme sprigs, tomato paste, petimezi and balsamic to the mushroom mixture. Cook for about 15 minutes for the flavors to come together. Season with salt and pepper and set aside.

Remove the bay leaves and thyme from the fava soup and, using an immersion blender, puree the soup to a smooth, velvety consistency. Add additional olive oil or water to achieve desired smoothness.

Serve the soup and garnish with the mushroom mixture. Drizzle, if desired, with additional olive oil or truffle oil. Sprinkle with pink peppercorns, garnish with thyme sprigs and serve.
Love soup? Check out my online class "Comfort in a Soup Bowl!"