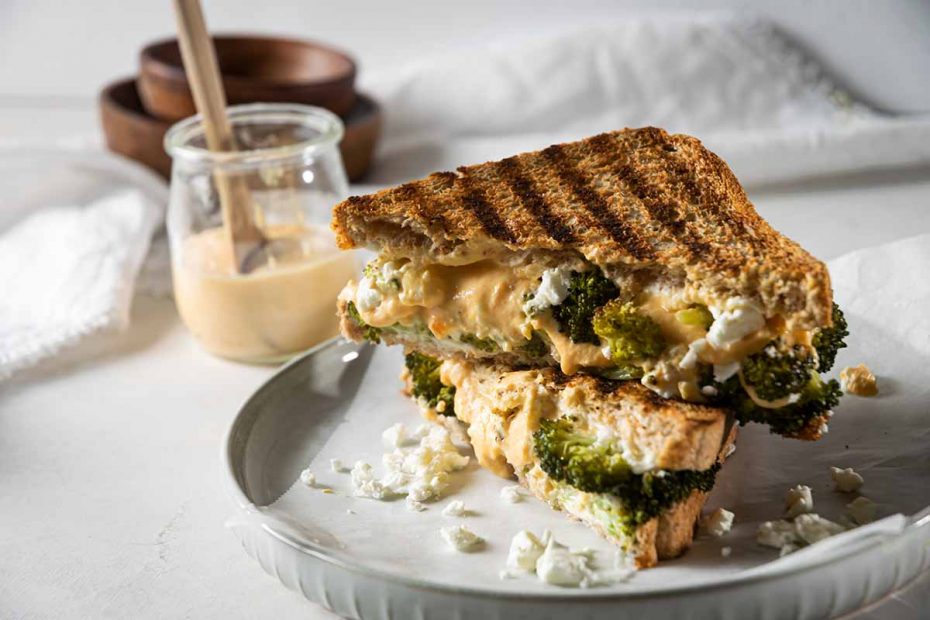 Broccoli – Feta Pan-Fried "Grilled" Cheese
---
I love a meltingly good grilled cheese sandwich and this one is exactly that. For years, I would gravitate toward the cheddar-tomato duo when it came to grilled cheese delights, but then I realized how limiting that was! There's a whole world of grilled cheese ideas out there, and this Greek recipe for a Greek-feta-broccoli duet is not only delicious but it's healthy, too. I only use extra virgin Greek olive oil for pan-grilling this luscious sandwich. It's a great example of the Mediterranean diet at snack time, flavorful and good for you all at once!
Ingredients
Florets from 1 medium head broccoli about ½ pound

chopped small

3

large garlic cloves

peeled and chopped

5

tablespoons

extra virgin Greek olive oil

plus 1 – 2 teaspoons for the frying pan

Freshly ground black pepper

to taste

Unsalted butter softened

8

slices

whole g rain or sourdough bread bread

1 ½

cups

crumbled Greek feta cheese
Instructions
Preheat the oven to 400F/220C.

In a mixing bowl, toss the broccoli florets with 3 tablespoons of the olive oil, garlic, salt and pepper. Spread onto a sheet pan and roast for 8 to 10 minutes, or until the broccoli is lightly charred and softened. Remove from the oven, toss with dried oregano and red-pepper flakes, and allow to cool.

Heat a skillet over medium-low heat.

Brush one side of each slice of bread with remaining olive oil. Dividing the ingredients evenly, layer cheese on the unoiled side of half of the bread slices, then add chopped, cooked broccoli in the middle and more feta on top so that the broccoli lies between two layers of cheese.

Top each with another slice of bread,, oiled side out.

Heat a nonstick or cast-iron skillet over medium heat and drizzle in a teaspoon of olive oil, tilting the skillet to distribute it evenly across the surface. Place the first broccoli-feta sandwich in the skillet and press down with a spatula. Sear until the bread is golden brown on the bottom side, then turn over once, and continue "grilling" on the other side. Remove and repeat with remaining sandwiches, replenishing the olive oil in the skillet as needed. Keep the grilled cheese sandwiches tented with aluminum foil to keep warm until they're all done. Serve hot!
Want to learn more easy, healthy Mediterranean diet recipes? Sign up for my online course "Mastering the Mediterranean!"