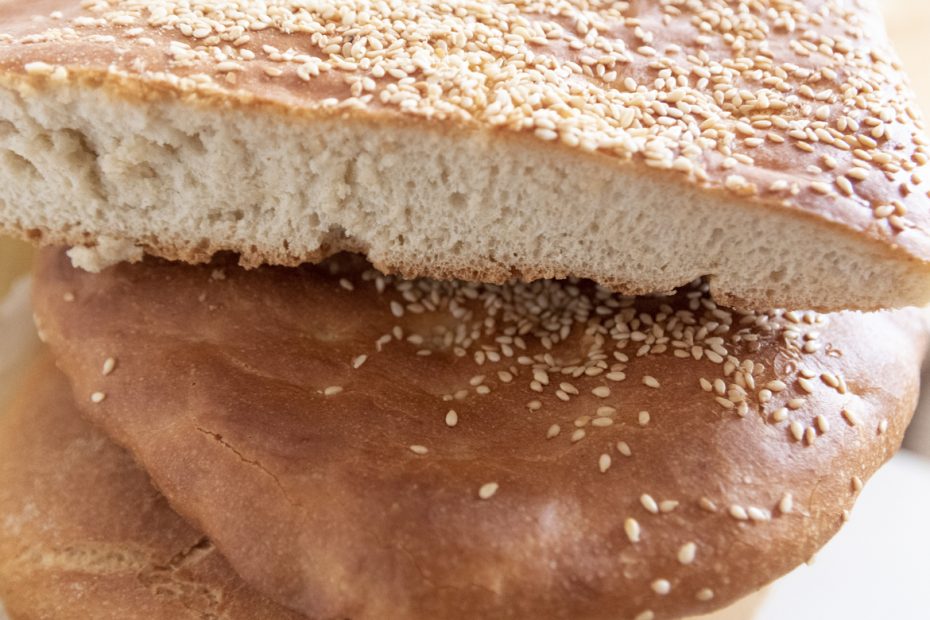 LAGANA (FLAT, WIDE LENTEN BREAD)
---
Lagana is a special Greek bread, flat and wide and eaten but one day a year, on Clean Monday at the start of Lent. Traditionally, lagana was unleavened, but now commercial bakers use yeast in its preparation. I learned to make this from a local baker in my neighborhood in Athens. Lagana claims another tradition that also dates to antiquity -it's never cut with a knife, but broken off by hand, as iron connotes evil forces among superstitious Greeks.
Ingredients
3

envelopes active dry yeast

1/4

cup

sugar

7 to 8

cups

bread flour

2 ¼

cups

warm water

1

Tbsp

salt

3

Tbsp

extra virgin Greek olive oil, plus more for lubricating dough

Sesame seeds
Instructions
In a medium size bowl, dissolve yeast, sugar, and 1/4 cup of the bread flour in warm water. Cover with a cloth and let stand for about 15 minutes, until mixture begins to bubble.

In a large bowl, stir together 7 cups of flour and salt, making a well in the center. Pour olive oil into the well and add yeast mixture. Stir well with a wooden spoon until it can't be stirred any longer and all ingredients are combined.

Dust work surface when some of the remaining flour. Turn dough out onto the floured surface and knead for about 10 - 12 minutes, adding more flour if necessary, until the dough is smooth and silky to the touch.

Shape dough into a ball. Rub with additional olive oil. Place in a large bowl and cover with a cloth. Let stand for about 2 hours in a warm, draft-free place until doubled in bulk.

When the dough has risen, remove it from the bowl and knead again on a lightly floured surface, down to the original size, for 6 to 7 minutes. The dough should be soft -not sticky- and warm. Divide dough into 2 equal balls and shape each into a small loaf, about 6 inches in length.

Lightly oil 2 baking sheets. With a rolling pin (preferably a studded one), roll out each loaf into a flat oval shape, about 15 inches long and 6 inches wide. Place on baking sheets. Brush with olive oil and sprinkle with sesame seeds. Cover and let rise until almost doubled in bulk, 45 to 50 minutes. Preheat the oven to 450 F while the dough is rising.

Bake each lagana for about 30 minutes, until deep golden brown on the outside. Remove baking sheets from the oven and immediately remove loaves to a wire rack to cool.