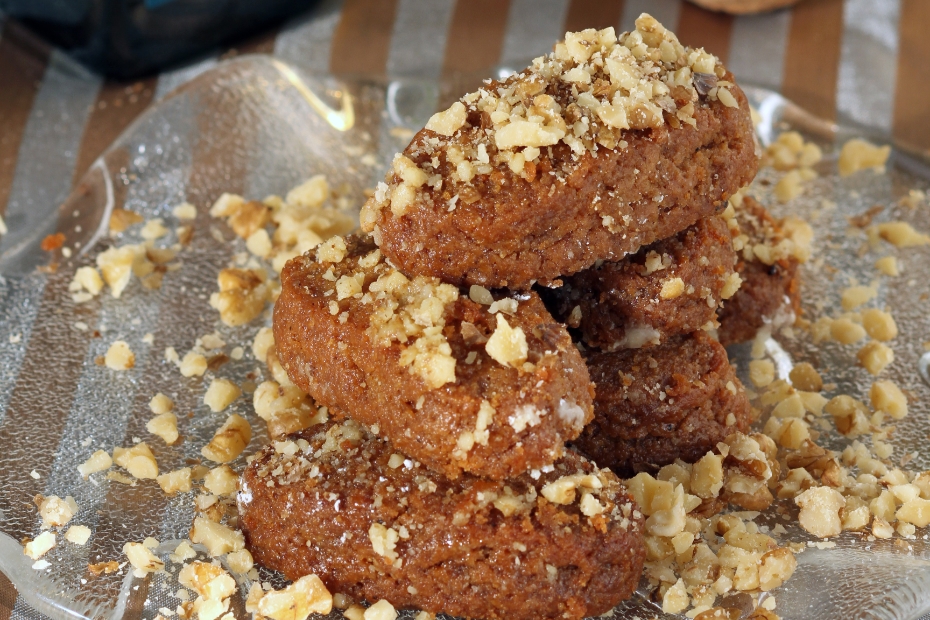 5 Reasons to Bake w Olive Oil: Greek Christmas Cookies, Melomakarona
---
5 REASONS TO BAKE WITH OLIVE OIL 1) Olive oil actually helps make cake batters smooth because it acts as an emulsifier. 2) Its antioxidant qualities work to preserve cakes and cookies, giving them a longer shelf life. 3) Confections made with olive oil actually require less overall fat, about 25 percent less, than those made with butter, and therefore fewer calories. 4) They have no saturated fat. 5) Olive oil also helps distribute the aromas of spices used in baking, so that the end result has a fuller, richer flavor.
Ingredients
3

cups/720 ml Vrisi 36 organic extra-virgin Greek olive oil

1

cup/200 g plus 1 tsp sugar

1 1/2

tsp

mastiha

mastic crystals (available online or in Greek shops)

1

tbsp.

soda

1/2

cup/120 ml fresh strained orange juice

1

cup/240 ml water

11

cups/1.2 kg all-purpose/plain flour

Syrup

2

cups/480 ml Greek honey

1

cup/200 g sugar

1

cup/240 ml water

1

cinnamon stick

Strained fresh juice and 1 strip of zest from 1 large lemon

Ground cinnamon for sprinkling

1 1/2 to 2

cups/170 to 228 g finely ground walnuts for sprinkling
Instructions
Preheat the oven to 350°F/175°C (gas mark 4) and lightly oil several baking sheets.

Pound the mastiha and 1 tsp of the sugar together in a small mortar with a pestle until the mixture is a fine powder.In the bowl of an electric mixer outfitted with a whisk, beat the olive oil with 1 cup of sugar at medium-high speed until creamy. Dilute the baking soda in the orange juice. Add the mastiha, orange juice mixture, and water to the olive oil–sugar mixture and whisk for 30 seconds. Replace the whisk attachment with the paddle attachment and add the flour, 1 cup/115 g at a time, until a soft, malleable dough takes shape. Cover with plastic wrap and let rest for 30 minutes.

Shape the dough into oblong mounds, about 2 in/5 cm long and 1 in/2.5 cm thick. Using the tines of a fork, prick the tops lightly to form a decorative pattern. Place on the oiled baking sheets, mounded-side up, about 2 in/5 cm apart. Bake for about 20 minutes, or until lightly browned. Remove from the oven, cool slightly in the pan, and transfer to racks to cool completely.

While the melomakarona are cooling, make the syrup: Combine all the ingredients in a medium saucepan and bring to a boil. Reduce the heat and simmer for 5 minutes.

Dip the melomakarona in the hot syrup and place on a platter. Sprinkle with the cinnamon and ground walnuts and serve.
Notes
About Melomakarona: They are classic Christmas and New Year's cookies but come in many regional varations around Greece: Flavored with orange and spiced with the two most popular warm winter spices, cinnamon and cloves; stuffed with walnuts (called Finikia); and sometimes with mastic, as in this recipe. Modern bakers also dip them in chocolate! Regardless of the variations, melomakarona are always made with olive oil, not butter.
Adapted from The Country Cooking of Greece (Chronicle Books)