From desserts to savory salads, even hot off the grill – there are so many mouthwatering ways to enjoy strawberries, especially as we approach June and the start of the season! Here in Greece, as in much of the world, we love a good strawberry recipe beyond simple strawberry jams, and you'll find this fruit cropping up in a number of delicious ways. Whether strawberries are the main event or on the side, when ripe, they're always a wonderful addition to a recipe!
Strawberries are incredibly versatile. They're not typically super sweet, which makes them the perfect addition to salads, and they pair beautifully with all kinds of tender spring greens and vegetables. Even better? They're nutritious, packed with antioxidants, phenols, vitamins A and C, and a number of other vitamins and minerals. They also have strong anti-cancer and anti-inflammatory properties.
Greece is actually home to a number of varieties, and they differ from north to south, in part thanks to the difference in climate. If you know where to look, you'll even find strawberries growing wild in the countryside! Thanks to the country's moderate temperatures and seldom-rainy weather, they grow quite easily, and can survive in light or sandy soil, without much need for fertilizer.
Want to start making sweet and savory treats with strawberries? Check out my 5 favorite recipes below!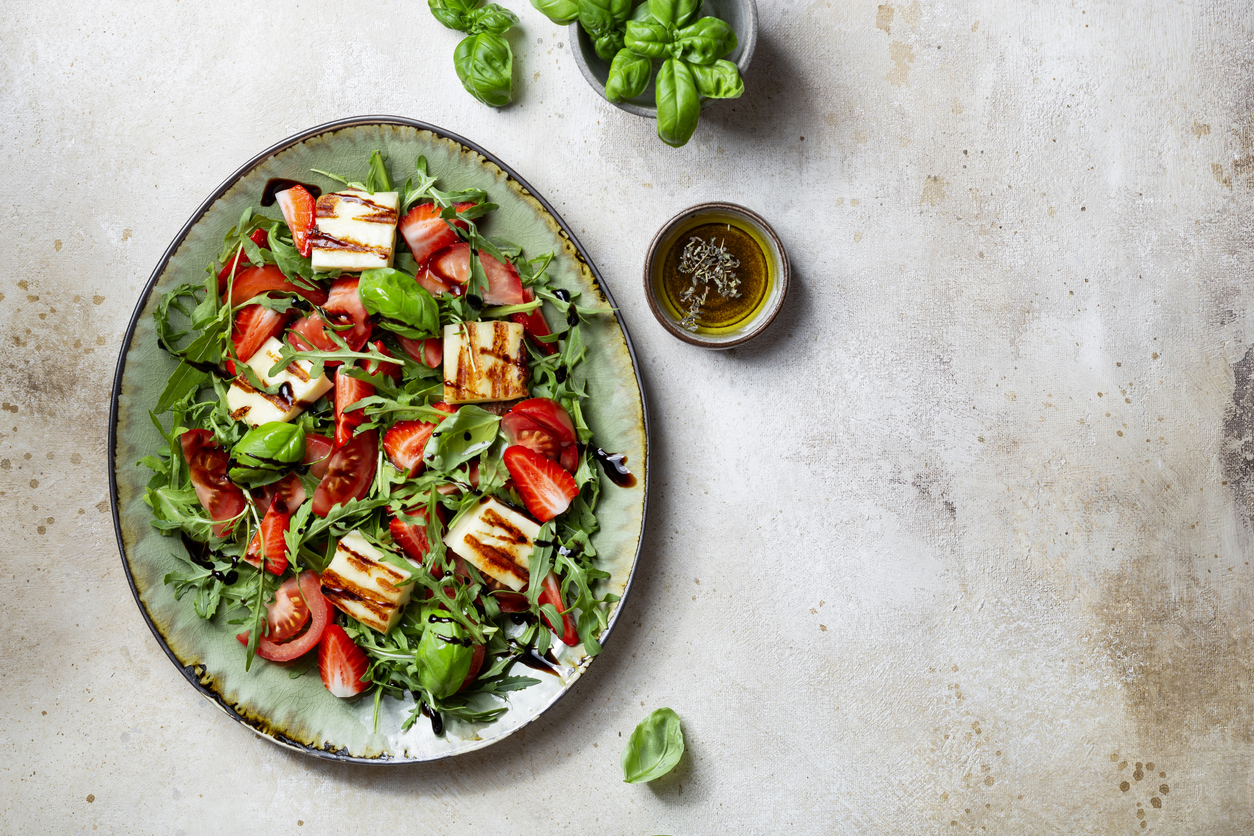 This combination of strawberries and greens is, in fact, a very Mediterranean habit, and speaks to the variety and richness of Mediterranean ingredients, especially when they end up together in a salad bowl. This Greek salad is the perfect combo of elegance, seasonality and simplicity! Grilled halloumi brings some smoky complexity and texture, and, of course, extra virgin Greek olive oil plays an important role in bringing it all together, so don't skimp there.
Ah, avocado toast, that hipster breakfast/brunch staple that some people love to hate. Luckily, I love to love it, and there are many great variations if you're looking for a way to spice it up a bit! This one is simple and fresh, finished with sliced strawberries (a beautifully sweet counterpart to creamy avocado!) and sprinkled with sea salt and black pepper.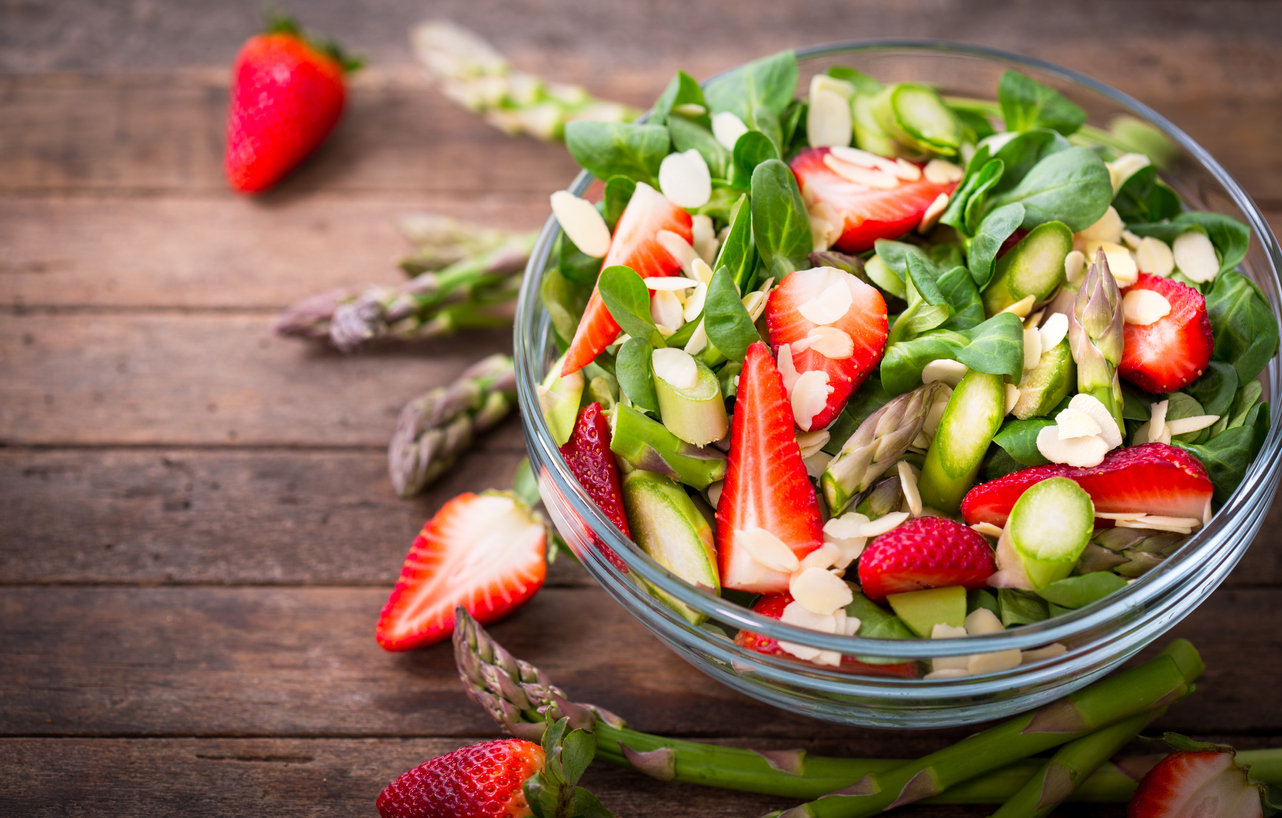 That springy staple asparagus gets mixed with fresh sliced strawberries and a hint of mastiha, one of the most seductive spices in the Mediterranean. I love this salad for its crisp flavors and crunchy texture, and the dressing is one you should bookmark – if you're like me, you'll want to drizzle it on everything.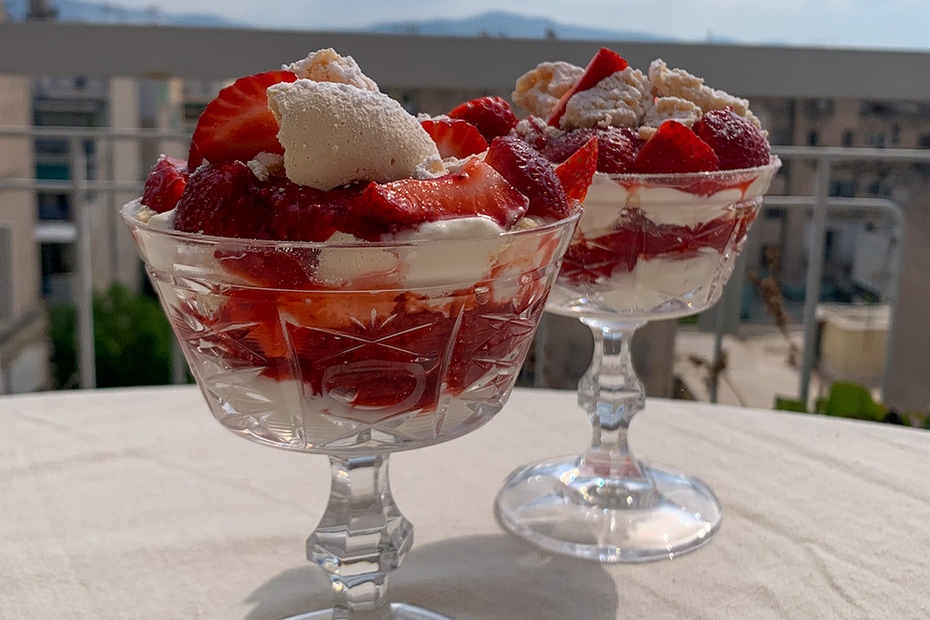 Who needs an Eton Mess when there's a great Greek recipe for a mess, a mélange of broken meringues, Greek spoon sweets, toasted almonds, and tangy Greek-yogurt whipped cream. It's topped off with plenty of This easy Greek dessert recipe is adapted from my book, My Greek Table. Don't worry about who will clean this mess up…you'll lick the bowls clean for sure!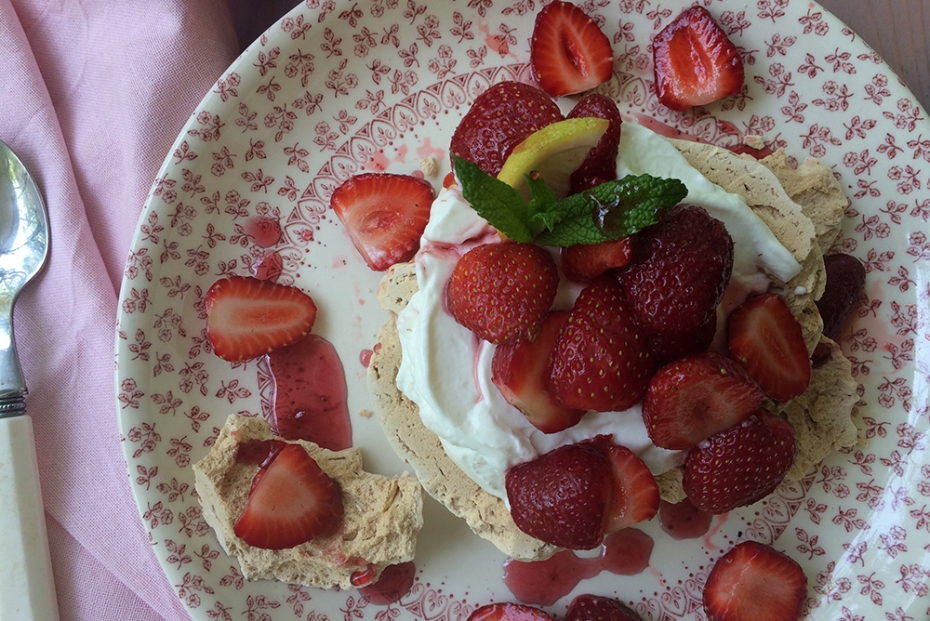 When it's strawberry time in Greece, my heart, palate and head go to the best dessert of all, a pavlova. This version is made not with whipped cream but with thick, tart Greek yogurt. Dress this with a drizzle of Greek honey for something even more special.