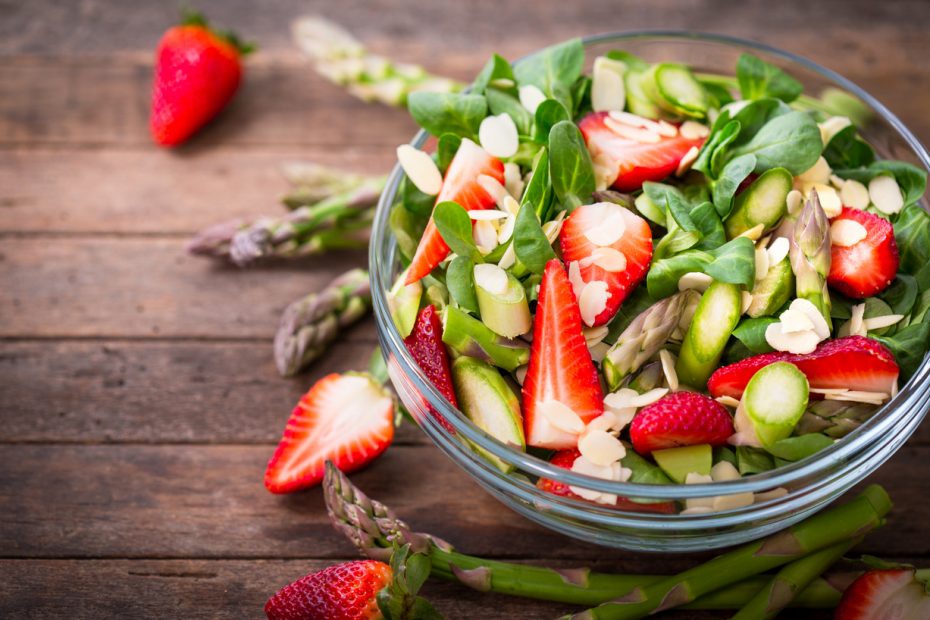 FRESH ASPARAGUS SALAD WITH STRAWBERRIES AND ALMONDS
---
MASTIHA NOTES Mastiha is, indeed, one of the most seductive spices in the Mediterranean. It is faintly reminiscent of pine and has a deep, almost musky aroma. It is definitely Greece's most exotic spice. It hails exclusively from Chios, where it has been produced since antiquity and long known for its medicinal value. It is highly aromatic and therapeutic — excellent and scientifically proven as a salve against stomach ulcers, effective as a gum in promoting oral health. Mastiha's piney flavour is an excellent pair to this wonderful spring salad. As a little goes a long way for mastiha, pound only a couple of crystals with a little salt, if you're making a savory dish
Ingredients
1

one-pound bunch medium-thick fresh green asparagus

trimmed and cut into 1 ½-inch pieces

2

cups

strawberries

hulled and halved or sliced

½

cup

slivered blanched almonds

DRESSING

1

⁄4 cup fresh

strained lemon juice

½

tsp

mastiha powder

optional

2

Tbsp

extra virgin Greek olive oil

2

Tbsp

honey
Instructions
Trim the asparagus spears with a vegetable parer, removing any fibrous parts of the bottom end of the spears. Cut the spears into 1 ½-inch long pieces. Bring a pot of salted water to a rolling boil and blanch the asparagus for 2 minutes. Drain and immediately cool in a bowl filled with ice water.

Toss the asparagus and strawberries together in a bowl. Set aside, covered, in the fridge to chill for at least 30 minutes.

In a small bowl, whisk together the lemon juice, olive oil, mastiha powder, honey and sea salt until emulsified and creamy. Pour dressing over salad, toss and serve.