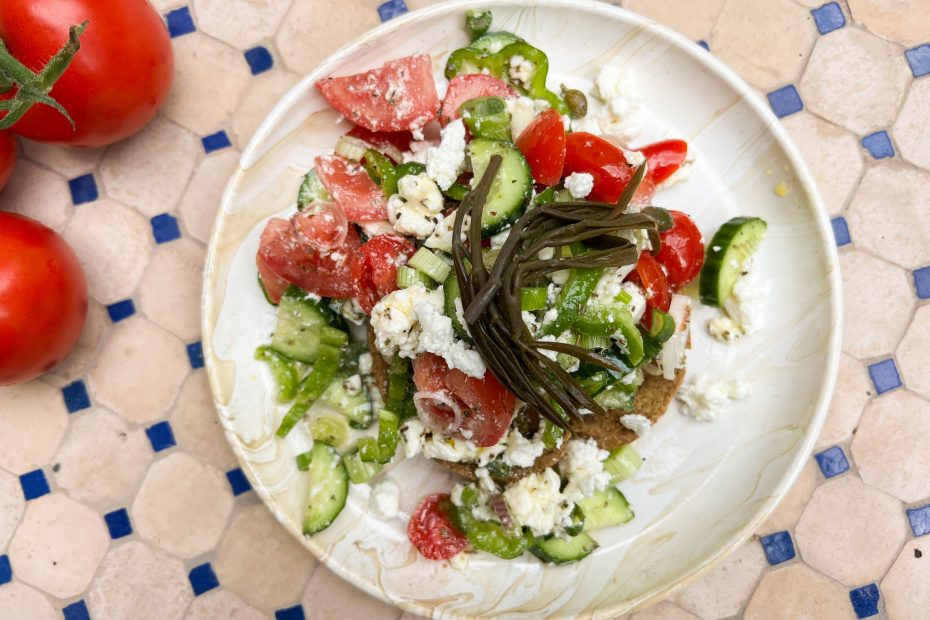 World's Best Salad!
---
This Greek salad has been voted the world's best salad and it went a little viral online. It is basically a classic Greek salad, or Horiatiki (Village Salad), as prepared on the island of Crete, with a local barley rusk called Dako. That's a round rusk that comes split across the middle. You can make this with any Greek rusk made from barley, Zea wheat or another whole grain, and you can break them up if you like, too. Extra virgin Greek olive oil, dried oregano, capers, sea fennel, great seasonal tomatoes, cucumbers and bell pepper, and the rusk, made from whole grain, all combine to make this Greek salad not only the world's best salad but also one of its healthiest, the perfect example of the Mediterranean diet in action.
Ingredients
2

medium ripe

firm tomatoes

1

cup

teardrop tomatoes

1

large cucumber

preferably organic

1

– 2 scallions

as desired, trimmed

1

green bell pepper

2

tablespoons

Santorini or other capers

½

teaspoon

dried Greek oregano or thyme

2/3

cup

crumbled Greek feta

1

Cretan dako

round barley rusk (see Note)

½

cup

fresh orange juice

1

few sprigs of pickled kritamo

or sea fennel
Instructions
Core and chop the tomatoes into chunks and place them in a mixing bowl.

Halve the teardrop tomatoes. Trim and halve the cucumber lengthwise then cut into thin half-moon slices.

Remove the seeds from the bell pepper and either chop or cut into slices, as desired.

Trim the scallions and cut into thin rounds.

Add everything to the mixing bowl with the tomatoes. Season with sea salt. Add the capers, oregano, all the olive oil except for 1 – 2 teaspoons, and feta. Toss all together.

Prepare the rusk, regardless of whether it's a round dako or any other type of Greek rusk, large or small: Dip into a shallow bowl into which you've poured the orange juice. Soften the rusk for a few seconds in the juice and let the liquid drip off.

Place the rusk or rusks on a serving plate, drizzle with remaining olive oil, and build the salad by stacking the vegetables on top. Top with a few sprigs of sea fennel and serve.
Want to learn more easy, healthy Mediterranean diet recipes? Sign up for my online course "Mastering the Mediterranean!"