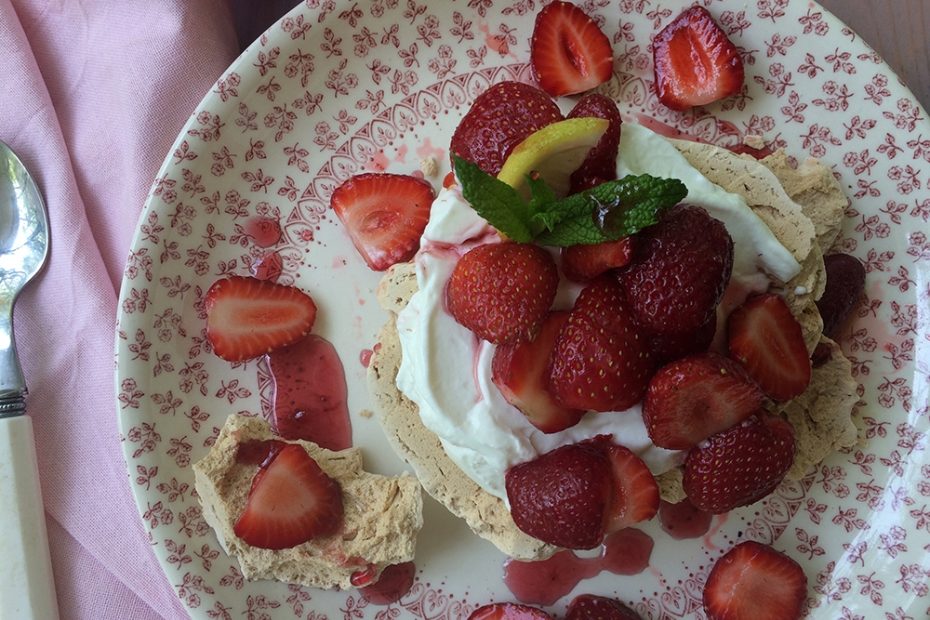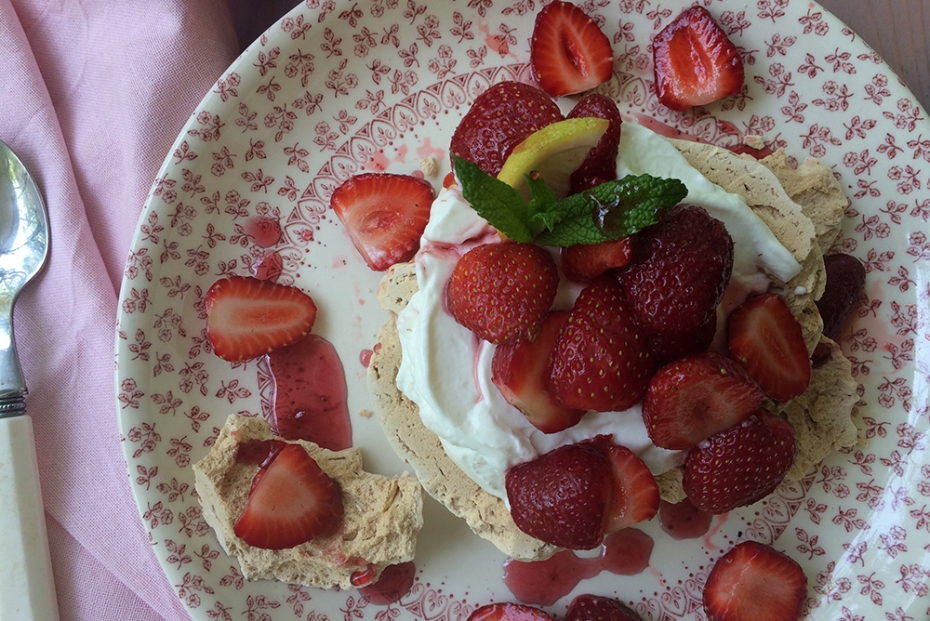 Almost No-Cook Greek Yogurt Pavlova with Strawberries
---
When it's strawberry time in Greece, my heart, palate and head go to the best dessert of all, a pavlova. This version is made not with whipped cream but with thick, tart Greek yogurt. Dress this with a drizzle of Greek honey for something even more special. You can find amazing regional Greek honeys as well as other artisinal Greek products at my online shop
here
.
Ingredients
3

cups

fresh

small strawberries, trimmed and halved

½

cup

sugar

4, 3

– 4-inch / 7.5 – 10-cm round meringues

2

cups

Greek yogurt

Zest of 1 large lemon

Pinch

confectioner's sugar

Mint leaves for garnish
For the sauce
¼

cup

strawberry jam

½

cup

red wine

½

cup

sugar
Instructions
Place the strawberries in a medium bowl and sprinkle with sugar. Set aside in the refrigerator for 20 – 30 minutes, enough time for the strawberries to soften a little and for the sugar to draw out some of their juices.

Using a serrated bread knife, cut the crowns off the meringues to get a flat surface. Set aside the crowns and don't worry of they break.

Combine the yogurt lemon zest and pinch of confectioner's sugar.

Heat (ok, not totally no-cook, but almost no-cook!) the jam, sugar and wine in a small saucepan over medium heat until the mixture thickens to the consistency of a medium-thick syrup, about 8 – 10 minutes. Cool slightly.

Spoon a half cup of the yogurt mixture over each meringue. Top with a half cup of the strawberries and a little of their juices. Drizzle with the strawberry-wine sauce, garnish with mint and a lemon wedge if desired. Serve.