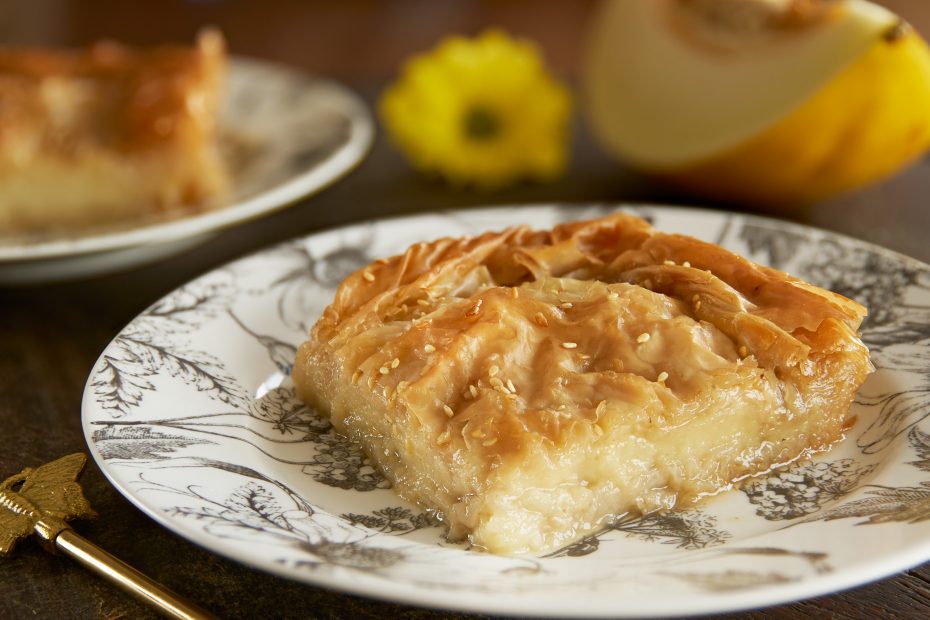 Vegan Galaktoboureko
---
As far as Greek phyllo desserts go, Galaktoboureko is high on the list of great ones! This classic Greek phyllo recipe typically calls for a cream made with milk and semolina. My guest in this episode, well-known Athens vegan chef Nikos Gaitanos, created this vegan galaktoboureko which is absolutely delish. He surprised me with his use of melon in the filling. Needless to say, extra virgin Greek olive oil replaces the traditional use of butter in the classic, and the simple sugar syrup gets a twist with some cardamom and ginger. You'll love it, I promise!
Ingredients
1

one-pound package of commercial phyllo

1

cup

of extra virgin Greek olive oil

500

gr.

sweetened almond milk

1/2

ripe honeydew melon

seeded and cubed

1

cup

fine semolina

2

Tbsp

sesame seeds

Syrup

2

cups

of water

2

cups

brown sugar

1/2

tsp

dried coriander

1

tsp

ginger powder

10

crushed cardamom seeds

Juice of ½ lime
Instructions
Add all the ingredients for the syrup to a saucepan and boil until reduced by ⅓.

Beat the melon and the almond milk in a blender to liquify. Add ¾ of the mix into the cooking pot and bring it to a boil. When it starts boiling, it's ready.

Place the remaining melon and almond milk in a bowl. Mix it with semolina until fully incorporated. Slowly pour the semolina mix into the cooking pot in a steady flow, stirring constantly with the wire. leave the mixture aside to cool.

Oil a medium-sized glass baking dish (13 X 9 X 2) and spread 4 sheets of phyllo, each folded in the middle lengthwise. Oil each sheet and place the phyllo sheets so they come up the sides of the pan to cover the entire interior.

Spread the cream evenly over the phyllo and top with 4 more sheets of phyllo, folding each one in half lengthwise and oiling each. Brush the top sheet with oil, and fold the excess overhang around the inside edges of the pan to form a nice rim. Score into serving pieces with a sharp knife and sprinkle with sesame seeds. Bake in the oven for about 30 minutes at 360 F (180 C).

As soon as the galaktoboureko is out of the oven, pour the cold syrup over the entire surface of the pastry and leave it to cool for about an hour. Serve.
Love savory pies and phyllo specialties? Sign up for my online class "Fearless Phyllo – Homemade!" to learn the secrets of making great, easy pies at home!