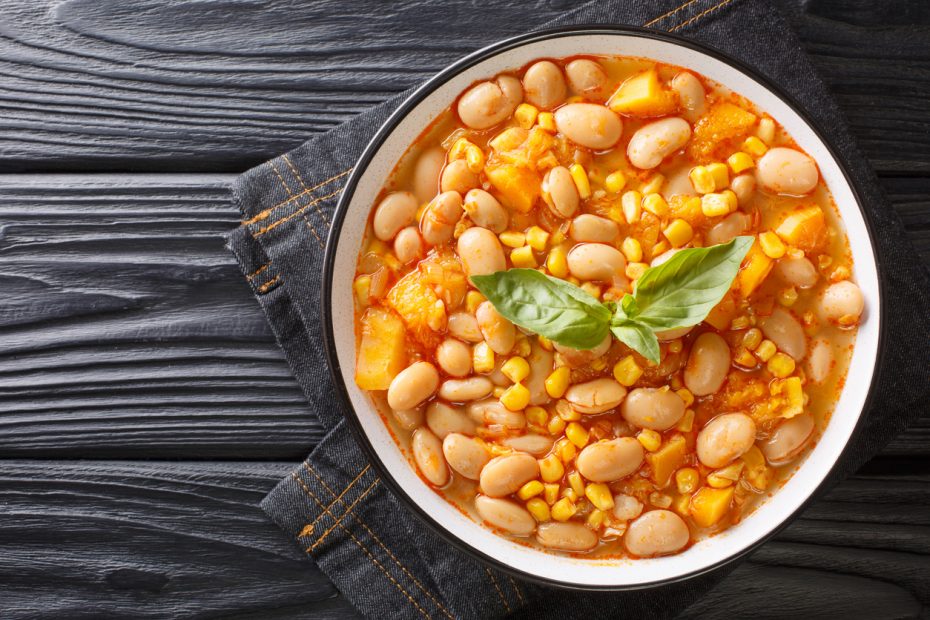 Fasolada - Bean Soup - with Pumpkin & Corn
---
Fasolada, the Greek bean soup, satisfies all the criteria for a classic, delicious Mediterranean diet recipe. In the Greek diet, beans and legumes are an elemental food, savored in every season and every which way. This Greek recipe for bean soup is a variation on the bean soup theme, with a few unusual additions in the corn and pumpkin, both of which, although New World vegetables, have worked their way onto the long list of Mediterranean diet ingredients! Add to that an overflowing amount of extra virgin Greek olive oil and some robust herbs and you've got a soup that will become part of your own personal Mediterranean diet mindset!
Ingredients
1

pound

Greek giant beans

gigantes, or butter beans, soaked in water overnight

2/3

cup

extra virgin Greek olive oil

plus more for drizzling

3

red onions

chopped

4

garlic cloves

minced

1

tablespoon

good quality tomato paste

1

cup

chopped

canned plum tomatoes

2

bay leaves

4

fresh oregano sprigs

2

strips orange zest

2

cups

corn kernels

3

cups

cubed pumpkin or butternut squash

½

cup

chopped fresh basil

1

tablespoon

petimezi or Greek pine honey

1

– 2 tablespoons balsamic vinegar
Instructions
Soak the beans overnight, drain and discard the soaking water.

In a large soup pot, heat 3 tablespoons olive oil and cook the onion until soft and translucent, over medium heat, for about 10 minutes, stirring occasionally. Stir in all but 1 teaspoon of the garlic, give it a swirl or two, then stir in the tomato paste. Set the remaining garlic aside.

Add the drained beans, enough water to cover by 2 inches, the chopped tomatoes, bay leaves, oregano sprigs and orange zest. Bring to a boil, reduce heat and simmer until the beans are very tender, about 1 ½ - 2 hours.

Remove 2 cups of the soup and puree in a food processor or blender, then return it to the large pot.

In a large skillet, heat 3 more tablespoons of the olive oil over medium heat and cook the corn and pumpkin or butternut squash for a few minutes, seasoning them with a little sea salt and the remaining garlic. Shake the pan back and forth to combine all the flavors. Transfer the mixture to the soup pot.

Bring everything back to a simmer, adjust seasoning with salt and stir in the basil, petimezi or honey and balsamic. Remove the orange zest, oregano sprigs and bay leaves. Drizzle in the remaining olive oil, stir and serve.
Want to learn more easy, healthy Mediterranean diet recipes? Sign up for my online course "Mastering the Mediterranean!"
Love soup? Check out my online class "Comfort in a Soup Bowl!"