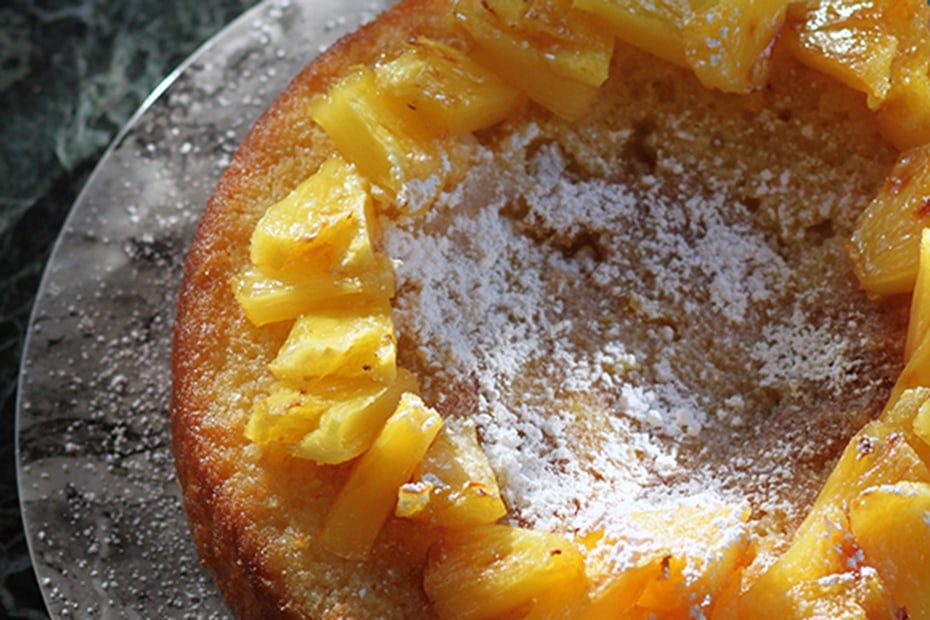 Pina Colada Revani
---
Revani or Ravani is one of the most traditional Greek nut-based, syrup-soaked cakes. There are many Greek recipes for such cakes. This recipe is from my most recent book, My Greek Table, and marries the almond-based Greek classic with the flavors of a pina colada! The result is….irresistible.
Ingredients
For the syrup:
3

cups

sugar

1 ½

cups

water

1

cinnamon stick

1 1-

inch/2 ½-cm wide strip of lemon zest

1

tablespoon

Greek brandy

2

cups

fresh or strained canned pineapple

cut into small dice
For the Revani:
½

pound

/ 225 g unsalted butter

plus extra for preparing pan

2

cups

coarse semolina

1

tablespoon

baking powder

1

cup

sugar plus 2 teaspoons

6

large eggs

divided

2

tablespoons

brandy

1

tablespoon

strained fresh orange juice

1

tablespoon

finely ground blanched almonds

½

cup

shredded unsweetened coconut
For the garnish:
½

cup

sugar and fresh pineapple slices or chunks to garnish

Greek yogurt or vanilla or coconut ice-cream

(optional)
Instructions
Prepare the syrup:
In a medium sized pan mix the sugar and water and bring to a boil. Add the cinnamon stick, lemon zest, brandy and pineapple pieces and simmer for 5 to 7 minutes over medium heat. Remove the pan from the heat and strain through a fine mesh sieve. Let the syrup sit until cooled to room temperature and ready to use.

Preheat the oven to 375F/190C. Line a 9- or 10-inch spring-form pan with parchment and butter all around the sides and bottom.

Sift together the semolina and baking powder.

In the bowl of an electric mixer using the whisk attachment, whip the butter at high until creamy, about 4 minutes. Gradually add 1 cup of sugar and continue beating. Add the egg yolks one by one, whisking well after each addition.

Remove the whisk attachment and replace with the paddle. Add the brandy, orange juice, and semolina-baking powder mixture, and beat at medium speed until smooth. Add the ground almonds and coconut, beating until the mixture is smooth.

In another bowl with a whisk or electric mixer, beat the egg whites with a mixer until they get frothy. Slowly add 2 teaspoons sugar and continue beating to form stiff peaks. Fold the egg whites into the semolina mixture. Pour the revani batter into the springform pan and bake for 30 to 35 minutes or until the cake turns golden-brown and forms a thin, soft, sponge-like surface. To test for doneness, insert a toothpick or metal or wooden skewer, which should come out clean when removed.

Remove the revani from the oven, place it on a rack and pour the syrup over it gradually, while it is still in the pan. Let sit for at least 2 hours, turning it over if necessary for the syrup to go everywhere (if you flip it upside down make sure you place it on a plate before doing so!).
To garnish:
Spread a half cup of sugar onto a flat plate and dip the pineapple slices or chunks into the sugar, turning to coat both sides. Either have the broiler lit or use a crème brulée torch and lightly brown the pineapple pieces until the sugar burns slightly and starts to caramelize.

Serve each wedge of revani with a piece of "burnt" pineapple and a dollop of either Greek yogurt or ice cream.