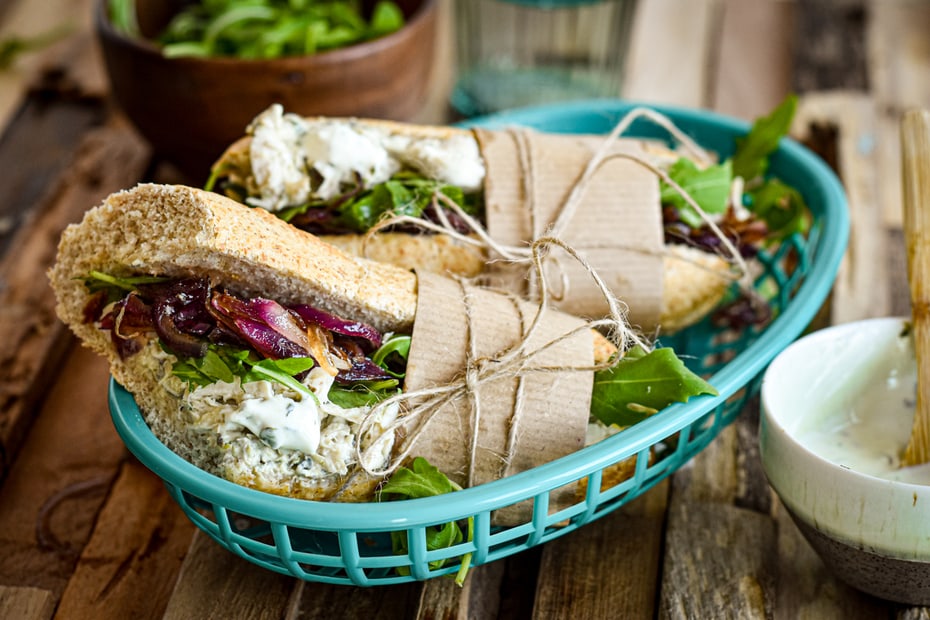 Chicken or Turkey Salad Baguettes with Caramelized Onions, Greek Yogurt and Herbs
---
Greek yogurt finds yet another use in this tasty leftover chicken or turkey salad sandwich made even tastier with the addition of caramelized onions. Tart yogurt and sweet caramelized onions are a combination found in several of the Dodecanese islands, usually tossed together over pasta. It's an intoxicating mix and yet another example of how varied and delicious is the Mediterranean Diet, even in the form of a sandwich!
Instructions
Heat half the olive oil (1 ½ tablespoons) in a medium sized skillet over medium flame and add the chopped onion. Season with a little salt and cook until the onion is soft and lightly browned, about 12 minutes. Drizzle in the honey or petimezi and continue cooking until the onion is caramelized, 5 minutes more.

Combine the shredded chicken with the chopped celery in a mixing bowl.

In a separate bowl, whisk together the yogurt, lemon zest, garlic paste, mustard, herbs and salt. Set aside 2 heaping tablespoons of the mixture and combine the rest with the chicken, mixing well.

Halve the baguettes lengthwise without separating the sides completely. Spread the yogurt mixture that you've set aside evenly on both sides of the baguettes. Place the arugula inside the fold and spoon a cup of the chicken mixture into the sandwich. Top evenly with the caramelized onions and serve.
Love chicken? Check out my online class "Wing It! – Great Mediterranean Chicken!"