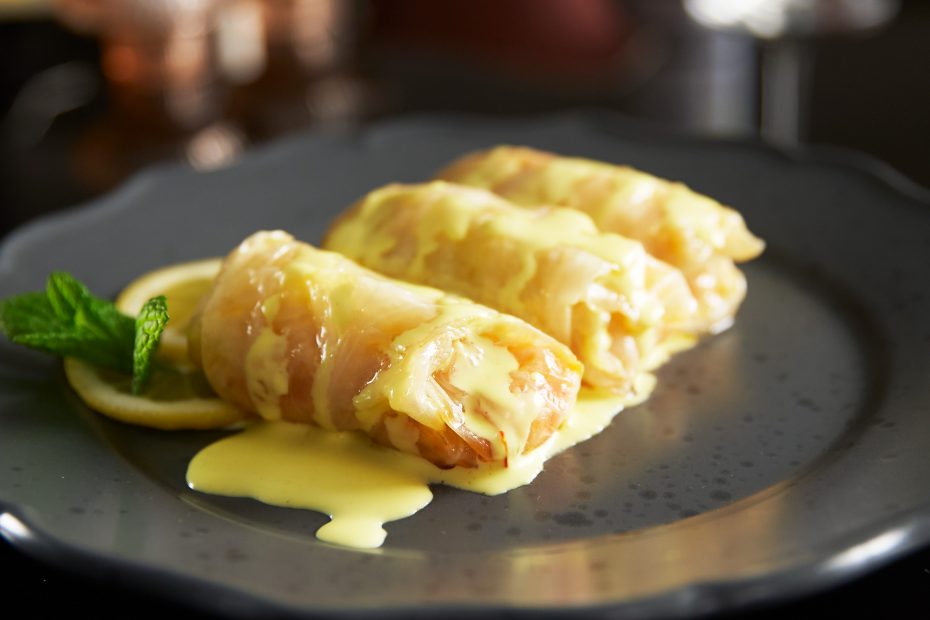 Cabbage Shrimp Dolmades with Saffron Bechamel
---
This recipe is inspired by the elegant cooking of LefterisLazarou, Greece's premiere chef and seafood cuisine master, who is the subject of episode 412 of My Greek Table, season 4. Cabbage dolmades are one of my favorite recipes. They are usually made with a mixture of ground meat and rice. Here, shrimp is the protein used in the filling, together with herbs, and the whole thing is drizzled with a delicious creamy yellow bechamel perfumed with Greek saffron. I like to serve this with a NorthernGreek white wine, malagouzia, from Florina.
Ingredients
1

cabbage head

about 2 pounds/900 g

4

Tbsp

extra-virgin Greek olive oil

8

ounces/225 g small fresh shrimp

in the shell

1

large red onion

very finely minced

1

large carrot

very finely grated

2

garlic cloves

finely minced

1/2

– 2/3 cup/120 – 160 ml medium-grain rice

such as Carolina or Blue Rose

2

cups/480 ml vegetable stock or water

2 1/2

cups

canned plum tomatoes

or 1 pound/450 g fresh plum tomatoes, peeled, seeded and chopped

1

cup/240 ml dry white wine

Seasalt

to taste

1/2

cup

fresh mint

finely chopped

Zest from 1 lemon
Béchamel
1

Tbsp/15 ml extra-virgin Greek olive oil

1

Tbsp/1/2 ounce/15 g butter

2

Tbsp

flour

1

cup/240 ml whole milk

at room temperature

1

cup/240 ml heavy cream

at room temperature

Seasalt and white pepper

to taste

1/2

tsp

ground turmeric

1

pinch

Krokos Kozanis

Greek red saffron threads

Raw olive oil

for garnish

Lemon slices or mint leaves

or both, for garnish
Instructions
Shell and clean the shrimp, removing the threadlike intestine that runs down the center

with a small paring knife. Rinse the shrimp under cold water and set them aside.

Prepare the cabbage: Cut the base off the cabbage and remove as much of the tough

bottom root end as possible. Bring a large pot of salted water to a rolling boil and blanch the whole cabbage for about 8 to 10 minutes until the leaves soften without disintegrating. Remove and cool in ice water. Drain well.

In a large, nonstick skillet over medium flame, heat 2 tablespoons of the olive oil and sauté the shrimp until just pink. Remove and set aside.

Heat 2 tablespoons of the olive oil in a frying pan over medium flame. Add the onion, carrot, and garlic and cook, stirring, for about 10 minutes until soft. Add the rice and stir a few times to coat in the oil and soften. Pour in 1 cup of stock, and stir until it's absorbed. Add in the tomatoes and wine. Season with salt and simmer for about 15 to 20 minutes, until the sauce is thick and reduced. Add the shrimp juice from the cooked shrimp and simmer for about 5 more minutes. Coarsely chop the shrimp and add it to the mix. Remove the frying pan from the heat and add fresh mint and lemon zest. Set aside.

Separate the cabbage leaves. Chop up about 2 cups of the torn or small leaves you can't use to roll. Add them to the shrimp mixture and stir.

Lay the cabbage leaves flat on a work surface, vein side up. Fill each leaf with about a tablespoon of the filling. Roll up from the bottom, turning in the sides to shape the leaves like cylinders. Don't overstuff the leaves because the rice will expand, and they will tear.

Drizzle 2 tablespoons on the bottom of a large, wide pot. Layer some torn leaves and start adding the rolled leaves concentrically. Place the rolled leaves seam-side down, very snugly, next to one another. Top the stuffed cabbage leaves with 3 tablespoons of olive oil, season with a pinch of sea salt, and pour in the vegetable stock/ water to come about halfway up the leaves. Cover with a plate, bring to a boil, and simmer for about 20 -25 minutes or until the rice is tender. You can serve the stuffed cabbage leaves as they are, drizzled with raw extra-virgin olive oil, or you can serve them with a saffron béchamel below.

To make the béchamel (optional): Heat the olive oil and butter. When the butter melts and bubbles up, add the flour and stir with a whisk or wooden spoon for about 5 minutes until golden brown. Pour in the milk and cream and whisk over medium-low heat until thick, about 7 to 10 minutes. Toward the end, season with salt and pepper to taste, and add turmeric and crumble in the saffron. Remove from heat.

Serve the dolmades topped with saffron béchamel and garnished with lemon slices and mint.