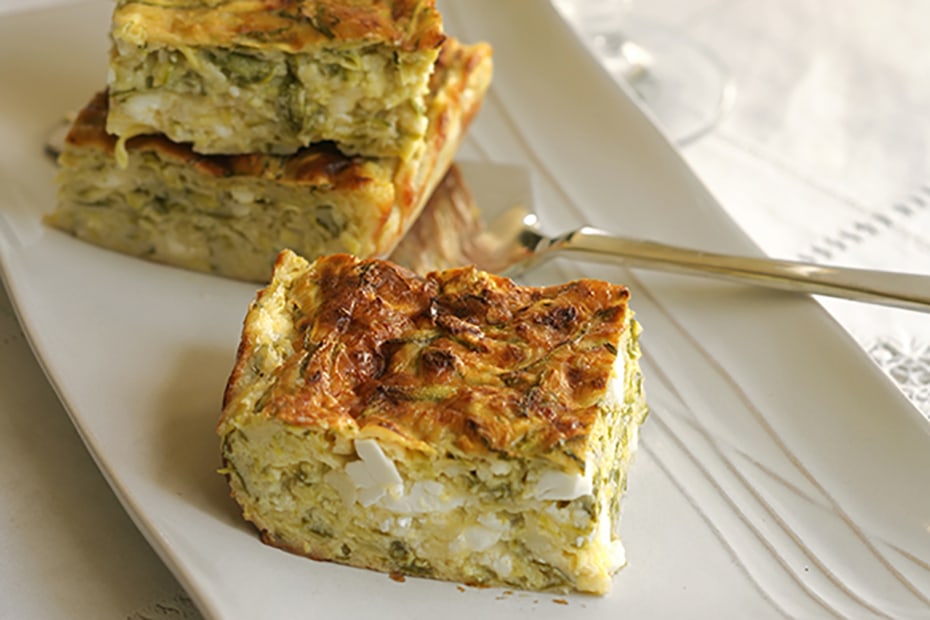 Phyllo-less Zucchini Pie from Chalkidiki
---
In some parts of Northern Greece, there are similar Greek recipes for pies made with cornmeal or with greens instead of zucchini. Basically, the idea is to make a thick batter and to bake that in a well-oiled large baking pan. The final pie should be about 2 ½ cm (1-inch) thick.
Instructions
Wash and pat dry the zucchini. Hold a large hand grater upright and grate the zucchini on the coarse side. Place in a colander, toss with a little salt, place a plate and a weight on top and leave the zucchini to drain for at least one hour. Wring the excess liquid out of the zucchini in small batches between the palms of your hands, or, alternatively inside a double cheesecloth.

Preheat the oven to 350˚F /180˚C and lightly oil a large baking pan.

In a large bowl, vigorously mix together the flour, milk, and eggs. Add the grated zucchini and crumbled feta to the mixture. Season to taste with salt and pepper. Pour the mixture into the baking dish and bake for 45 minutes, or until the pie is set and golden on top. Remove, cool slightly, and serve either warm or at room temperature.
Love vegetables? Want to learn more great plant-based Mediterranean dishes? Enroll in my online  class "Baked Vegetable Classics!"