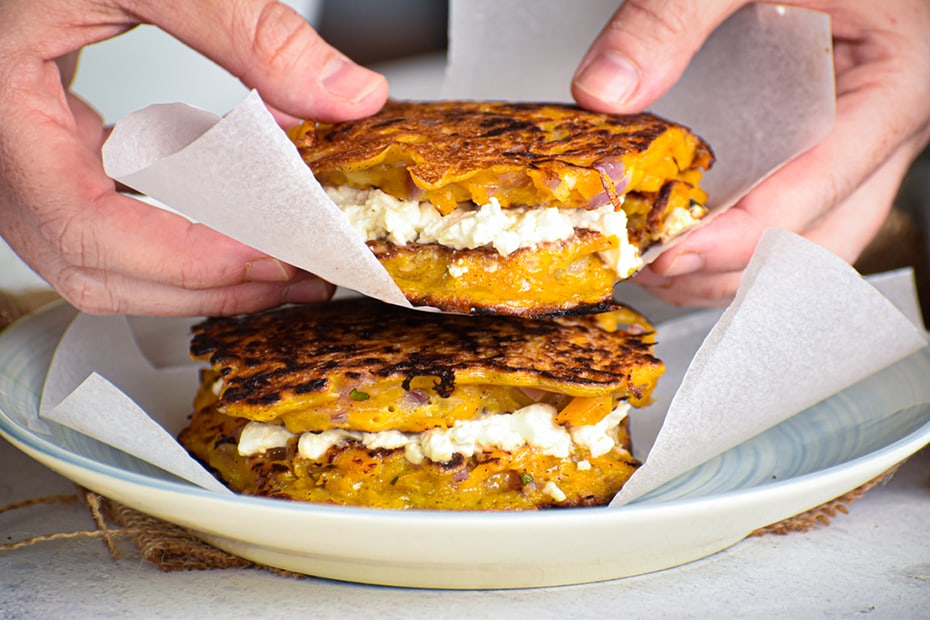 Butternut Squash Grilled Cheese
---
Who says a grilled cheese sandwich has to contain bread?! This fun Mediterranean Diet recipe is inspired by a very traditional Greek island dish for squash cooked in layers in a skillet with onions, cheese and tomatoes. I've transformed the idea into a sandwich, without tomatoes. You can use zucchini, pumpkin, calabasa, or any other squash you'd like in place of butternut.
Ingredients
2

c.

grated butternut squash

1

large egg

1/2

c.

coarsely grated Greek kefalograviera

kefalotyri or halloumi cheese, or parmesan

1

large red onion

finely chopped

1

tablespoon

dried Greek mint

1/4

c.

cornstarch

Greek sea salt

to taste

Freshly ground black pepper to taste

Pinch

of cinnamon powder

Extra virgin Greek olive oil

for cooking

1

cup

shredded Greek feta or

1

cup

shredded halloumi
Instructions
Squeeze excess moisture out of the squash by placing it in a kitchen towel and wringing and squeezing for a few minutes.

In a medium bowl, combine the grated squash with egg, cheese, onions, cinnamon, mint and cornstarch. Season with salt and pepper.

In large skillet, pour enough olive oil to cover the bottom surface of the pan. Scoop about 1/4 cup of the squash mixture onto one side of the pan and shape into a small square. Repeat to form another patty on the other side.

Cook until lightly golden on both sides, about 4 minutes per side. Remove from heat to drain on paper towels and repeat with remaining squash mixture.

Wipe the skillet clean.

Place two squash patties in the same skillet over medium heat. Top both with shredded feta or halloumi, then place two more patties on top to form two sandwiches. Cook until the cheese has melted, about 2 minutes per side.

Repeat with remaining ingredients. Serve immediately.