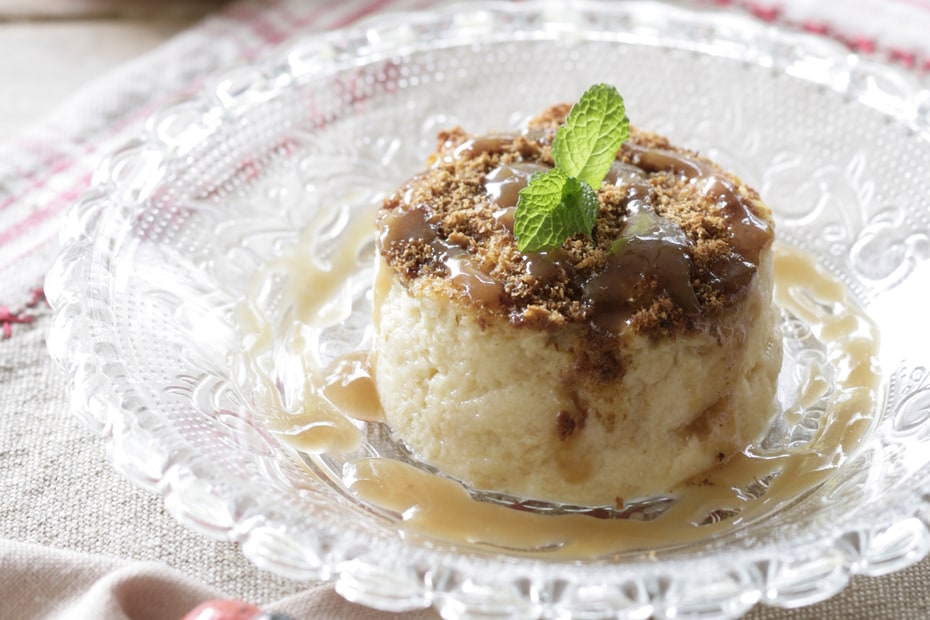 Tsoureki Bread Pudding with Brandy Caramel Sauce
---
Tsoureki is the Greek Easter bread that usually appears in abundance during Greek Easter. There are lots of great leftovers to be made with it. Here's one of my favorites.
Ingredients
½

kilo / 1 pound leftover tsoureki Greek Easter bread

or challah or brioche

3

large eggs

lightly beaten

2/3

cup

sugar

1 1/2

cups

heavy cream

2 1/2

cups

milk

1

teaspoon

vanilla extract

1

teaspoon

cinnamon

Optional: 1 – 1 ½ cups golden raisins

candied oranges, or diced dried apricots
For the sauce:
1

cup

heavy cream

1 1/2

cups

firmly packed brown sugar

4

tablespoons

butter

2

tablespoons

Greek brandy

1

teaspoon

vanilla extract
Instructions
Preheat the oven to 300F / 150 C. Using a bread knife or other serrated knife, remove the crusts from the tsoureki. Place the crusts on a baking sheet and bake until crisp but not burnt, about 12 minutes. Remove, cool slightly, transfer to the bowl of a food processor and pulse until the crusts are fine crumbs. Set aside.

Cut the bread into 1-inch / 2 ½ cm cubes. Place on a baking tray and bake for about 20 minutes, long enough to dry the cubes out without coloring them too deeply. Remove and cool.

Butter an ovenproof glass baking dish. Place the bread cubes inside the dish, spreading them evenly. Whisk together the eggs, cream, milk, sugar, vanilla extract and cinnamon. Pour this mixture over the bread cubes, pressing down gently to help them absorb the liquid. (Note: If you are using dried fruit in this recipe, toss it together with the tsoureki cubes and add them both to the buttered baking dish.

Raise the oven temperature to 350F / 180C.

Place the baking dish inside another, larger deep pan. Fill to the middle with water. Sprinkle the top of the bread pudding with the crumbs you made from the crusts. Bake for about 35 minutes, or until set. Remove and cool slightly.

While the bread pudding is baking, made the sauce: Bring the cream to a simmer in a medium saucepan over medium heat, stirring occasionally with a wire whisk. Add sugar, and cook, stirring occasionally with a whisk, 4 to 5 minutes or until sugar is dissolved and mixture is smooth. Remove from heat, and stir in butter, brandy, and vanilla. Let cool 10 minutes.

To serve the bread pudding cut through it with a ring mold and using a spatula remove the piece and place in the center of a serving plate. Slip off the ring mold, drizzle with the brandy caramel sauce and serve. Repeat with remaining bread pudding and sauce.