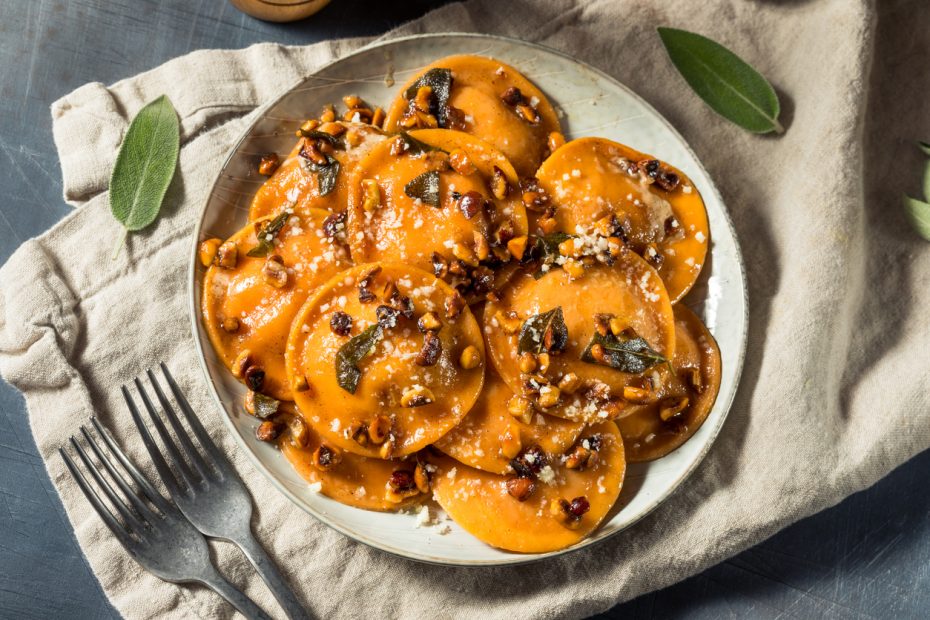 Butternut Squash Ravioli with Feta, Hazelnuts & Sage
---
If you ever wonder what to do with butternut squash, here's your answer! Butternut Squash Ravioli is one of the great pasta dishes of the Mediterranean diet, packed with Mediterranean diet ingredients like pureed squash and nuts. I like to add a little Greek pine honey to the filling to take the edge off the feta. Most recipes for butternut squash ravioli call for butter. I opt for extra virgin Greek olive oil instead, adding a healthy spin to this Mediterranean vegetarian recipe. Read on to learn how to make this butternut squash ravioli, right down to the homemade pasta dough! You can cut it into rounds or squares.
Ingredients
For the Filling:
1

small butternut squash

about 2 pounds

1

cup

crumbled Greek feta

2

tablespoons

grated Parmesan

1

egg yolk

1

teaspoon

Greek pine honey

½

teaspoon

ground or grated nutmeg

or more, to taste

Black pepper to taste
For the Ravioli Dough:
1 ½

cup

all-purpose flour

2

eggs

1

tablespoon

pureed butternut squash

reserved from filling

¼

teaspoon

salt

1 - 2

tablespoon

water

optional

For Assembling the Ravioli:

1

egg

lightly beaten

1

tablespoon

water
Instructions
Make the Filling:
Preheat the oven to 350F. Place the butternut squash on a baking tray whole and roast it for about 1 to 1 ½ hours until so soft it almost collapses when touched. Remove and cool.

Cut the squash in half down the middle and scrape out and discard the seeds. Scoop out the pulp and transfer it to the bowl of a food processor. Pulse on and off to puree. Remove and set aside 1 tablespoon (to use in the ravioli dough for color). Next, add the feta, Parmesan, egg yolk, honey, nutmeg, pepper and salt to taste and pulse on and off to combine. Set aside until ready to use.
Make the dough:
In a food processor, combine flour, 2 eggs, 1 tablespoon of the squash puree and salt. Cover and process until well mixed. Add 1 to 2 tablespoons water and process to form a dough that is firm but pliant. Remove the dough and shape into a ball then knead it for about 1 minute or until smooth. Wrap dough in plastic wrap and let stand for 30 minutes.

Divide dough into four equal pieces. On a lightly floured surface, roll each portion into a 12-inch square. (If using a pasta machine, pass each portion through machine according to the manufacturer's directions until dough is 1/16-inch thick.)

To shape ravioli, in a small bowl, whisk together the egg and 1 tablespoon water.. Cut rolled dough into 2-inch-wide strips. Brush strips lightly with egg mixture. Leaving a 1/2-inch border around the edges, place about 1 teaspoon of filling at 1-inch intervals on one strip of dough. Lay a second strip of dough, brushed side down, over the first. Using your fingers, press the dough around each mound of filling so that the two moistened strips stick together. Use a round cookie cutter or small cup as your guide and cut dough between filling to make individual round ravioli. You can also cut them into squares. Repeat with the remaining dough and filling. Place the ravioli on a lined cookie sheet or plates as you make them.

To cook ravioli, boil a large pot of salted water. Gently drop about one-fourth of the ravioli, one at a time, into the boiling water and stir to prevent them from sticking to the bottom of the pan. Simmer gently for 3 to 4 minutes or until tender. Using a slotted spoon, transfer ravioli to a serving dish.

While the ravioli is cooking, heat the olive oil and gently cook the garlic, hazelnuts and sage. Drizzle this mixture over the ravioli either on individual plates or on a large serving platter. Sprinkle if desired with additional Parmesan.