Who remembers "tost?"
If you are traveling to Athens and have a penchant for street food, read on! 
Some of my best food memories of Greece, from 20 and 30 years ago, beyond of course all the foodie cliché waxing poetic about amazing tomatoes, honey-sweet watermelon, fat, fragrant peaches, etc., etc., are memories of something fast and borderline junky: TOST.  This was long before spellcheck! TOST was essentially panini before such a thing ever reached Manhattan, and TOST, needless to say, was some Greek entrepreneur's transliteration of all-American toast. The places that served these grilled sandwiches had a steam table visible to all and a bevy of TOST fillers: boiled eggs, hams, meatballs, feta, sliced cheese, tomatoes, various mayo-type spreads, peppers, tuna, salami, cucumbers, etc. It was a make-your-own concept long before the idea ever entered the food-service lexicon.
A little history to enhance your Athens dining experience: There were two famous TOST places in the city: Mitsos, on Tsakalof Street in Kolonaki, next to Everest (another ancient fast-food place), the first to bring this gustatory phenomenon to a city then in the throes of a military dictatorship, looking for every little crumb of joy it could find; and another place, the name of which escapes me, on Stournara Street, on the border of Exarcheia, Athens' equivalent of NYC's East Village, not to far from the National Archeological Museum, a major Greek tourist destination. Both now have gone the way of the dinosaur, after the post-junta generation came back from abroad yearning for French food, then a generation later, Chinese, sushi, Italian, and more.
TOST, sadly, burnt out. 
Enter the Greek crisis, a commercial plague that shuttered shop after shop and left the center of Athens looking pock-marked for a while. But necessity is the mother of invention, and young people full of energy and hope need something to do, despite the times dictating otherwise. The result, from a foodie's perspective: Athens circa 2015 is as vibrant and exciting a food city as it has ever been, but the victuals are cheaper, faster, more fun, and a lot more down-to-earth. Among the most recent Athens food trends is the proliferation of single-concept street food. Sandwich places are among them, although the best have been around for a while. TOST, in other words, has been reborn.  
Four Greek sandwich shops stand out and for those of you either planning a vacation to Athens and beyond, or living in this fascinating, complex city already, experiencing a sandwich created by folks who live and breath the Greek-Mediterranean Diet might change your thoughts about what could and should go between the bread. Caveat: There are indeed lots of healthy options and a few totally over-the-top indulgences that taste great. 
The latest to open is Metropolis, a sliver of a space on Voulis Street near Syntagma Square in the center of Athens, run by neophyte entrepreneur Phillip Kolokas and a gaggle of guys, all young, donning chefs' jackets, and creating haute sandwiches filled with green apple slices, arty charcuterie, and regional Greek and Italian cheeses and more. The shop is packed with a line out the door at lunch, as people anticipate their midday nosh. My personal favorite is a veggie special with homemade basil pesto, sundried tomatoes and Greek manouri cheese, a creamy whey cheese like pressed ricotta that's mild and milky-sweet.
My other favorites, ironically, aren't new but have found new life as people seek out inexpensive, decent grub when working in or traveling to Athens.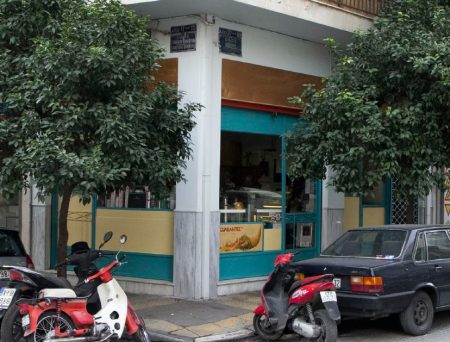 Guarantee is a place I really like. Luckily for visitors to Athens, it's an easy walk from the Acropolis Museum. It's the literal reincarnation of a real TOSTADIKO, as TOST places were called, run by visionary owner Yiannis Karabelas. If there was ever a TOST chef, he'd be it! He banks on top-quality Greek food products and Mediterranean ingredients and makes almost everything from scratch, including a lemon-pepper house-marinated sirloin that he sears in an oversized panini maker! Assemble your own sandwich, toasted or not, from over 25 varieties of charcuterie and 25 different cheeses, and vegetables from all over Greece and farther afield. Vegetarians and vegans will find a vast array of yummy sandwich fillers here, too.
Another great sandwich shop is San Francisco, in one of the most interesting parts of the Athens, Kerameikos. This is ancient Athens in modern times. The art scene is vibrant. You'll notice this tiny place (come to think of it, all the sandwich places in Athens are mere specks of commercial real estate) by the sight of the Golden Gate Bridge painted on the window outside. A young crowd, pierced, spiked, and tattooed seems to have a particular  fondness for the place, too. Vassili, the owner, actually did live in SF for a while, but returned a few years ago to his native land and opened this little gem. He sources locally and creates some very cool sandwiches. One favorite is a stack of avocado slices, baked feta, and honey-mustard sauce…that Greek-Mediterranean diet riff surfacing deliciously again. 
Closer to Syntagma there is Trends, around for about two decades, and known for amazing subs and a few classics like the all-American hot dog and fixings, tuna melt, club sandwich, and Crocque Monsieur. A totally over-the-top bbq chicken sandwich with blue cheese, parmesan, and Edam is pretty good, too! 
I've been discovering Athens all over again, bite by bite, and sandwich shops are just the beginning. Stay tuned for more about the amazing food in the Greek capital or, better yet, check out my Taste Athens app, especially if you are planning a trip to Greece and a stop in Athens. Bon Appetit!