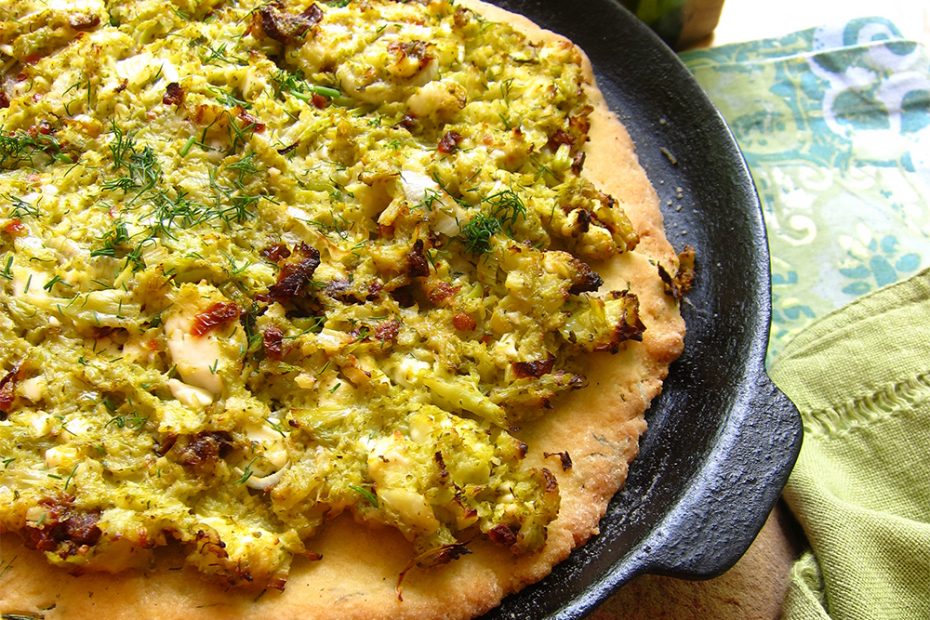 Broccoli Feta Lahmatzoun
---
Marry leftover broccoli with Greek feta and make a pie topping! To find some of the artisinal Greek products you'll need to make this, visit my online shop
here
, where you'll discover a host of lovingly curated Greek ingredients.
Ingredients
Topping
2

cups

cooked broccoli florets

1

small red onion

finely chopped

3

scallions

trimmed and chopped

5

sun-dried tomatoes

softened and chopped

1

cup

crumbled Greek feta

2

tablespoons

extra virgin Greek olive oil

½

cup

chopped fresh mint leaves

½

cup

snipped fresh dill

1

tsp.

grated lemon zest

Olive oil for garnish
Instructions
Place all the ingredients for the dough in the bowl of an electric stand mixer outfitted with a dough hook and knead on medium speed for about 10 minutes, or until a smooth, pliant dough forms. Shape the dough into a ball and place in an clean, oiled bowl. Cover with plastic wrap and set aside in a warm place until it doubles in bulk, about one hour.

Chop the broccoli florets and pulse together with the feta and olive oil in a food processor. Transfer the mixture to a bowl and mix in all the remaining ingredients.

Preheat the oven to 350F/170C.

Oil an 8- or 10-inch / 20- or 25-cm round baking dish or cast iron pan.

Roll out the dough to fit the circumference of the pan. Bake the dough for about 10 minutes, until slightly firm to the touch and just beginning to color.

Remove from oven. Brush the surface with olive oil and spread the broccoli-feta mixture on top. Place b ack in the oven and bake for about 15 minutes, or until the topping is set and slightly charred and the dough cooked. Remove, cool slightly, cut into wedges and serve.
Love savory pies and phyllo specialties? Sign up for my online class "Fearless Phyllo – Homemade!" to learn the secrets of making great, easy pies at home!