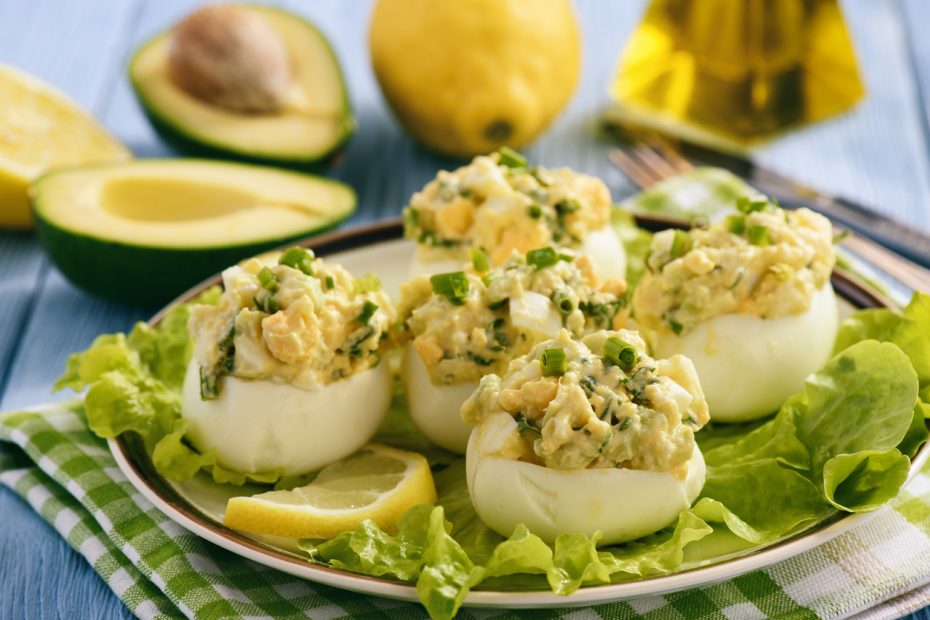 AVOCADO-FETA DEVILED EGGS
---
A DEVILISH LITTLE HISTORY Boiled eggs with spicy fillings trace their provenance back to those Epicurean Romans, who used to dress their eggs with piquant fillings. Over the course of time, eggs have been stuffed with just about everything, from the herbs, cheese, and raisins preferred in Medieval European cookery to cilantro, fermented fish, and onions, liked by the Spanish as far back as the 13th century. The term devilled eggs derives from the 18th-century English penchant for calling many spicy foods "deviled." I grew up eating deviled eggs, which my parents typically prepared as a meze for guests. They're easy to make ahead and the variations on the theme are endless.
Ingredients
6

large eggs

1

ripe avocado

1

Tbsp

lemon juice

1/2

tsp

Greek sea salt

1

Tbsp

Greek yogurt

3

Tbsp

crumbled Greek feta

1

Tbsp

chopped cilantro

plus a several leaves for garnish

1/2

jalapeño or other chile pepper

minced

2

Tbsp

chopped scallions

1 - 2

Tbsp

finely chopped parsley or cilantro for garnish
Instructions
Make the hard-boiled eggs: Fill a saucepan with 1 inch of water and insert a steamer basket. (If you don't have a steamer basket, that's ok.) Bring the water to a boil, and gently place 6 eggs in the steamer basket or directly in the saucepan. Cover the pot and steam the eggs for 15 minutes. Remove the eggs and place them immediately in ice-cold water to cool.

Once they've cooled, carefully peel the hard-boiled eggs and cut them in half lengthwise. Place them on a serving platter. Scoop out the cooked yolks and set them aside in a mixing bowl.

Cut the avocados in half. Remove the pit. Scoop out the avocado flesh and place it in the bowl with the egg yolks.

Roughly mash with a fork. Mix in the Greek yogurt, feta, cilantro, chile pepper, and chives and mash until smooth.

Spoon a generous spoonful of the avocado mixture into each well of the hard-boiled egg whites. Garnish with chopped cilantro or parsley. Serve.