TASTE ATHENS
The Ultimate Food Lover's Guide to Athens
Now available as an application for iOS.

Diane Kochilas' restaurant and food guide to the best places to eat, drink, and find Greek gourmet products and wines in Athens, Greece.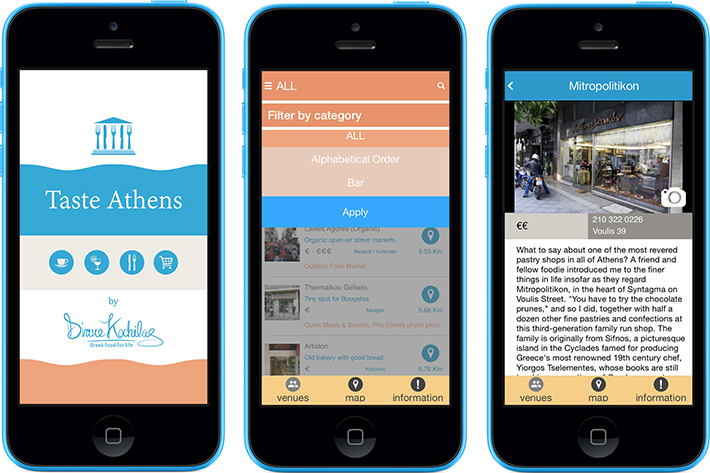 Discover more than 250 of Athens' most authentic eating, drinking and food destinations, personally chosen by Diane Kochilas, "the Julia Child of Greek cooking," who has made Athens her home for more than two decades, during which time Diane was the restaurant critic for the city's largest daily newspaper and knows the food scene of this multi-layered, history-filled capital intimately.
In TASTE ATHENS you'll find where to go for the best street food, from crisp phyllo pastries to baklava, where to nosh on the ultimate down-and-dirty souvlaki, what the fish restaurants and fine dining gems are, where favorite wine shops, cheese and charcuterie emporia, and Greek artisanal products can be found. From fine dining to fruit stands, TASTE ATHENS contains the breath of Diane's knowledge of Athens, Europe's oldest city and one of its greatest and most diverse culinary gems. TASTE ATHENS also includes useful information about Greek wines & spirits, an extensive glossary of the common Greek food terms and dishes you're likely to encounter on your travels through Greece, and Diane's expert tips on the best "edible souvenirs" to take back home with you all for JUST $2.99.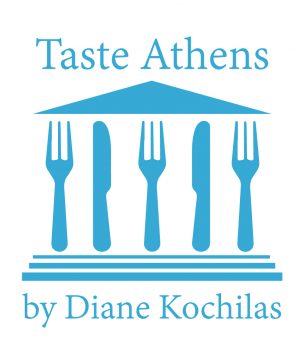 FEATURES
Each venue has been selected, visited, and tested by Diane, whose concise, informative, entertaining descriptions make you feel like an instant insider, armed with knowledge about this complex, fascinating city, with its ancient, timeless Mediterranean food culture.

The app is a compendium of Diane's top picks for restaurants, tavernas, souvlaki joints, street food stalls, gourmet delicatessens, cheese and charcuterie shops, ice cream, Greek yogurt, chocolate, and phyllo pastry emporia, outdoor farmers' markets, wine bars, and more.

A detailed glossary helps you understand the basics of Greek cuisine, with definitions of the different types of dining establishments, explanations of cooking terms and the types of foods you're likely to find on Greek menus, and a guide to Greek wines and spirits that will help you choose the best quaffs in any dining situation.

A cheese section helps you understand the undiscovered world of Greek cheeses way beyond feta.

An edible souvenirs section will help you choose the best food-lover's gifts to bring home.

Browse the app contents by category, alphabetically, or by neighborhood.

A map of greater Athens shows all the selected addresses, with thumbnails of each culinary destination and GPS locations to guide you to the best restaurants and food shops in Athens neighborhoods.

App users can call venues directly, link to venue websites and facebook pages, and find clear, easy directions for how to get to every venue on the map.

Hundreds of pictures by Athens filmmaker Andreas Economakis showcase the restaurants, bars, cafes, markets and shops, their interiors, dishes, products and more.